As the clouds begin to disappear and make way for bright, beautiful skies, it becomes clear that the long days of summer are quickly approaching. Summer makes way for an abundance of outdoor activities but, no matter the weather, keeping yourself and your family comfortable should be your priority. Even though safety has been our mantra this past Covid year, our pact with the outdoor will remain for many years to come and our need to maintain "shade" will be with us for a long time. Consider the performance and versatility of outdoor shades, now, before the full on power of the summer weather torments our homes. Outdoor solar shades make a perfect addition to any alfresco occasion and will help keep you shielded against anything from wind and rain to the blazing hot sun. For me, outdoor solar shades are a miracle window treatment.

Block Whirling Wind
Everybody loves a gentle breeze, but if the wind is knocking your papers or the hats off your guests or creating a wind tunnel, ruining your private reading nook, you may be in need of a solution. Lucky for you, an optional bungee type hold down bar can be included on many of our outdoor shades. This elastic band has looped cords on each side of the shade to secure your exterior shades from flopping around during high winds. Our outdoor shades also come equipped with metal guide- lines that trail up and down the window, on each side, to keep your shades taut. Here in Southern California, not all is paradise as we have super winds, the "Santa Ana Winds" that blow in over the mountains in early spring and early fall. I can attest to the strength of these "tie-down" options that keep my oversized patio door solar shades stable. Staying calm during unsettled weather can create havoc from getting restful, needed sleep. Solars are designed to remain unwavering during the worst of weather, day or night.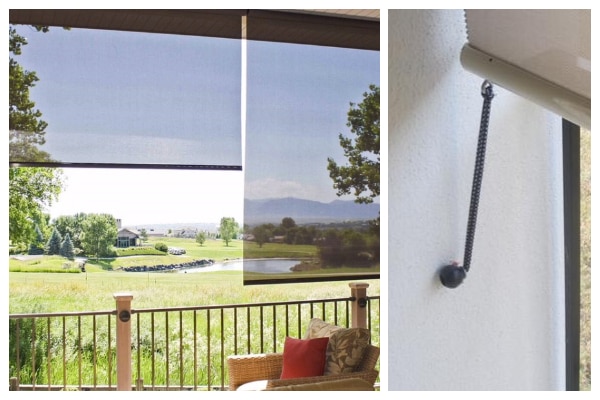 Block Muggy Rain
Warm weather months invite us to our outdoor spaces, but rain is still a constant roadblock that keep us inside. In May, in coastal California, we have "May Gray" and "June Gloom," when unseasonably cool and dreary weather puts a damper on enjoying our outdoor spaces. While outdoor shades won't be able to keep the rain out completely, they are definitely an armor to keep you from getting soaked. Since these shades are constructed with a durable woven, PVC material, Solars are designed to stand up to the elements and last for many years.

Block Glaring Sun
While we all love a good tan, we also know how damaging the sun can be. Not just to your skin, but also to your expensive patio furniture. Fortunately, your outdoor shades can block up to 95% of harmful UV rays. That will help protect your furniture from fading and protect your delicate skin. Solar shades are also available in a range of openness levels, ranging from 3% to 15%, allowing you to customize exactly how much sunlight you want to invite to your outdoor event. The amount of light obviously determines what you see when enjoying your outdoor spaces, allowing you to easily customize how much privacy you require. Don't let the glare of sun during the day or the bright street lights at night destroy your sanity as Solars can be your secret weapon.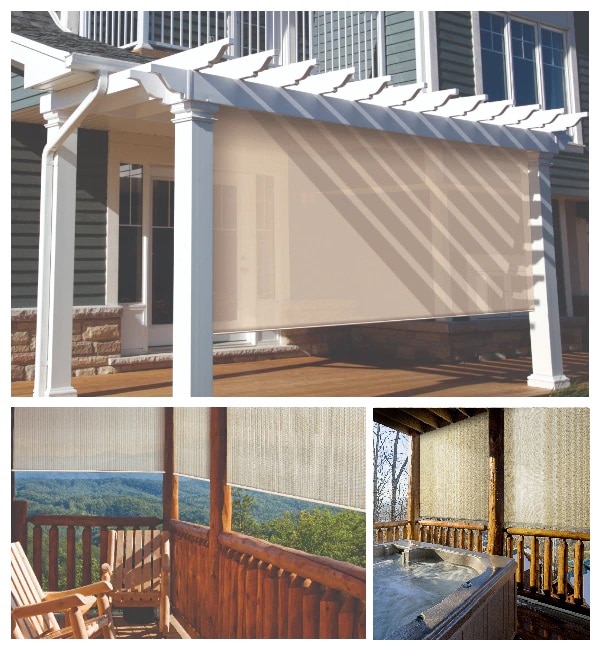 Outdoor Extras
If you are an outdoor lover like I am, here are a few extras to consider.
Motorized solar shades, in my mind, are a "must have" for the sheer convenience, as most outdoor spaces are large and often oversized openings that demand ease of opening and closing. Once you veer to motorized blinds, you can't go back.
Shade Sails are another minimal overhead treatment that easily block 95% of the UV sun rays but create that superb open air feeling. Our Shade Sails are of exceptional Coolaroo quality, made with a premium fabric, highly resistant to mold.

Awnings are still popular for a traditional home and the ultimate for outdoor window coverings for many people who can't resist that stately look. I grew up in a two-story red brick house with a white arched entrance, and an enormous wooden spiral stair case ( that I destroyed with my ornery child's teeth marks). Another memory of the dark green canvas awnings on all of the street facing windows must have been an inspiration for me to value the importance of window coverings. At Blindsgalore, we offer two styles that have been radically transformed and modernized for today's vagabond lifestyle.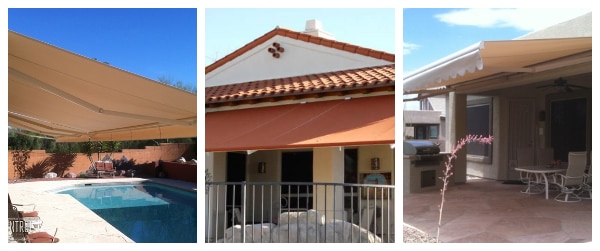 Outdoor shades are a versatile and stylish way to protect yourself from the summer sun and whatever other surprises nature might throw your way. Weatherproof materials and the ability to choose the exact openness level of your screen make creating a paradise on your outdoor patio easy. Whether it's wind, rain or sun, an exterior solar shade will allow you to shield yourself from your environment and ensure that nothing puts an early end to your outdoor events. Outdoor solar shades are the cure for your summertime blues!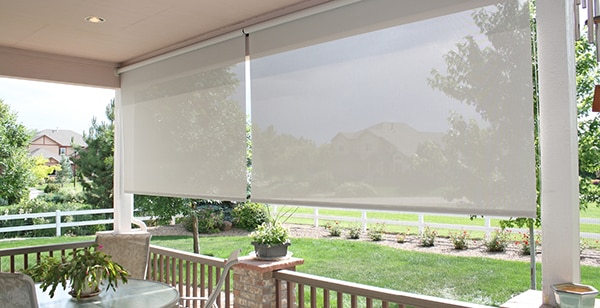 Blindsgalore has a huge selection of outdoor shades that are sure to add a little sizzle to your next outdoor gathering.