Vertical blinds are a versatile window treatment that have been modernized and upgraded for today's living as a sleek, practical window idea that are no longer remembered as those long, noisy and unattractive slats that click and clack along windows. Many of us recall them on buildings and offices or our first visit to the pediatrician, sitting in a little cramped room, fidgeting with the white metal strips that banged together on the window. We might have thought that was fun back then, but for the style in our homes, we now desire a functional but decorative alternative from that austere, antiseptic look.

Vertical blinds now move across a window with superb technology that whispers as it moves, offering a designer architectural look. Vertical blinds are colorful, full of patterns and textures and create a clean look, particularly suited for patio doors and large windows, but are equally at home on smaller spaces. With all the upgrades to vertical window treatments, you now can have the look of drapery without the cost and "heavy" feel of curtains. So, what's not to love about vertical window treatments? Here are my top three benefits that make vertical window treatments a serious contender for patio doors, large windows and your other favorite windows.

Verticals Perform With Ease
Verticals are still made of long and narrow vanes or vertical slats that hang down from a headrail that can be moved from side to side, to the left or the right or you may choose a split stack and move to the right and the left. Each vane is attached to a sliding piece that is inserted into the track along the headrail, offering excellent flexibility as the blinds smoothly close accordion style. Light control is managed by tilting the slats at different angles, brightening or darkening a room with the touch of a wand. You simply twist the wand, and since each vane is attached to its own individual gear, you can manage light and privacy easily. The view to the outside or from within can change momentarily. If you mount the verticals as an inside mount, you will have more viewable space. You do need to be attentive and don't be angry when opening or closing your blinds. If you are in a blind rage, the gears and your blinds will be unhappy and not work for you. Make sure that your verticals are designed with the Eurodesign technology that is a patented technology which provides for self-lubricating gears to avoid misalignment and faulty tracking of the slats. With all of these fresh improvements, your vertical blinds will perform flawlessly.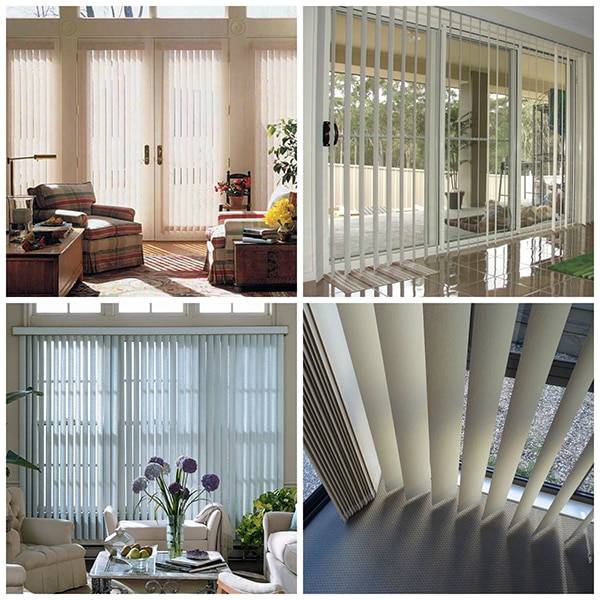 Verticals Do More With Less
Since verticals are a perfect window treatment for large open windows, affordability is a great advantage when selecting this window treatment. Obviously, the larger the spot, the more material, the more expense. Vertical window treatments are so practical as you can add these blinds to your room and still have some of your budget left. Now you can add a few of those décor objects that add your personal touch-a vintage vase, an eclectic art poster, lava lamp, a funky embroidered pillow or a monogrammed tray! The long and lean quality of verticals will also give height to any room and give an added architectural detail to your space.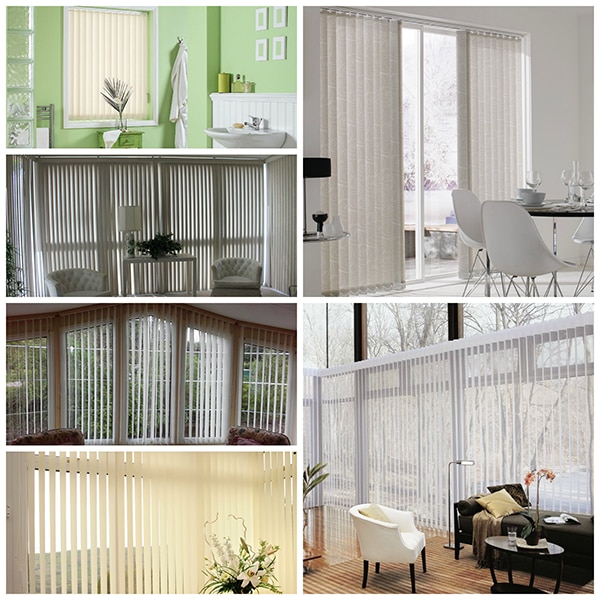 Verticals are also easy to clean. For vinyl blinds or fabric blinds, use a dry sponge or the brush attachment on your vacuum. You may use a damp cloth on wood or faux wood blinds, but don't soak them. I know your windows will be happy as verticals simply aim to please.

Verticals Impart Style
Verticals now come in so many materials, patterns, colors and textures that you will never think again that vertical window treatments are boring or tasteless. First, let's talk about the different materials. The most economical vertical that I would choose is the PVC or polyvinyl chloride that is a synthetic material (metal-like) which is strong and durable and is flame resistant- the common vertical which comes to everyone's mind. This is your most basic choice, but to take advantage of all the new innovations in design, I highly recommend any of the vertical treatments that are fabric which are softer, quieter and more stylish, giving you that relaxed drapery feel and come in many colors and many textures such as a linen or rattan look for an upbeat look. A fabric vertical will also give you the choice of a light filtering or room darkening option.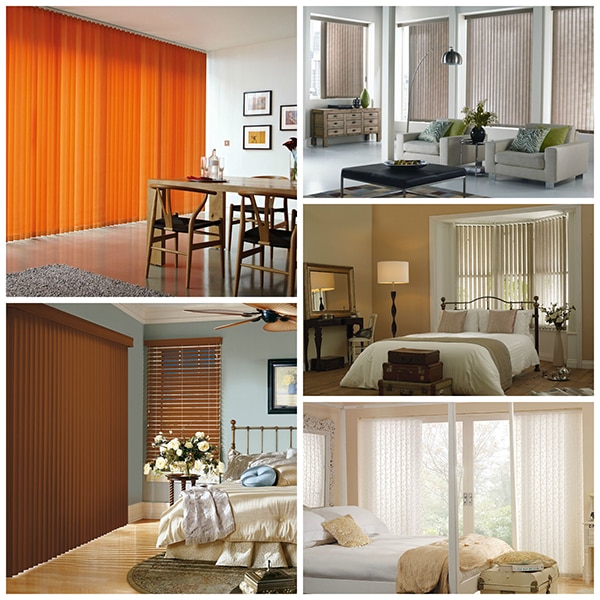 Wood and faux-wood verticals come in beautiful stains to match your furniture or flooring and who can resist the rich and classic feel of wood accents-so stunning on a large window. Solar material is now available on vertical blinds, made of the same amazing material as Solar Screens, which will reduce glare, block those harmful UV rays and control the heat of the sun blazing through those large patio doors. If you are truly adventuresome and longing for a retro style, gold and silver mirrored verticals are for you who love glitz and glamor and want to make an impressive statement. Consider also selecting the S shaped vanes as your blinds will close more tightly, especially in the bedroom for sound sleeping. Don't forget to select a valance to complete your look- you don't want a bare headrail glaring at you every day. Yes, I told you verticals are now modernized and can be an understated but graceful complement to your home.

Now you know that vertical window coverings are an attractive and refined way to neatly treat those particularly large and sometimes difficult windows and patio doors that loom in our homes. Verticals can be a vital answer to finish these wide open spaces in our homes.