Feeling stressed and overwrought with color choices? Just because color is trendy and dramatic, a monochromatic color scheme is timeless and practical and never boring. Open yourself to a range of neutral shades. Don't think that neutrals are just whites or taupes or that you have to abandon color. Those of us who embrace this calm palette, know there is a wide range in the seas of neutral colors. Grays can range from muted lilac to pale celadon to dusty pink to the darker rich brown hues. Ivory, sand, and "blonde on blonde" never clash and pave the way to add dashes of accent shades for a stroke of vibrancy.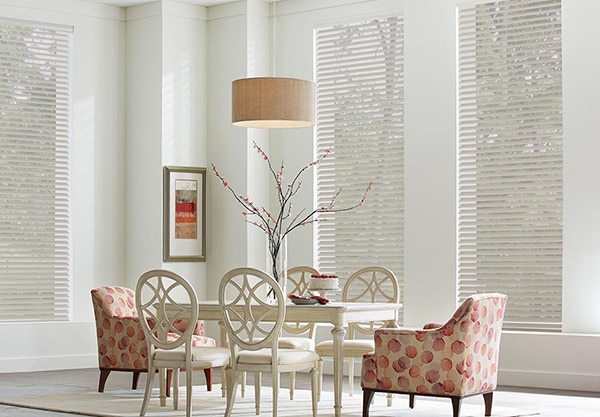 Best of all, this calm palette complements any decorating style – from Art Deco, to Boho, to Modern to Mid-Century and it is so easy to mix and match furnishings and décor objects from all decades, from vintage antiques to the sharpest contemporary designs to junk store chic. This exquisite, limited color scheme eases all the pressure from trying to match a garish couch or an uber plaid chair to a crazy rug or painted walls. Sticking to these calm shades creates the opportunity to be inventive when selecting the pieces that will work in concert to be full, rich and elaborate or Shaker plain and controlled.
Keep in mind these THREE main avenues to travel when designing a neutral room.

Add Texture
Varying materials add interest to a neutral room, so be fast and loose to add natural materials such as wood, stone and iron. All of the organic elements from a finely grained wood floor or a simple rattan or tribal woven basket add dimension and depth. A painted brick fireplace adds a full dose of texture and even a display of artisan wood trays is a simple way to use different materials. Metallic accents remain trendy and marble or craggy stone objects mix in well to your unwashed, plain surfaces.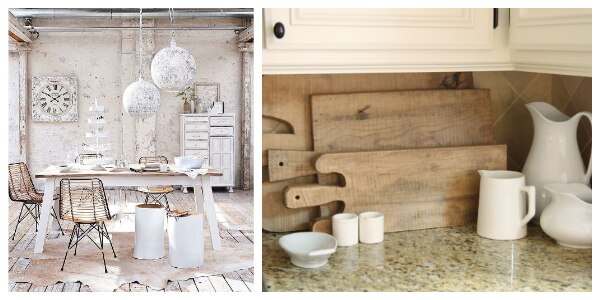 You don't have to be extravagant to add interest as Woven Wood Shades with their nubby, organic, all natural materials are a cinch to shape your windows for that unfinished "Farmhouse Look" or for the smooth tone-on-tone modern look. Woven Woods are available in a variety of muted materials, harvested from reeds, bamboo, jutes and rattan, woven together to create a distinctive design, rich in texture. Woven Woods continue to grow in popularity for their simplicity for a relaxed bohemian room or for a casual setting. Often paired with Sheer Drapery, a touch of elegance for a more polished look can be achieved. Woven Woods fit perfectly into any neutral room and we have so many new textures and weaves that I know you will find a window treatment you will love.
Soft Roman Shades or Sheer Shades add a touch of sophistication and sway for a more romantic feel that exudes peacefulness.

For minimal texture, fit your windows with unobtrusive Cell Shades that almost disappear from view when pulled up and every color of white or off-white can match your serene scene. You can always choose a pop of color on your Cell Shades to spark joy in an understated room.

Fabric is one of the easiest ways to add texture, so play with silk, linen, burlap, canvas and velvet. Texture is everywhere and a design ingredient you need in your arsenal to keep your room lively but tasteful.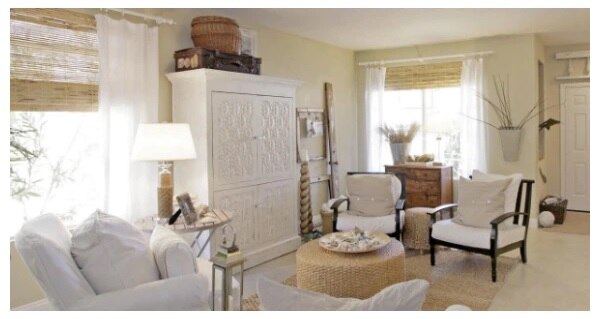 Find Pattern
Pattern is essential and small doses are perfect for the neutral room. Pillows and throws full of design can be subdued with pale color or pluck a color if you need some contrast. A softly shaded area rug breaks up the monotony. Patterns in a neutral room can be elegant but honest. Just think of pale stripes on a wall or a thick, down duvet cover, softly embroidered with an intricate design. Neutral does not mean plain but a considered tastefulness of design. A thick, chunky basketweave design enhances any dull room.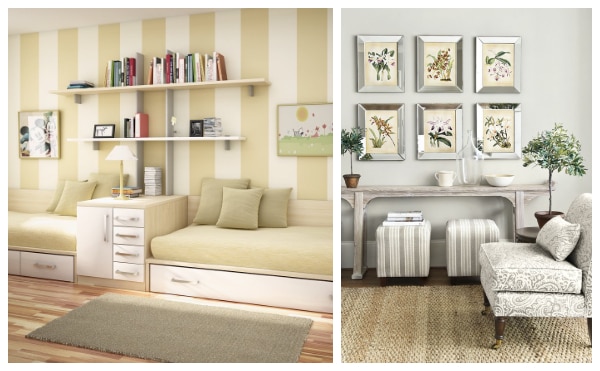 Window treatments can be chosen with soft designs that barely appear but add another level of discreet interest. Roller Shades, Roman Shades and Drapery each add a unique level of style that shows off this light, clean palette. Don't think of pattern here as a loud and crazy scream but an inviting whisper to cuddle and doze – our intrinsic need to renew.

Pick Accents
If you need to add brighter color, combine your bleached rooms with hints of natural greenery as a big cut palm leaf or elephant ear sprouting in a tall vase might just be within reach from your garden. Keeping color to natural elements such as flowers or organic materials as a hand-blown glass vase or ceramic bowl continues the soothing, monochromatic vibe. I also think designing in neutrals naturally makes us want to declutter our rooms and curate to only the things that give us joy. If you are like me, mostly everything in my house gives me joy!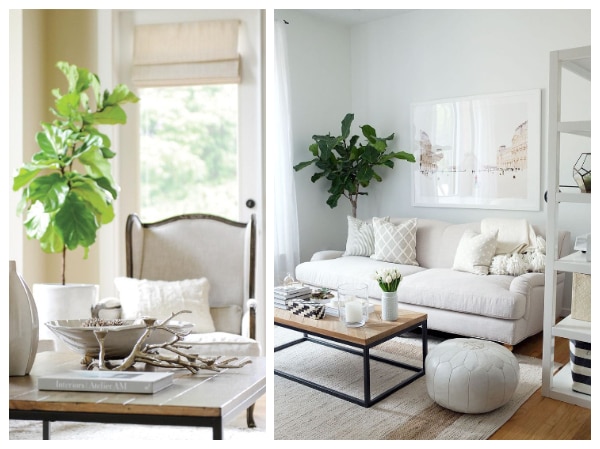 To keep your neutral room calm but polished, try to concentrate on what you want to keep rather than what you want to throw in the recycle or trash bin. Accent color does not have to be loud and strong but can be just as energetic through the shades of bisque, sand, wheat or flax as you mix and match texture, pattern and accent shades. All of these details coalesce to make your space sparse and comfy, romantic and dreamy or dazzling and elegant or just you as you like it. I like to think that a neutral room is anything that is not explosive!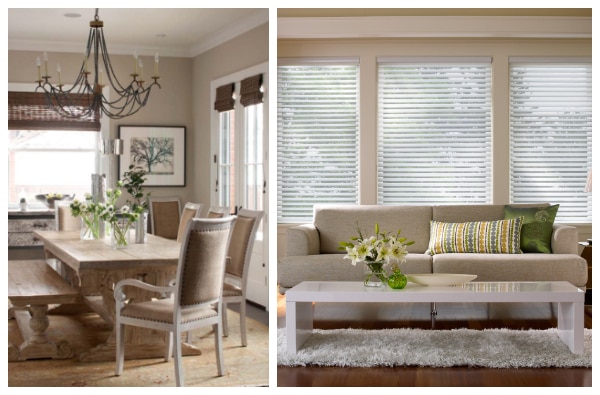 "Let there be
an opening
into the quiet
that lies beneath
the chaos,
where you find
the peace
you did not think
possible
and see what shimmers
within the storm."

-Jan Richardson
Let your home always shelter you from the storms of life.
Featured Image: Bali NeatPleat 2″ Pleated Shades