Cellular window treatments keep popping up on everyone's windows in so many colors and patterns that easily blend in or accentuate your particular decor. What's not to love about cellular blinds as they practically disappear into your window giving you the view beyond of wide-open spaces or discretely swishing down the window in a delicate honeycomb design to complete the style in your home. I am sharing with you these three special features which guarantee that cellular window treatments will be the coolest way to trick out your windows!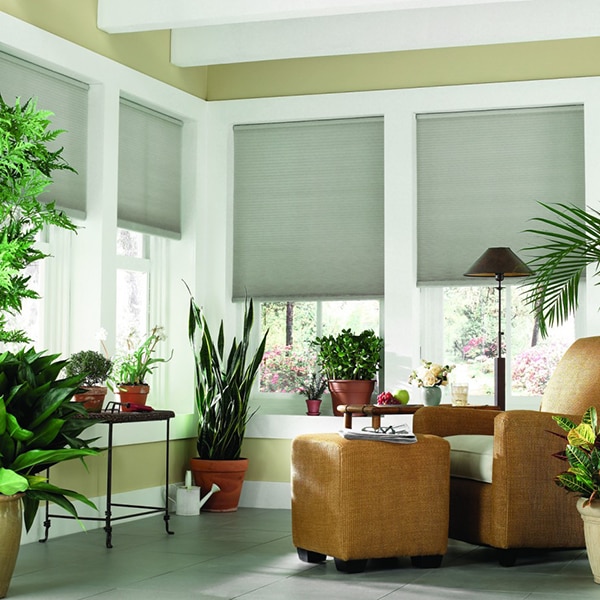 Cellular Window Treatments Love To Tame The Heat
With the summer sun high in the sky, cellular blinds will embrace the heat, tame it and provide superior insulation on hot days, or when the chill of winter bestows those harsh winds, warmth will abide inside your house. These ingeniously designed honeycomb cells, trap the hot air in the fabric pockets, keeping your rooms cool in the summer. Cellulars are able to reduce 45%-56% of summer heat and at the same time, keep that ticking energy bill bomb at bay. How can you argue about that? From a minimum thickness of single cells to double cells or the highly efficient triple cell construction, you can choose the thickness of layers to control a particular light and heat management. I love double cells for their style and comfort.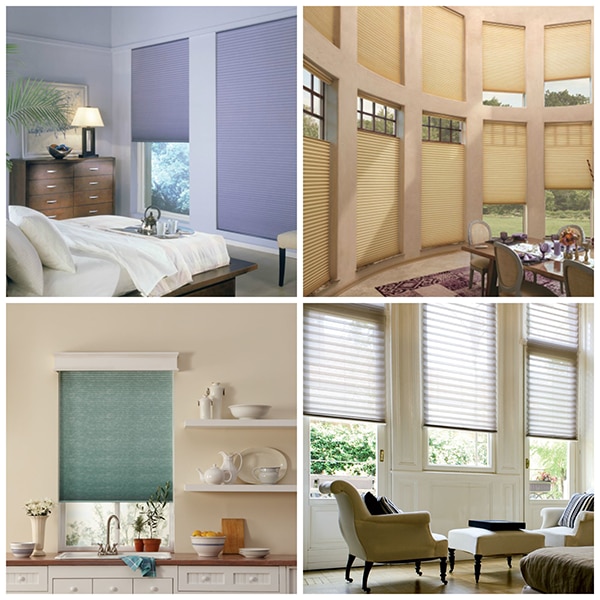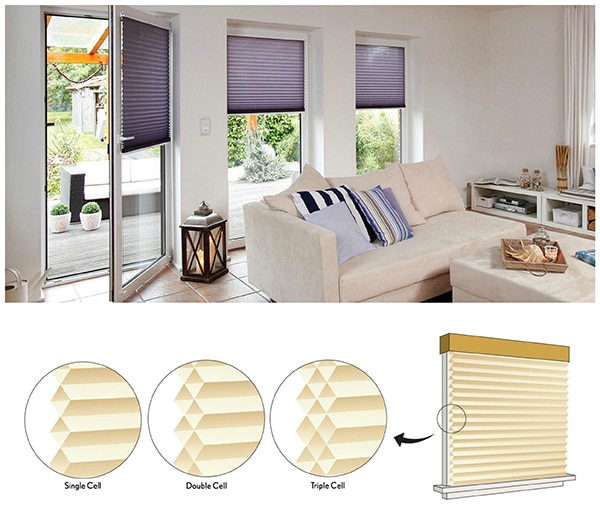 Cellular Window Treatments Love To Harness The Light
If you could lasso light and make it your friend, just beckon a cellular shade to land on your window. They can do all kinds of fancy tricks for you. First, a cellular shade can make your room as dark as you need it, creating a peaceful sleeping bedroom or quiet place or a media room for the ultimate in watching "the game" or that classic or new flick. A blackout cellular shade is the ticket here for ultimate darkness. If you need a touch of light to flow in or if you require some light therapy every day for a gentle glow, pick a light filtering cellular. If you just need a lovely shimmer of daylight, sheer cellulars are elegant- a real beauty. My favorite trick is to select a top down bottom – no you don't have to stand on your head here to love this style. This cellular shade can be lowered from the top or raised from the bottom or even both, giving you lots of flexibility in light control. You can capture the light anyway you want, from the top, in the middle, or bottom, or if you have a series of windows in a row, you can have countless ways to manage the light throughout the day. With top down bottom up, you can even choose two styles, or patterns to really mix up the light-such as a sheer shade on the top and your favorite cell on the bottom. Or you can choose a night and day cellular shade with light filtering on the top 1/2 and a blackout on the bottom 1/2 to close at night. Now that you are amazed at these magic lighting tricks, don't forget my favorite, motorization. If you add motorization to this window treatment, you can raise and lower the cells with the touch of a button or hook up to your smart home automation gadgets to adjust hourly as the sun brightens and dims. You can even open and close these shades from your car, home or office. How cool is that- light control at your fingertips. One more last tip: no cords, please, for ease and peace of mind.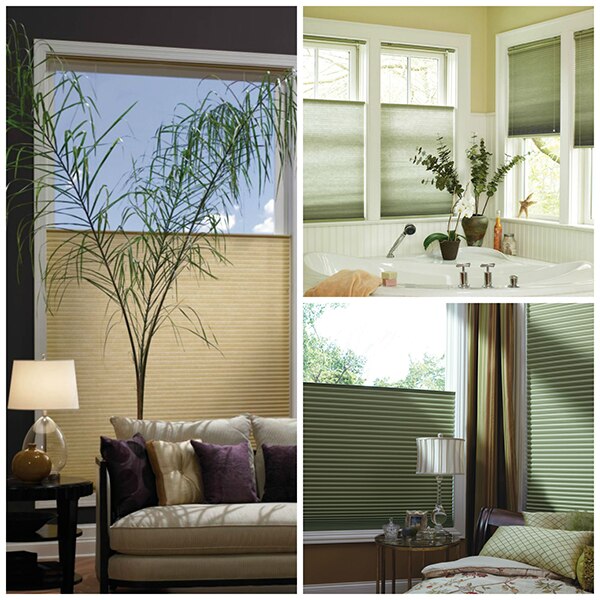 Cellular Window Treatments Love To Be Stylish
Now the best part! Cellulars come in every color of the rainbow. Blindsgalore has over 62 colors, ranging from Cherry Blossom, Spring Moss, Lemon Drop, Topsail to Calypso. Now, if that doesn't make your windows dance, nothing will. Many patterns and textures will also enliven these cellular shades. So many choices, not enough windows to cover! Cellulars are shape shifters, too. They come in all sizes and shapes, from skylights to welcome the sky, to petite or plus size windows, to those tricky perfectly arched windows, to long and lean vertical cells for patio doors (we call them Verticells). You can even mount two cellular shades side by side on the patio door to effortlessly slide across the door if want them out of the way of curious children and pets. A reminder for those of you who love the simplicity of a window treatment, cellular shades almost vanish at the top of the window (especially for an inside mount), enveloping your room with sunlight or moonbeams. Customized cellular shades will always be the stylish star for any window.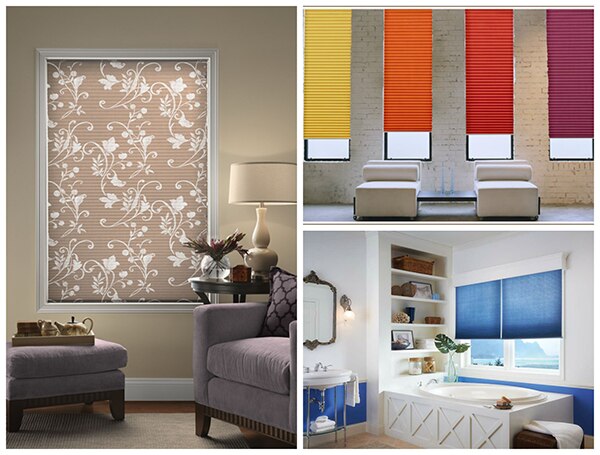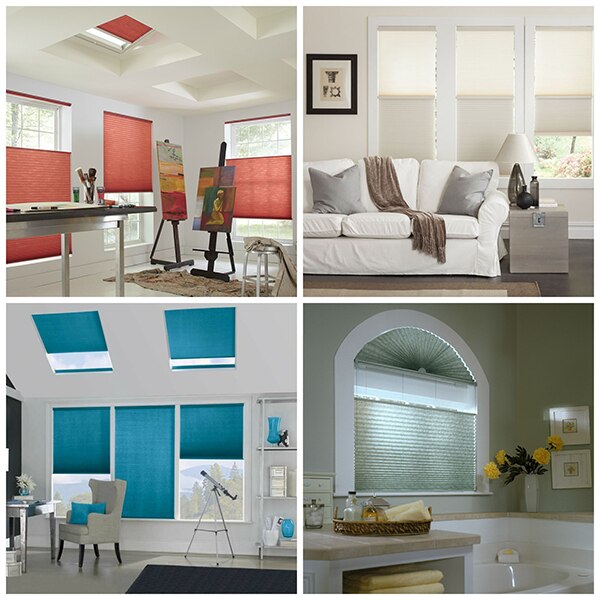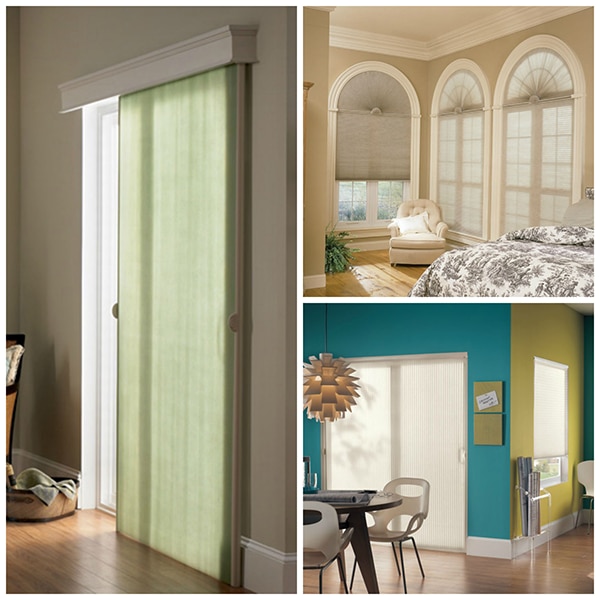 Invite the magic of cellular shades into your home and be amazed how these little pockets of air become rare diamonds when artfully designed for your windows.