Arched Window Treatment Ideas
Arched Window Treatment Ideas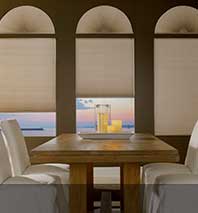 With new, custom-built homes going up every day, the popularity of arched windows is on the rise. Often located over the front door or in a master bedroom or bathroom, arched windows bring graceful lines and light into your interior space. But when it comes to covering these elliptical glass windows, coming up with ideas for arched window treatments can sometimes pose a decorating challenge depending on the location of the arch, its size, and your needs. Luckily, Blindsgalore has a good selection of custom arched window shades available for purchase.
There are two types of arched or half-moon windows: a single, classic arch window, sometimes called a "sunburst window" which is often placed above double-hung or fixed windows or doors (or used alone in tight spaces like bathrooms); and an arch-topped window, which is a window featuring a curved or round top. These are sometimes called palladium windows.
How to order arch window shades
When you need arched window treatments ideas the first consideration is whether the arch window is a perfect arch or imperfect arch - a perfect arch is an exact semi-circle where the height is half of the width. Perfect arches are orderable directly on our website. Imperfect arches can still be ordered, but a template of the window must be provided to our sales team - just call us and we'll help you get started. Click here to browse our selection of arch window shades.
Standalone Arched or Half Moon Windows
When selecting a shade for your standalone arch window, consider how much light blocking you need - a blackout shade will stop all incoming light through the shade, while a semi-opaque shade will provide complete privacy but still allow light to filter through. Both will block UV rays that can damage your furnishings. Standalone shades are easily installed within the arch window casing.
Arch-Topped or Palladium Windows
If you wish to cover the arched portion of a palladium window, you can order matching shades in the same order. Simply select the arch-over-standard option when ordering your arch window shade. The arch shade will attach to the top of the standard shade which covers the rectangular part of the window.
Start shopping
Need more ideas? Click here to browse our entire selection of arch window shades. You can also order swatches of the shade material first to verify color and opacity of the shade. If you have any questions, don't hesitate to call us!