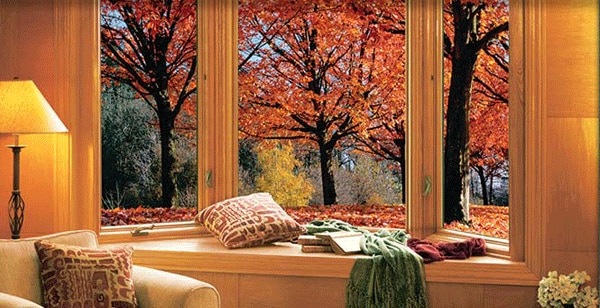 The smell of the brisk autumn air, the vision of leaves turning, the taste of hearty soups, and the feel of soft blankets all combine to create a magical time of year.  Fall is not only the kickoff to the holiday season, but marks the beginning of seasonal decorating.  You can bring the flavor of fall into your own home with these lovely fall inspirations, starting with your windows.
Create A Harvest Window Box
We usually save decorating the outdoors for Christmas, but the autumn season is so rich and inviting that it deserves to have its own display.  Don't stop at hanging a fall wreath on your front door.  You can add fall flavor to your windows by decorating your window boxes.  Don't worry if your home does not have any existing window boxes.  Use your window sills to display an abundance of harvest goods and greenery.
Use a Fall Color Palette
The colors of fall are warm, welcoming, and comfortable which is everything that we strive to achieve when designing our homes.  Take the fall color scheme to heart and incorporate its beautiful tones into your home year round.  Rich browns, deep sage and aubergine, and a pop of orange create a soothing environment.  To make your home feel like fall in a snap, just simply add autumn colored pillows and drapery. 
Decorate With Seasonal Objects

It is so easy to buy bulk, mass produced decor and call it a day, but why not try to put your own unique stamp on your fall flavor by using items you already have in your home.  Overtime you acquire a stockpile of serving platters, bowls, vases, and candlesticks.  Put these to good use and fill with seasonal items such as pumpkins, acorns, flowers, and corn.  Grocery stores usually carry these items fresh during this time of the year or visit your local craft store for ceramic and papier-mâché items that can be reused every year.  Channel your inner designer by creating interesting vignettes and tablescapes that will make your guests say, "WOW!" 
Find A Simple Idea

If crafting isn't your hobby, you can incorporate the fall theme in minor details.  A jar of acorns on your mantle or a perfectly placed white pumpkin may already coordinate with your home's aesthetics.  Changing out a pillow or throw to a warm autumn color can enhance your color palette or simply adding a vase of orange flowers can really signal the seasonal change in your home.
The sights and smells of the changing seasons are all around and it is so easy to bring autumn into your home and highlight the flavors of fall with these decor tips.