Three Oscar nominated movies are on my mind as we anticipate the Academy Awards. Movies create moods, just like your home and I thought it might be fun to explore how 3 award nominated movies use "mise en scène" in décor to express the feelings and meanings of each film. "Mise en scène" is French for "placing on stage" or "put in the scene" but refers to all the elements of the design in the film composition of frame, setting, props, costumes, lighting- literally everything that is jammed into a scene to convey the vision of the movie. Since I am obsessed with décor, after all, as you decorate a room, a house, you are conveying a particular mood or style, just like a movie director. You both are filling up and editing a space to evoke lasting feelings. In these three films, "The Grand Budapest Hotel," "Birdman," and "Into The Woods," we will view how some of the chosen design objects intimate a deeper message to burnish the overall mood of each particular film.
The Grand Budapest Hotel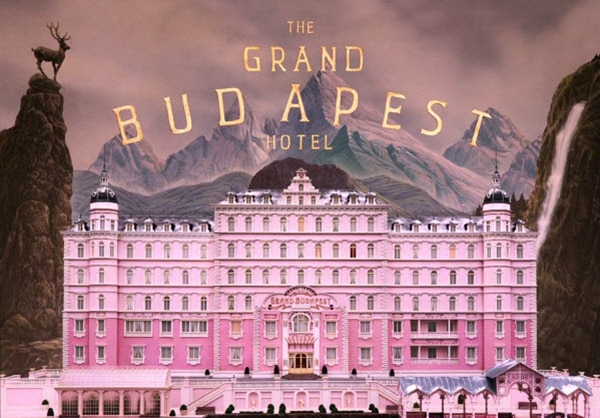 Wes Anderson's, "The Grand Budapest Hotel," is a grand confection of a movie, showcasing Wes Anderson's quirky, wholly original style with minute attention to design detail, snappy dialogue and whacky characters. This comedic adventure is roiling with fascinating scenes, high speed chases and unhinged relationships as the action begins in this baroque, decadent hotel of the 30's. The Grand Budapest Hotel is clinging to an old world luxury as the evil of impending events are unfolding, but the grandiosity of the Hotel exudes the outrageous" mise en scène" that pervades this film.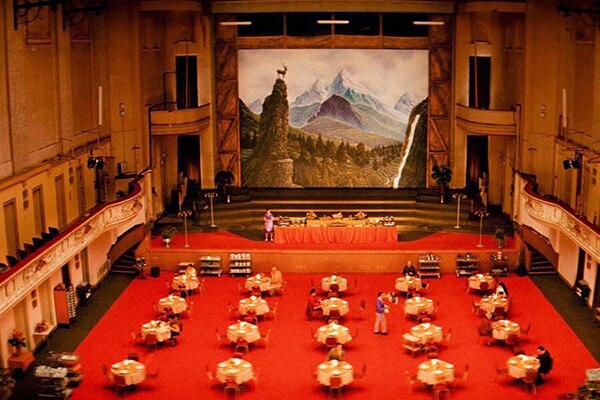 The Grand Budapest Hotel is "grand" in every way and the décor, colors (brazen, blazing red), furnishings, light fixtures, hallways, windows, drapes and rugs are all excessive, exceedingly large and jammed with decoration, art deco and art nouveau touches and the bright, bold colors saturate the mood of a world that is vibrant and eccentric-a place that is overwrought and too magnificent to endure the coming tragedy that befalls the characters, victims of this movie. The outside of the hotel is covered in a pink pastel cake frosting color that opens into a vivid scarlet lobby and front desk that are decorated with over-sized Oriental rugs, stunning textiles, period lighting, grand hallways, and deep purple hotel uniforms, invoking elegance gone wild-just like the plot. You know that you are in for a crazy comedic roller coaster ride.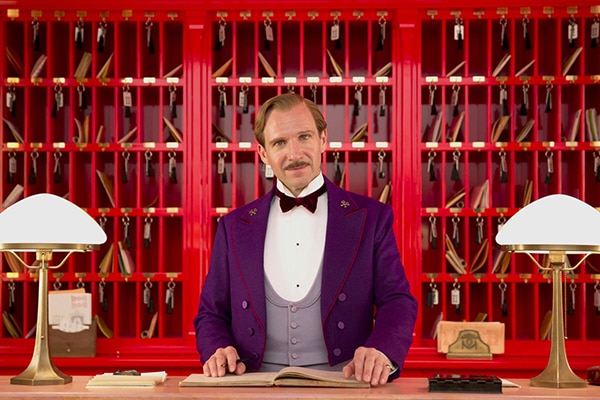 Anderson's level of décor detail is evident in these three particular scenes. Framed by a layered window to the outside, a table is perfectly set in hotel elegance as Gustave and Madame D enjoy breakfast as the fading light of their world disappears. The hotel's pink pastry shop is a marvel of European artistry and exquisite design. Loading hand-tooled leather luggage, which was actually designed by Prada, into the shell pink, circa 1936 Rolls Royce, invites you into this lavish vacation wonderland.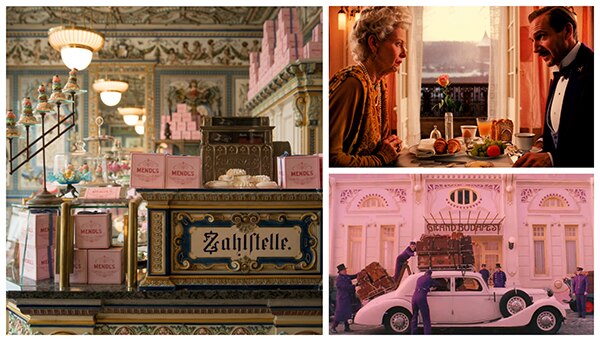 Wes Anderson boldly, bluntly and beautifully creates a mood that is unforgettable, lush, exotic, remarkable, just by combining all of the design elements we use today in our own way to define the personality of our homes, and in essence, ourselves. The Grand Budapest Hotel is a pink pastry of delight that opens up to a jewel box of brilliance, filled with multifaceted characters, enlarging the screen with a special flavor, garnering 9 Academy Award Nominations.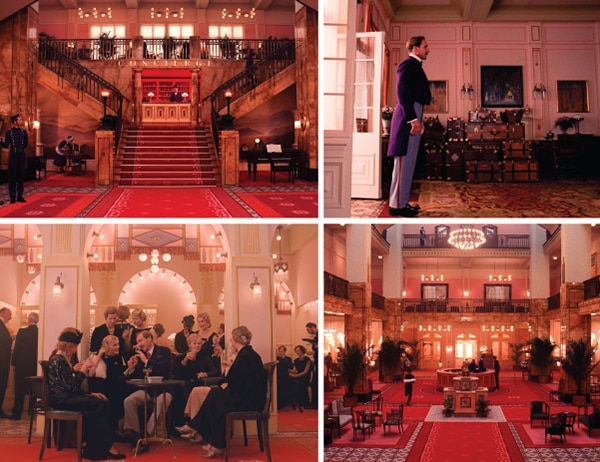 Into The Woods

Rob Marshall's on screen adaptation of "Into The Woods" is a delightfully dark film inspired by the Grimm Brothers' most beloved fairy tales. Taking place in a world centuries older than ours', rustic aesthetics greet us and enthrall viewers into a time before modern technology. Grand stone walls strong enough to keep a princess sedentary for decades, old wooden beams chopped down and built by hand, and worn burlap bags carrying the necessities of a life much harder than our own fill the screen. Copper mugs and iron materials act as examples of the hard work normal people did each day just to get by – and reminds viewers why characters yearn for a better life.  Dreaming of innocent wishes, Cinderella, Jack, Little Red Riding Hood, and the Baker have no idea what, or who, awaits them in the woods.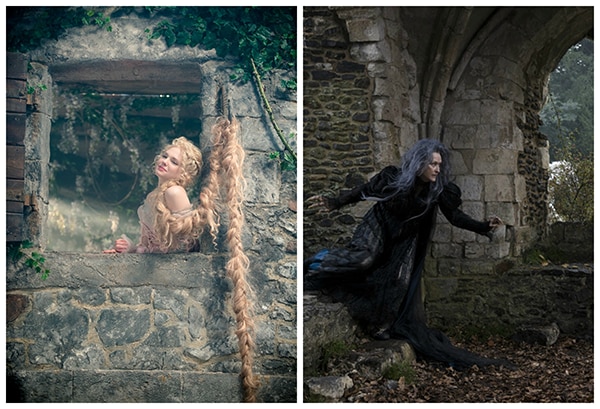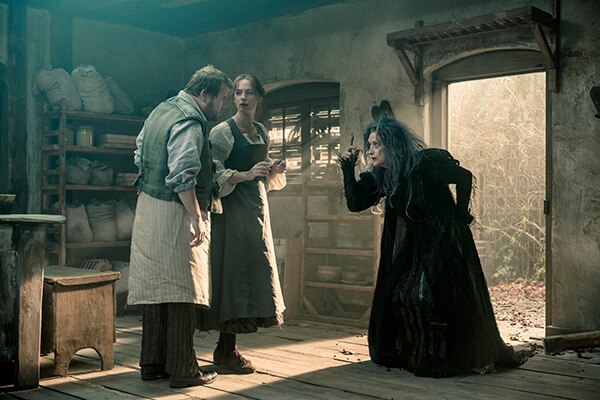 Searching for four specific items: a colossal cow as pure and white as milk, a cape as red as blood and outrageous as ever, hair luxuriously long and yellow as corn, and a gloriously pure golden slipper, these items impart a mythical mood as extravagant as the wishes characters hope to come true. Bright items pop against the neutral woods, completely out of the ordinary in their context. The woods are shrouded in darkness, full of mystery – and also magic, if you are looking in the right places, imparting a fictitious land of fables. Lush greens, warm browns, and gray mists all create an impeccable backdrop for a mysterious playground full of misdeeds. Moss, oak, rocks, waterfalls and 600 year old trees riveted in gloomy darkness cause viewers to feel the mysterious, dangerous excitement to grow.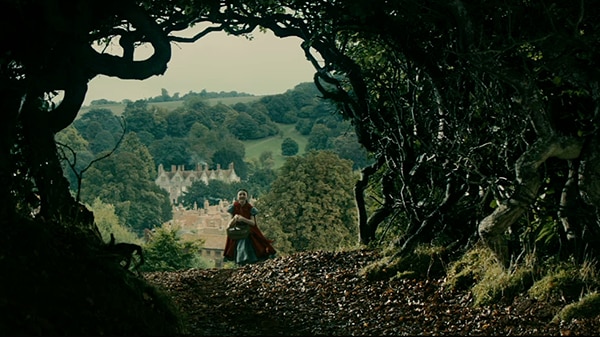 Lighting and color play a role in evoking the commonly heard idea that "you are nice, but not good". While the beautiful greenery holds the answer to their dreams, they are not always good, and perilous expeditions prove that. Whimsical, colorful, moody, and ominous when needed, danger lurks around the hazy mists and ancient oaks, beautiful and scary at the same time. Sun barely shining through the tree tops give faces a sinister glow and throughout the dark corners, there is still a twisted sense of humor in the unfolding of  fate.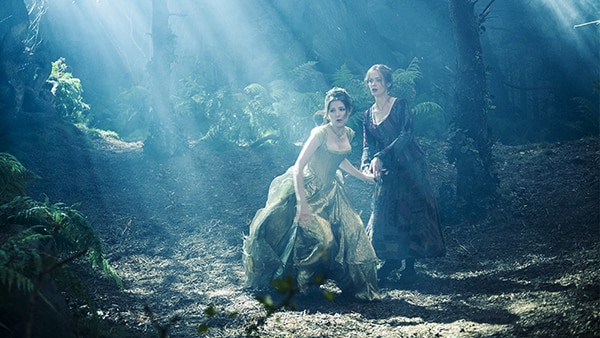 Soon after achieving their goals, the characters realize that wishes can be destructive. Going through the darkness of the woods with the hope of dreams doesn't always end in happiness. The journey is treacherous but meaningful as the atmosphere, both grim and playful, connects the bridge between dearest wishes and destiny.  "Happily ever after" might be in the place we live,  in our homes, if only we can see clearly and cherish our surroundings.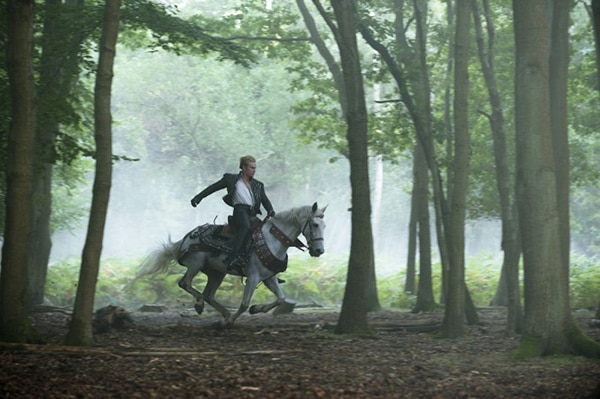 Birdman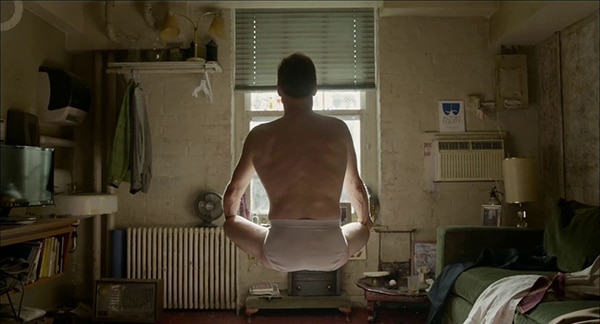 "Birdman" tells a story about an ex-Hollywood star trying to escape his past, literally and figuratively, as he attempts to transition into a "respected" stage actor. Weaved throughout a Broadway theatre in New York, the story frequently shifts between the real world and the protagonist's paranoid delusions. This dichotomy benefits from the film's authentic set decoration and the psychedelic colors that engulf the scenery and flow throughout the film.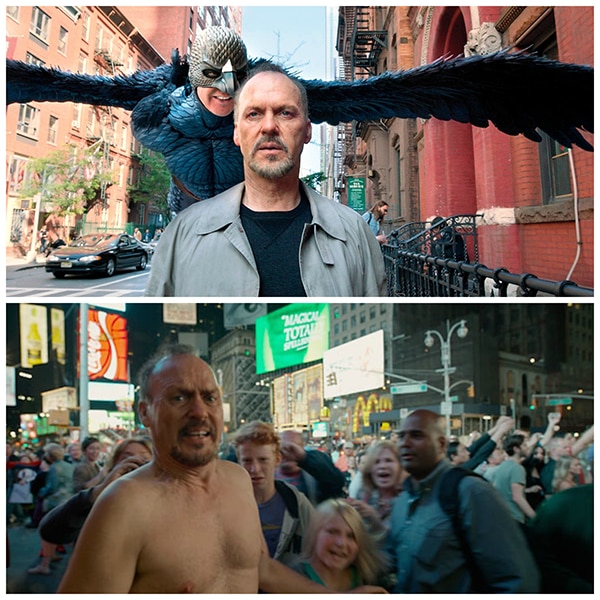 The majority of "Birdman" unfolds behind a bustling Broadway theatre. Backstage areas, dressing rooms, rooftops, corridors, and, of course, the stage all provide deeply detailed scenery to perfectly contain the characters in the film. Imprinted couches, scrawled "congratulations" notes, flowers, and flickering lightbulbs adorn our hero's dressing room. These spaces are each decorated to look authentic – to make the theatre feel alive, working, and ultimately real. The cluttered, detailed interiors are intermittently juxtaposed with glimpses into the streets of New York City. While the city itself doesn't play a huge role, in a literal sense, the audience is able to see it as it is. Crowded streets and neighborhood bars buzz with life and always feel convincing, mirroring the hectic happenings behind-the-scenes. Authenticity, to me, was the biggest theme within the film's set decoration – to provide a believable backdrop for such eccentric characters. The genuine, lived-in feel of the set helps to create scenery with a story of its own to tell.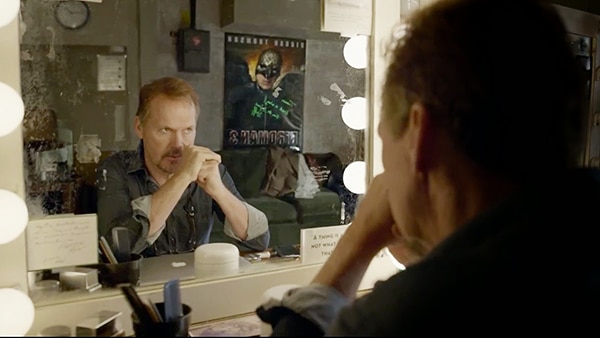 Color also plays a large role in "Birdman". The stage lighting shifts dramatically throughout the play within the film and this theme often bleeds into the backstage of the St. James theatre. Props, paint cans, and other clutter strings together through these constant themes of pattern and color. Many individual rooms are draped in a single color, usually red, yellow, or blue, even if only for a moment, and highlighted with spots of contrast. A keen pair of eyes will be able to pick up on these patterns and discern reasoning behind the film's colorful effects. For instance, the color blue is used to portray fantasy or delusion. A dream sequence during the play is shot in blue light, the main character is lied to early in the film under a blue light, and even Birdman himself is blue. These accents of color splashed over the realistic setting give an interesting, otherworldly appeal to a film whose meaning lies somewhere between reality and reverie.
The swirling, moody colors and single-shot style help bring the viewer into the heads of the onscreen characters. Intricate interior shots and the chaos of the city combine to perfectly reflect the tumultuous, emotional nature of all the characters involved and the intentionally obscure ending of the film.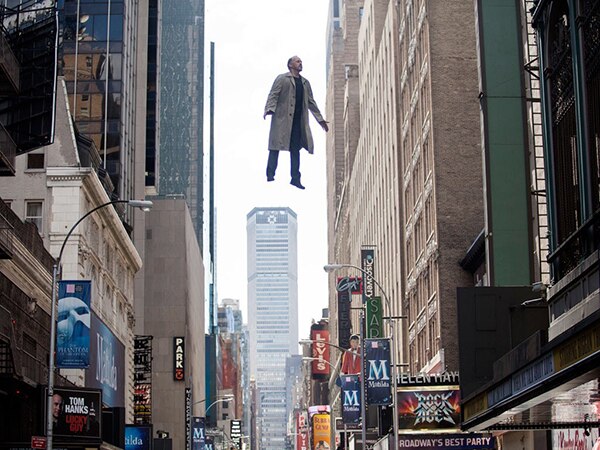 All three of these films exude an undercurrent of darkness and a menacing spirit, whether in the comedic escapades at "The Grand Budapest Hotel," or in the bewitching playground of "Into The Woods " or in the mean streets of New York and run-down rooms and hallways backstage of Broadway. Each particular mood is heightened and illuminated in a swirl of design strokes!
Have these films inspired you to make unique decor choices in your home? Put your new look together at Blindsgalore.