Windows tell many stories as life passes through these enlightening spaces that fill up our homes. I am always intrigued by the ways that our friends here at Blindsgalore have creatively solved an unusual window quandary. Since we specialize in custom window treatments and have the expertise to tackle all kinds of problems, we love to find unique solutions. I am sharing with you some of my favorite window stories that inspire me to help many of our customers solve tricky or annoying window problems-some rare-some common with a design twist and some just beautiful, but always personal. Who knew windows could be so captivating?

Flowers Galore
If you love flowers, why not print your favorite flower on the blind of your choice. Even in winter, you can enjoy your favorite bouquet, day or night, winter or summer!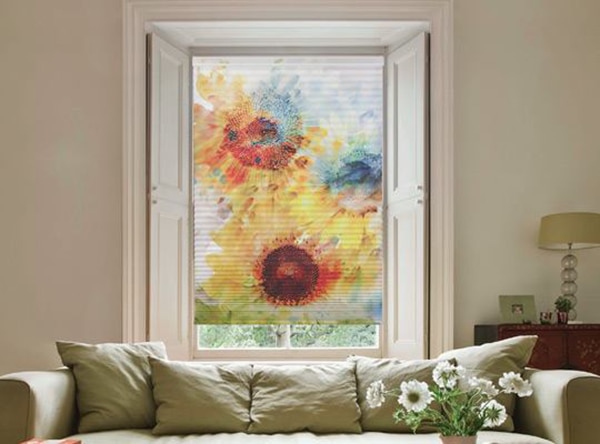 Blinds For Birds
One of my favorite window stories revolves around blinds for birds! Yes, birds need protection from the summer sun and the chill of winter, let alone stalking critters trying to find a delectable treat. Kathy, in Northern California, has an aviary of 45 birds, attached to her home where rain would drip in and the heat and cold would seep into their nests. Her birds were too precious and needed a more sheltered and protected home to live and breed. Blindsgalore to the rescue with custom window treatments for her aviary.
Kathy started out with 2 English budgies and her ever-growing family of birds are now warmly ensconced in a specially customizable room of their own, outfitted with blinds that are raised and lowered each day. Kathy prides herself in providing the most comfortable environment for her birds and the new babies she raises (at last count, she had 30 new babies in the nest). She enjoys the hard work and effort to pamper her birds and people all over Northern California, Colorado, Nevada and even New York come to buy her baby Budgies. Birds, too, like to live, chatter, sleep and nest safely.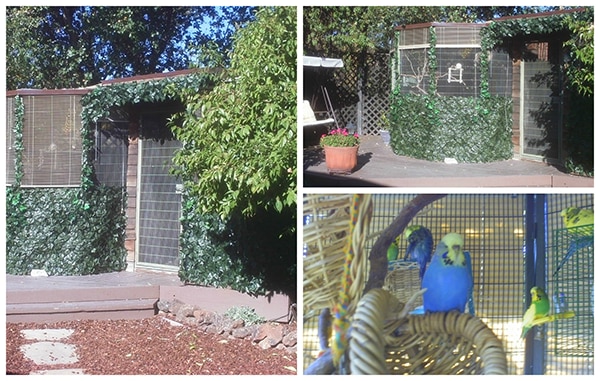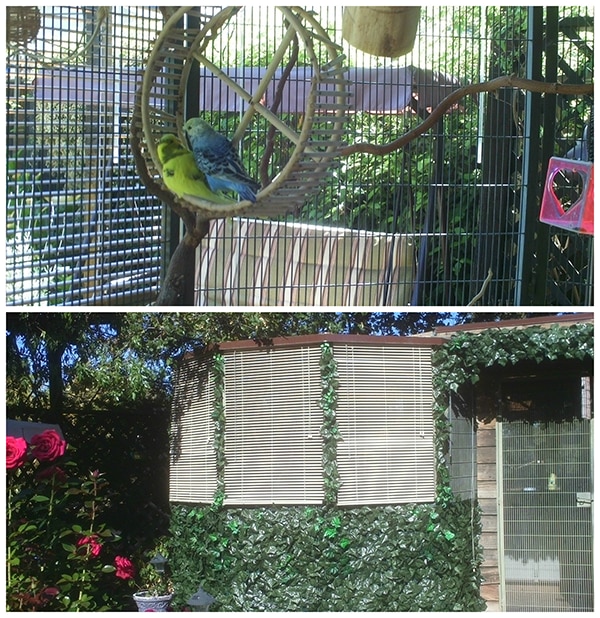 Closets With No Doors
Rosa from North Carolina loved her new walk-in master closet. Even though the closet was tucked around a corner and not easily visible, we helped her design this large opening over 106 inches tall with a custom sliding door wood panel. Rosa was so happy.
"These custom blinds are just what we needed!! They are absolutely perfect they are absolutely gorgeous. They are absolutely luxurious with a very high-end appeal. I love them."
– Rosa
"These custom blinds are just what we needed!! They are absolutely perfect they are absolutely gorgeous. They are absolutely luxurious with a very high-end appeal. I love them."
– Rosa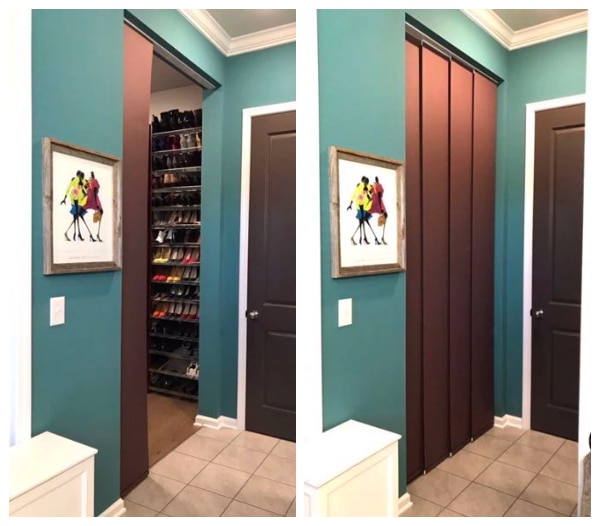 Blinds for Yoga Lovers
Yoga devotees surround themselves with a calming grace and nothing should interfere with the solitude that pervades a yoga studio. This particular yoga studio was not allowed to use any brackets or metal that would detract from the quiet that was needed. We used "Simple Fit Shades" that just pop into a window. No tools are required; all you do is push a button and your shade seamlessly "pops" into the window frame. These yoga studio windows are spare and clean. Since no holes or hardware was needed, the serene esthetic is preserved. By side mounting the Simple Fit Shades, a beautiful presentation resulted, in addition to the soothing turquoise color, enhancing peaceful poses and mantras.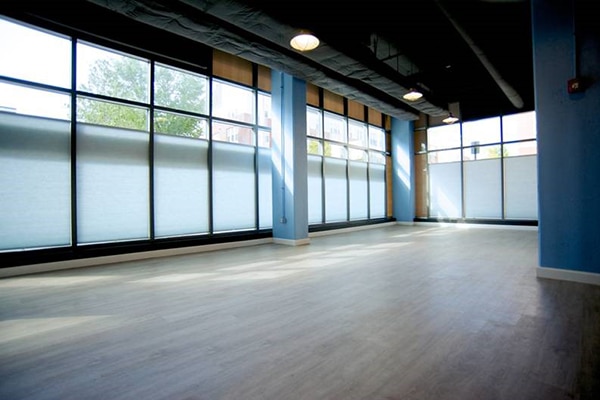 Nurture Nature
When nature sends a hurricane not ONCE but TWICE through the roof of Karen's roof in Louisiana, she sought refuge from Blindsgalore. Here is her story:
This is our second time ordering from Blindsgalore. The first time was several years ago after a hurricane sent a tree through the roof when we ordered several pairs for the new windows in the rebuild. Well, fast forward a few years and another hurricane sent two trees through the roof. This rebuild/repair has been its own circus and when it came time to choose window coverings my first thought was Blindsgalore. A quick Google search and a few clicks and voila! New blinds were on the way. Our new blinds arrived quickly and the written instructions plus video instructions made install a cinch. We love them. I'm so grateful for this established, reliable company."
– Karen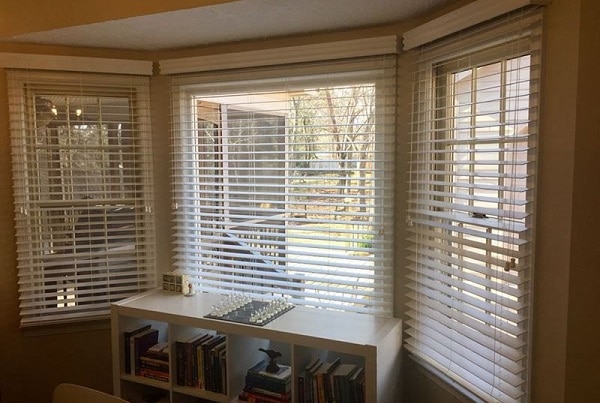 We hope that Karen will be able to enjoy her new Wood Blinds for a long time and that Hurricane Season will always blow over her home.
Crafts Galore
If you like to craft and love to accent the custom material on your windows to other items in your home, you can easily order extra material. Diane tied her bathroom Roman Shade flower material together for a complete decorative bathroom look.
"I ordered one battery powered blind for a window above the tub. It has a cool connector you can plug into power to charge when the time comes. I love this blind! the extra money is well spent for the automatic blind w/ remote! I also bought one for above the toilet w/ a cord. I bought one extra yard of fabric and also recovered my trash can, made a scroll, and covered a wooden box for kleenex that my husband made. I am very happy with my purchase! oh, and I also used some fabric to put in some old frames I painted :)"
– Diane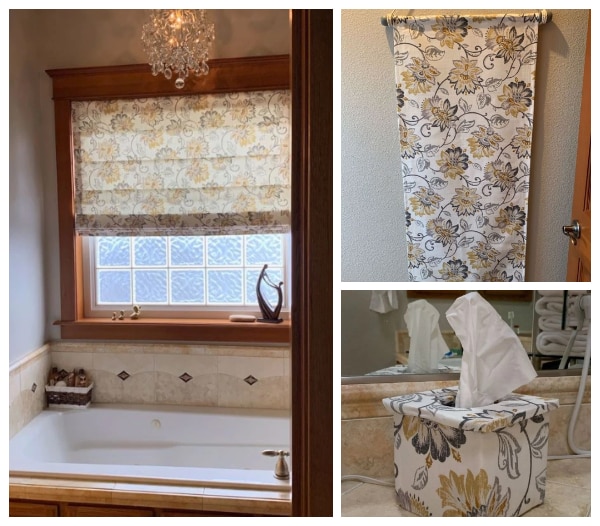 Outdoor Living
Coolaroo is one of my favorite Solar Screens and Brian shaded his large beautiful custom deck with these extra large earth brown Window Treatments to shield his home from the bright sunlight and for extra privacy. I feel like coming over right now for a cool frosty drink!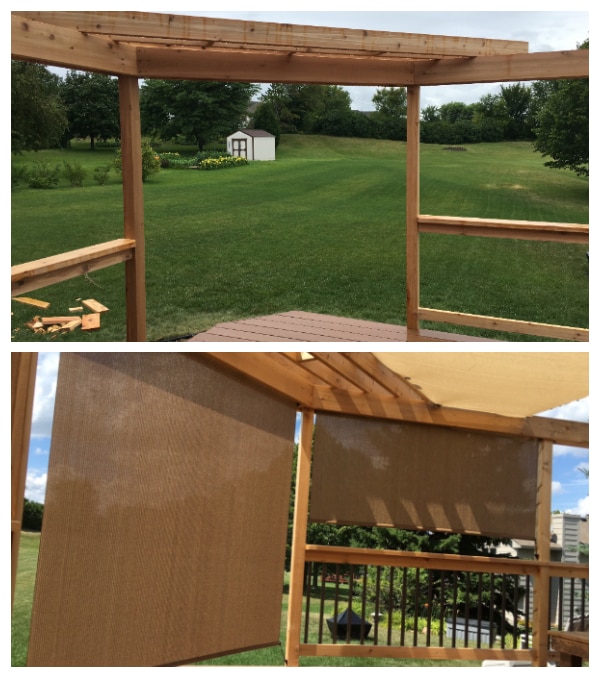 High Up
A spectacular rooftop home in the woods is outfitted with Envision Roller Blackout Shades on these incredible windows. I must say this is one of my all time favorite places that we have designed. This vacation rental of April and Daniel Phelan of Tunnel Hill, GA, is called the "Epic Lookout Tower" and I am putting my name on the waiting list right now!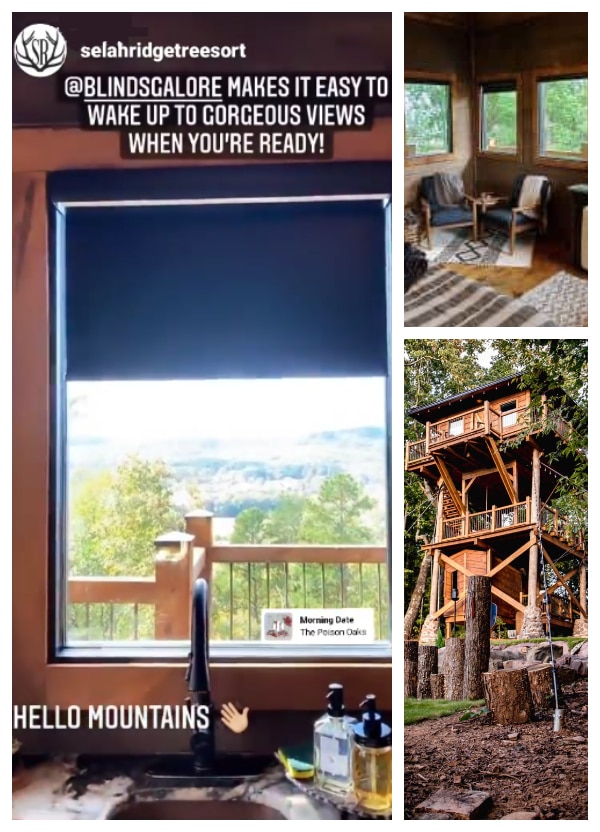 Blinds Your Way
Another favorite way to treat your windows is with a graphic personalized blind that is totally your own creation. You may send us a personal prized photo, or an original drawing or your child's masterpiece or a logo from your company-really we can print anything on a blind that resonates memories or creates a brand or advertisement for your business. Our Blindsgalore Custom Graphic Shades are printed on demand in your choice of three fabrics and it is so easy as our designers will help you format the size, color and quality to proper scale for your shade or assist you in any other decisions or questions.
TV Blinds
A popular way that many of our customers like to use this special feature is to create a graphic shade for the TV Screen. Since BIG screens have invaded our homes and loom in our family room or living room, you can now design a creative and more decorative covering.
Jim chose to render a romantic ocean scene for his modern home.
Thomas chose a more modern look for his bookcase TV.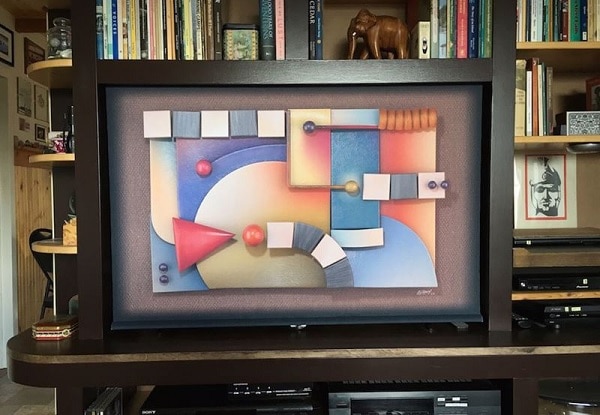 Company Graphic Shades
Many of our retail customers like to use a large Graphic Shade of their logo or an inspirational image that denotes their product or service. I am sharing with you a luxury beauty salon in Chicago and an Eye Care Group in Indiana. Yes, a picture is worth a thousand words.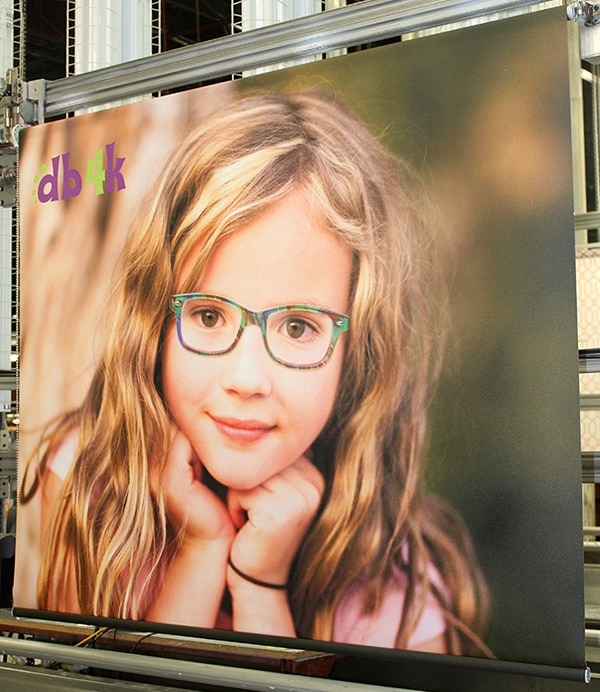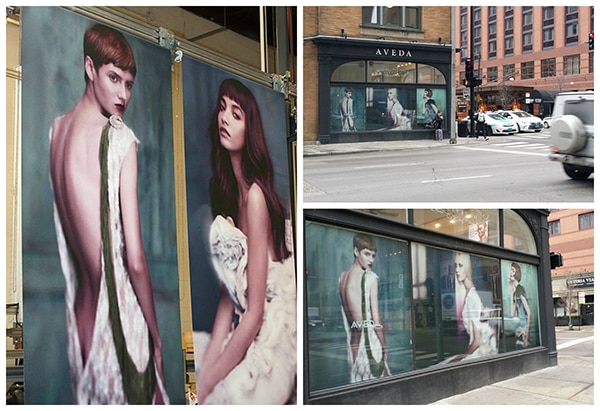 I am sharing one last image of one of our first original designs that resides right here in San Diego, our hometown. The owner of a tattoo parlor, "The Vishuddha," created an original tattoo design that we printed on a window screen that he uses for privacy in his studio which also displays his phenomenal artistry.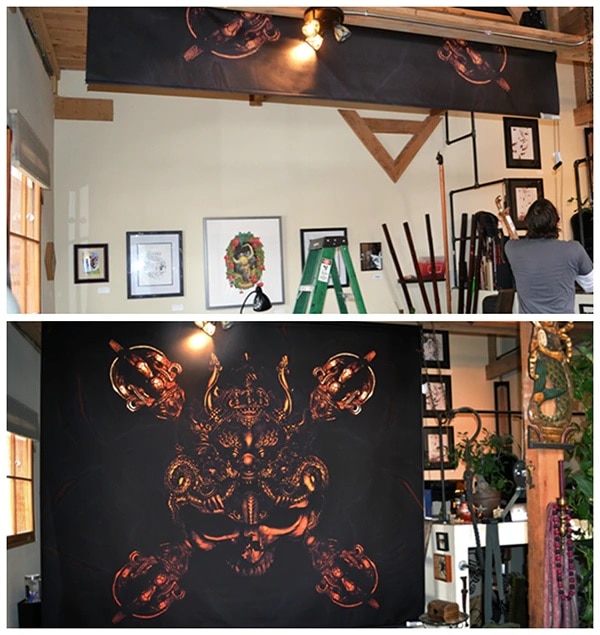 Are our windows and how we treat them, a revelation of our soul? Now, you know that windows are truly an illuminating space with endless design possibilities.