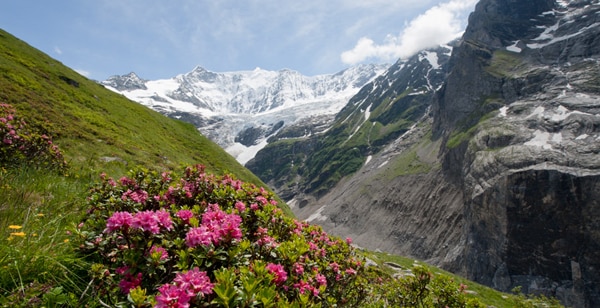 Switzerland is just stunning. The Alps, the soaring green vistas, and the traditional chalets make you feel as if you've touched down in a fairy tale. I had the recent opportunity to visit this enchanting country and it really was as beautiful as I had imagined it to be. From the idyllic mountain towns to the bustling cosmopolitan city centers, Switzerland is a prideful and picturesque nation sharing borders with France, Germany, Italy, and Austria. This country should not be missed on a European vacation.
While the snow covered Alps steal the show in the winter months, what I discovered to be so charming about a summer visit were the spectacular window boxes!
Bright blooms cascaded from window boxes perched in front of windows large and small. As you know, I usually can't help but be drawn to interior windows and their coverings, but on this trip I couldn't get enough of their exterior accessories.
Window boxes have a history traced back to ancient Rome and were typically used by the lower classes that didn't have the land for a traditional garden. They were used to grow food for the family, herbs for medicinal purposes or flowers used in religious ceremonies. As time went on, the boxes became popular in other countries and were used more as a decorative element to adorn homes. Luckily the use of window boxes remained popular in Europe as it is such a delight to witness the vibrancy they bring to the facade of new and old buildings alike.
Now that I've shared my adoration for the glorious window boxes of Switzerland, don't even get me started on the cheese and the chocolate!  Yum!
The next time your travels take you abroad, I hope you get to experience the windows of Switzerland.
Tschüss!