At Blindsgalore, we are always jumping on the chance to spread our window treatment expertise and lend a hand to every place that calls to us. My nieces told me they had just bought a 1925 Craftsman home in Pawhuska, Oklahoma, a place full of history of the Osage Indians and a small prairie town recently put on the map by Ree Drummond, or as everyone knows her as the "Pioneer Woman." I quickly popped off that you two will surely make this house a most spectacular Airbnb, for a town buzzing with fame and hoopla. As Cathy and Suzanne ripped in and redid the house, Blindsgalore covered the windows with the perfect custom window treatments. "The Oilman's Daughter" transformation into a chic blend of modern and traditional decor imbued with a "down-home feeling" of comfort, touched with elegance, is waiting for you.
Frontier flair, Indian art and artifacts and country charm combined with a bright white kitchen and light-filled bedrooms and bathrooms balance the simplicity of the rustic wood moldings and historical interior architecture. A sense of prairie past is suffused throughout this updated rejuvenation. This "Oilman's Daughter" Airbnb is an homage to this oil-rich town in Osage Country that bred three generations of our family ancestors who worked as roustabouts alongside the hard-pumping oil rigs in the '20s and '30s, who then became field superintendents and on to Cathy and Suzanne's Dad who is a retired executive from Conoco Phillips Oil Company. Oil runs in the blood here. Today, these daughters have designed the ultimate guest house in this secluded small town, now burgeoning with hype and history.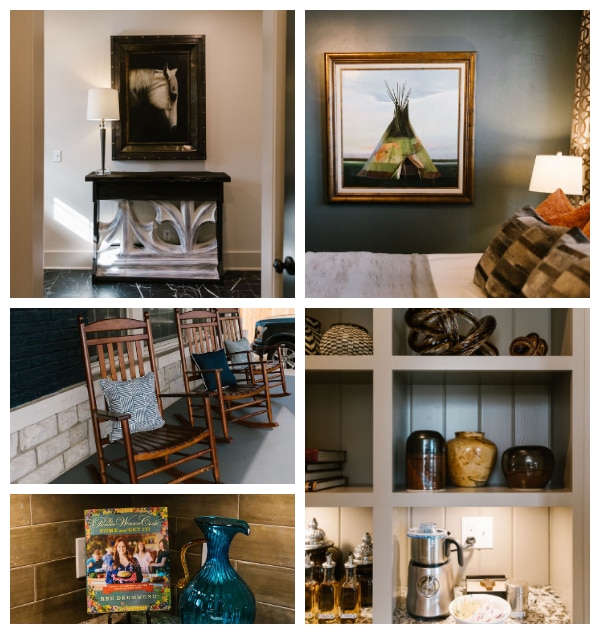 Honored to be a part of this family restoration, as the insides were torn apart and the windows bare, the Midwestern light beckoned me to suggest window treatments that were classic and sleek to complement the refined structure of the house, highlighting a timeless but modern look. As you enter the house, a beautiful but simple glass door, framed with tall windows, welcomes you. These dramatic windows are bordered with soft drapes to swag back to reveal the light and detail in this Great Room. Understated but elegant, these Blindsgalore Designer Custom Drapes in Mushroom Bisque soften the dark grained floors and rich patina of the woodwork and exposed beams. For privacy and light control, the "daughters" chose our Blindsgalore Natural Hardwood Blinds all through the house for the classic, real wood feel. Mounted inside these impressive windows, these custom blinds in Mace seamlessly blend in with the stained woodwork.
The alcove off to the side of the Great Room, the Gathering Room, flaunts a bank of three windows, beneath a prized window seat. On-trend woven wood blinds, with their natural organic texture, enhance the plush fabric upholstered chairs. The daughters chose the color Origami to complete the look. Adjacent windows are designed with our hardwood blinds that complement the leather wing-back chairs. I love the addition of the animal printed pillows and natural hides, paired with the colorful patterned rug to offset the antique dining table from Scotland.
In contrast to the "Western Prairie" look of the main rooms, the kitchen, bathrooms and bedrooms are upscaled in pristine white for a sharp modern look. In the bathrooms, white wood custom blinds in White Lace are classic, but simple and lend a clean glow to this all-important space.
A variety of patterned drapes add a level of sophistication and interest to the bedrooms. Drapery panels are so easy to add the right note of design when paired with our white wood blinds. Combining drapery with blinds, privacy and style go hand in hand.
Anyone can be a DIYer, as Cathy and Suzanne show us how to have a good time putting up the drapery panels. With so many intricate and whimsical designs, drapery is an effortless way to create a spirited room. Make decorating fun as you can really make your home your own kind of wonderful, with the style you love, when you want it, knowing you can do it.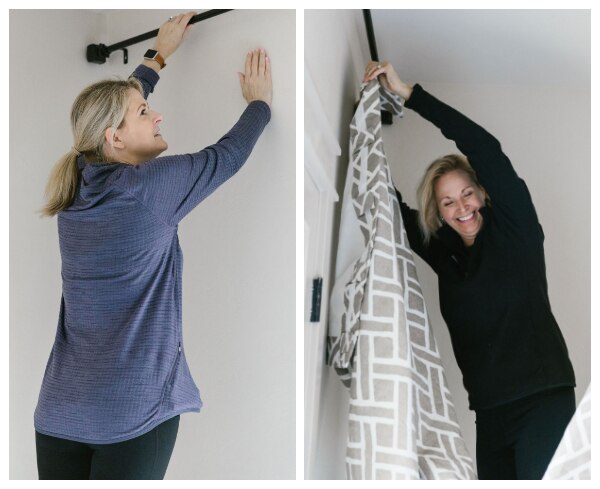 Many personal touches of family and historical mementos are scattered around the house: a beautiful stuffed pheasant in the Gathering Room to a bronze replica honoring the Roughnecks of Sherwood Forest that commemorates the importance of oil to the victory of the Allies during WWII and an intricate, hand-beaded, deerskin Osage Indian vest. Throughout the house, tributes to the buffalo and the tall grass prairie that surround Pawhuska, all imbued with the Native American heritage, make this a unique experience.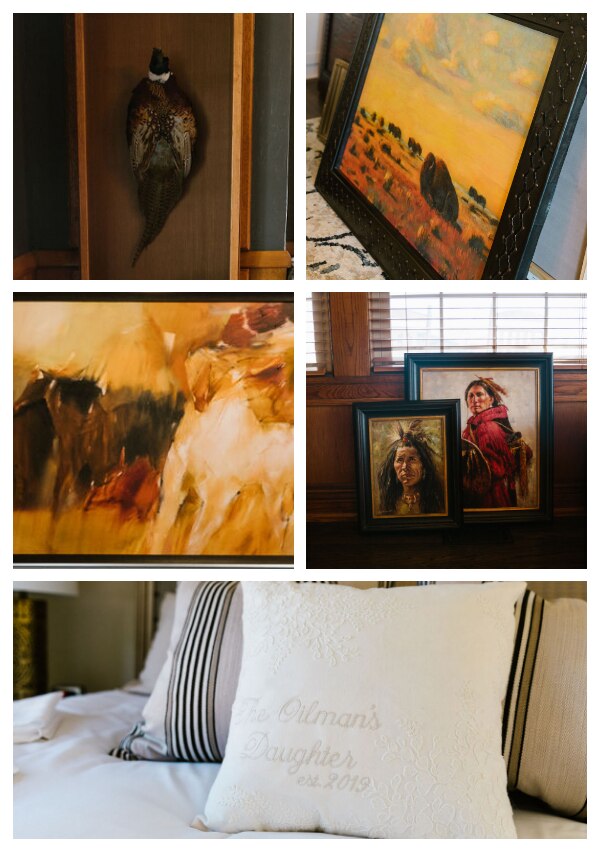 Be comforted and inspired when you stay here as you step back into a small town, country ranch life, re-imagined.
What are you waiting for?
Come on in, ya'll!
Welcome to this home, but the "Oilman's Daughters" call this home, someplace special!