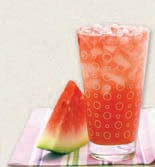 Ingredients:
8 cups cubed seedless watermelon
1 cup fresh strawberries, halved
3/4 cup fresh lemon juice
1/2 cup white sugar
2 cups water
Directions:
Bring sugar and water to boil and stir to dissolve sugar. Allow to cool to room temperature. Combine the sugar water with watermelon, strawberries and lemon juice in a blender. Blend until smooth. Strain if desired or serve thick, garnished with a slice of lemon.
Servings: 10