Vintage is always a trendy decorating style but kitchens, in particular, are unique in expressing the warm, cozy feel where all things vintage feel at home. The vintage look is easy to pull off with just a few touches in unexpected places so that you can imagine yourself cooking up goodies just like Betty Crocker (who is she anyway) or do you remember Donna Reed?
Here are 10 easy ways to add that "lived in" and casual feel for your kitchen.
1. White Walls
Say it all with a blank slate with white on the walls. By keeping your walls simple and white, vintage accents, cottage dishware and a beautiful array of country cabinets do all the talking.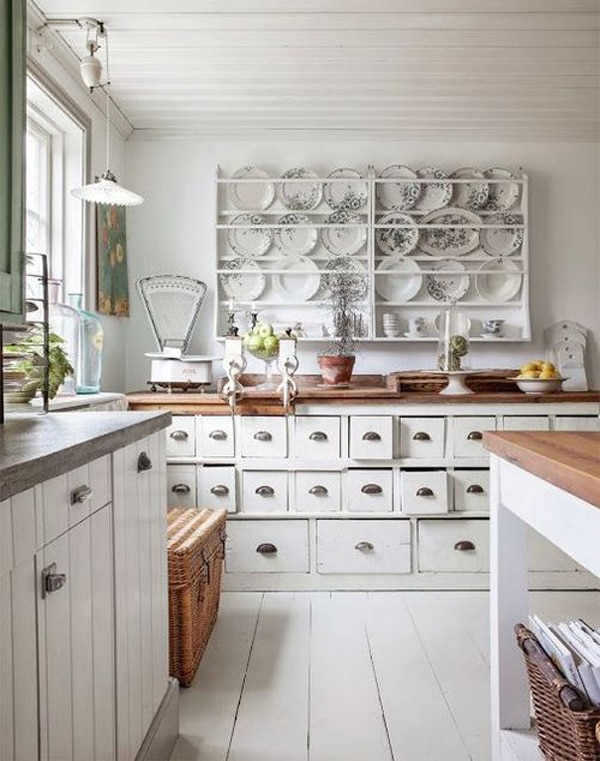 2. Mix N Match
Vintage is all about creating patterns and putting things together in an interesting and unusual way. Swap out your traditional hardware for a bold combination of fun hardware on your cabinets. Find bright and intricate knobs, pulls, hooks and mix and match for whimsy. Or just use some oversize brackets for a super simple vintage treatment. Go for the dramatic in the small details.
3. Cutesy Curtains
Cafe curtains shout vintage with these colorful, patterned dishtowels fashioned into easy window coverings. Your windows are instantly transformed back to the "good ole days"!
4. Vintage Appliances
You don't have to go for broke and splurge on a vintage fridge or the brand new look-a-like vintage. You can still achieve that old-fashioned style with any antique scale, teapot, mixer or colander. Bright or pastel colors work as accent pieces and can be repurposed when you decide to redecorate.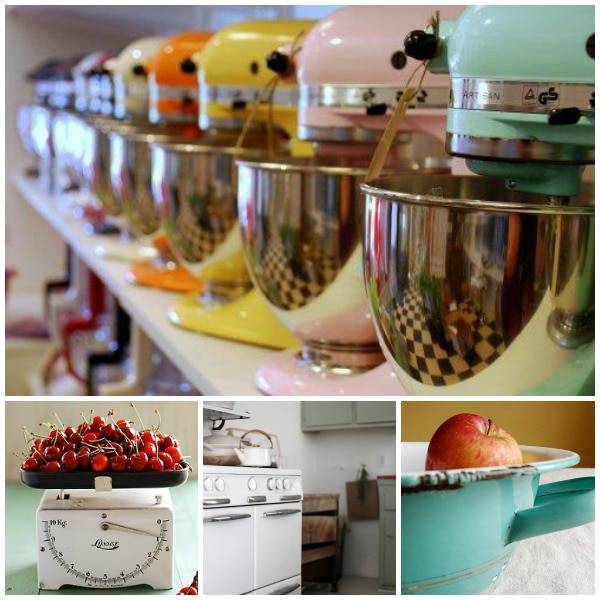 5. Exposed Wood
Exposed Wood offers versatility in all places in your kitchen and the patina of salvaged or reclaimed wood adds a layer of depth whether it be on a cutting board or breakfast bar or built into the molding or covering the kitchen hood over the stove. The country, rustic look of weathered wood is always a smart touch.
6. Pastels and Florals
Pastel and cottage styled floral prints are the ultimate accessory to a vintage kitchen. Scour antique shops or flea markets or maybe even your Mom's attic for vintage dishtowels, aprons, tablecloths and even oven mitts. The weathered and faded look of these fabrics should never be overlooked and used in myriad ways for the vintage inspired.
7. Open Shelves
Show off your dishware and add some antique crocks, accented with some old kitchen utensils. Crowd those open shelves with some frayed and worn, but favorite cookbooks and use them too! "The Joy of Cooking" (published in 1931) never gets stale and is still my go-to-cookbook on how to cook everything.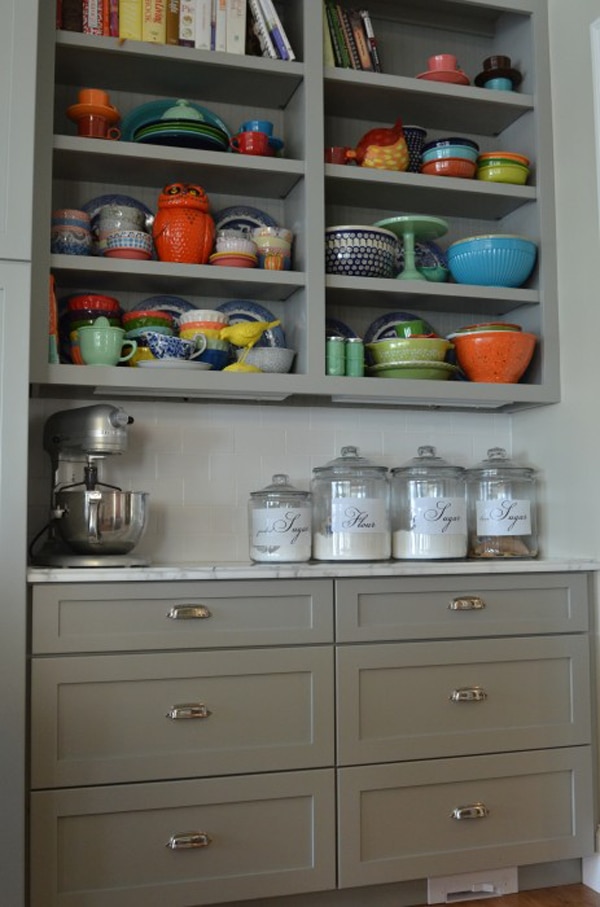 8. Containers
Large, oversize containers in vintage colors with bold, block lettering are not only decorative but useful and make such a strong vintage statement. DIY them yourself with a large stencil and a little ingenuity. Easy-peasy!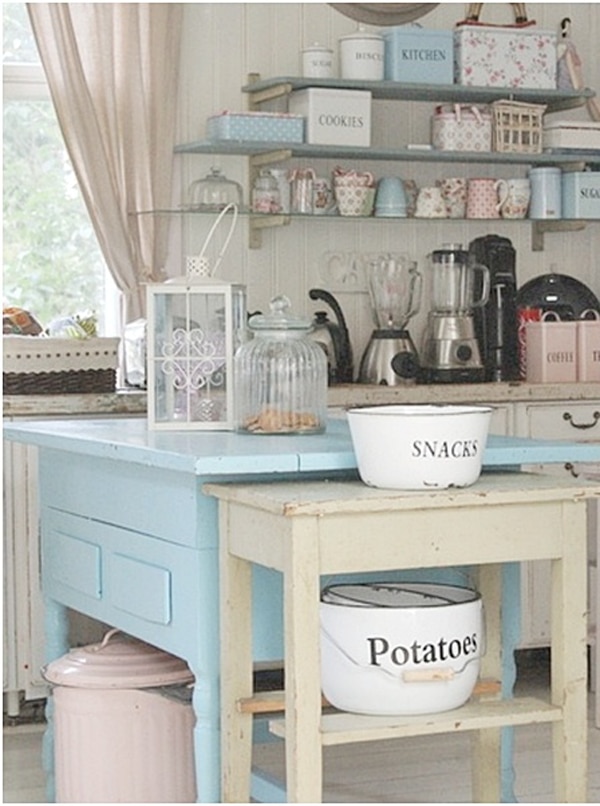 9. Lighten Up
Even a simple lamp adds old-time appeal whether you choose an exposed chain pendant lamp or craft one yourself from an old colander (my favorite). I even used a rusty colander, turned upside down and fashioned a mobile by hanging battered, antique flatware through the holes to add a vintage touch over my kitchen sink. Of course, you can do the opposite and use an elegant antique chandelier to offset the simplicity of vintage.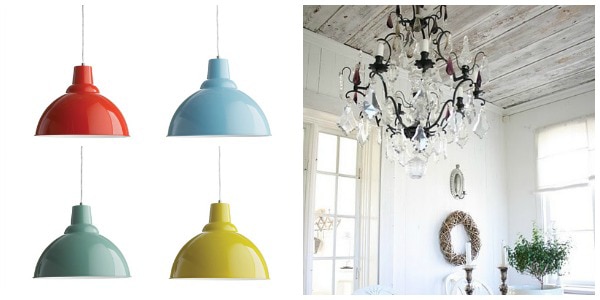 10. Fresh, Fresh Flowers
Since you know I love flowers almost as much as I love windows, every room needs a few fresh flowers once in a while, if not all the time. To my mind, any flower works in a vintage kitchen as long as it is FRESH. Mason jars are making the trend scene now and are an inexpensive and perfect container for any flower. I even like to paint the outside of Mason jars in a pale blue color to amp up the vintage look.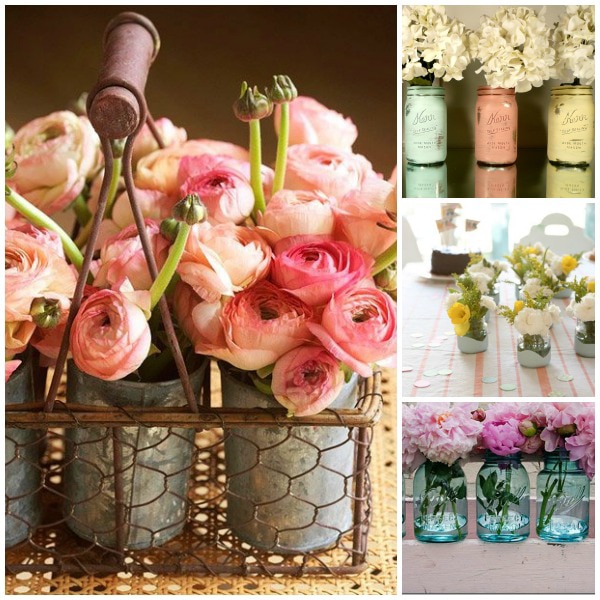 These 10 simple and quick ways can add a touch of vintage to your kitchen right now and can be found in this picture. Can you find all ten?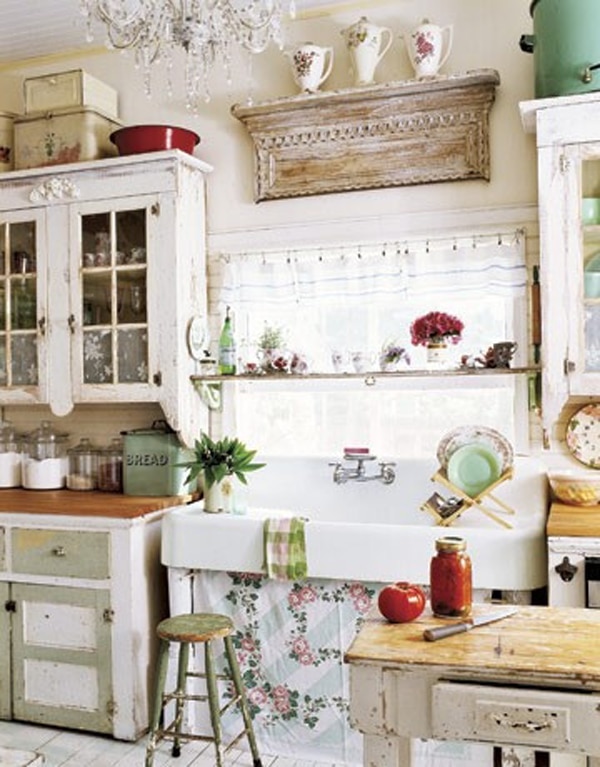 I always like to look for simple and quick design ideas to make your decorating days fun and fanciful and just a few touches of vintage works in any style and make the kitchen extra comfy and create a special hum in your house to keep everyone together and happy, especially you!