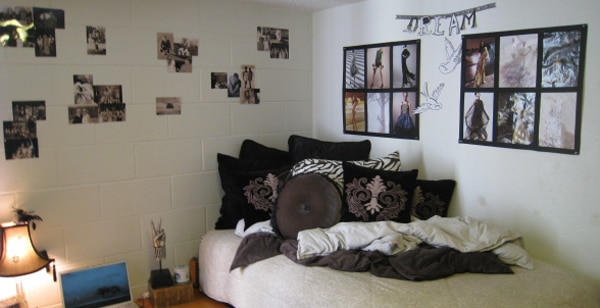 If your are fretting about decamping to a drab, dreary, dull small box of a dorm room or you are moving into a spare, uninspiring apartment, I have many quick, easy and simple ideas as how you can transform a plain, blah living area into a spirited space, full of your own personality. I can still remember being stuffed into a small dorm made for two, when three of us girls came to college with suitcases and boxes and trunks, fully loaded with an arsenal of clothes and stuff. Not only did I worry about where to put everything but the dreariness of the room, depressed me as I already had a keen sense of design and "DIYness".
UGH! Don't believe for a minute that this barren, uninspired room is where you have to plunk down new ideas and friends and create unimaginable dreams for the future.
With today's easy access to cheap and cool ideas, you can outfit your room in just about any style to jazz up anywhere you might land. Here are 8 ideas to get you thinking right now, even before you have to crack the books.
1. Light Up
Almost every room I enter, dark and gloom pervade. I know you brought a desk lamp, but perk up that space with a few strings of twinkling lights. They bring cheer and whimsy to the day or night and brighten up your mood and your room instantly.
2. Time Is On Your Side
You don't want to be late for a date or a party or class and life can now be so regimented, you might as well let a cool clock guide you through the day and add style to your room.
3. Color Bomb
The easiest way to brighten up a room is to go for bold color, whether you choose a patterned quilt, an old blanket or a multicolored sheet. Whatever you choose to throw over that metal bed frame, select a fantastical color.
4. Wall to Wall
Wall decals work perfectly in dorms as they peel off without scratching or ruining the surfaces in your room. My favorite website for unusual wall art is customizedwalls.com These images add punch to any space.
5. Contain It
Every room needs some kind of storage for all that stuff you brought. Bookcases are so boring. Salvage at a flea market or hardware store or even your attic for old suitcases and ladders to hang or stack and fill up with your favorite things. You can even find some old drawers and line with paper and stack for a unique set of drawers. Of course, you can always go to the container store for the "same ole, same ole," but it is fun to think outside the box!
6. Mirror, Mirror, Who Is The Most Creative Of All?
Since dorm rooms are small and compacted, a large mirror helps to enlarge a space, plus there never seems to be a full length mirror in sight; in my mind, a necessity in life.
Mirrors can be purely decorative to brighten those plain dorm walls.
7. Stamp It Out
If you are feeling artistic, grab a white sheet and cut out a triangle stamp, grab some gold paint and dip, stamp, press and voila, instant art wall hanging or room divider. If that is too much work for you, just grab any fabric, or thin blanket with a colorful geometric pattern and just hang it wherever you need it. Check out designsponge.com for all things amazing to make or inspire your design ideas for your dorm room.
8. Spirit Forever
I would be remiss if I didn't remind you that Blindsgalore has an amazing selection of Collegiate Sports Shades that you can customize for any window or use as a wall hanging to keep your spirit high through your college days and long after you have graduated and are a dedicated alum. College can be the best days of your life to cheer you on long after you have left your dorm room.