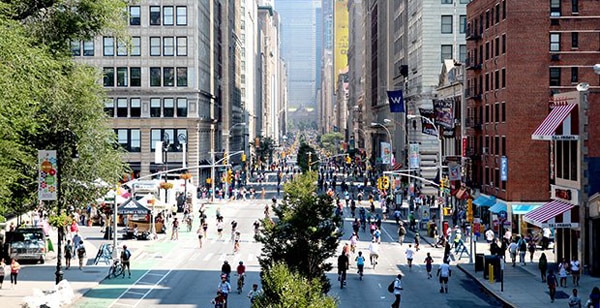 I am always renewed after my trip to New York City to source new ideas and scout out upcoming trends where I consume the pulse of this vibrant, exciting and demanding city. I synthesize all the colors, street fashion, artful food, extravagant window displays, kitschy stores, cutting edge boutiques, raucous theater and immerse my senses in this emporium of diverse sights and sounds and return home to the West Coast replete with inspiration for you.
Some highlights:
Bright, Eye-Popping Colors
New York home stores are filled with even more pops of color. Think fuchsia and orange for the coming seasons. You gotta have it.
Cronut Craze
Dominique Ansel's Bakery is the talk of the town with his infamous new creation, the Cronut, which is half croissant and half doughnut. This treat sensation has become an instant "phenom". I was too late as the lines begin two hours before the bakery opens. Alas, all I got was a picture of the front door and standing line only for the sold out pastry, but I can imagine the Cronut as a symbol of an ethereal combination of tastes to make you swoon. Hopefully, a sensation that you get when all flavors complement each other…in your home taste, too.
Patterns Galore

Contemporary geometrical shapes will be more chic. Look for chevrons, large florals, thick stripes and ogee patterns (a double curve in the shape of an elongated "S").

Think crisp, clear and bright colors, evocative of a European candy shop (this one is Swedish, Sockerbit) that just opened in the Village.

I couldn't stuff my candy bag full enough with these intriguing shapes and flavors.
All Things Shiny
Just as the glittering skyline of New York is outlined by the Empire State Building, gold and silver and all metallic textures are continuing to be strong and impressive accents in all things fashion and home decor. Remember that natural wood (real wood blinds) complement all the gilded tones in your home.
Hand-Crafted
One striking memory of all things New York is the depth of history of hand-crafted, unique and artisan made products. This wall of antique sewing machines portrays our dedication in bringing to your home custom made blinds and shades that are still stitched by hand.