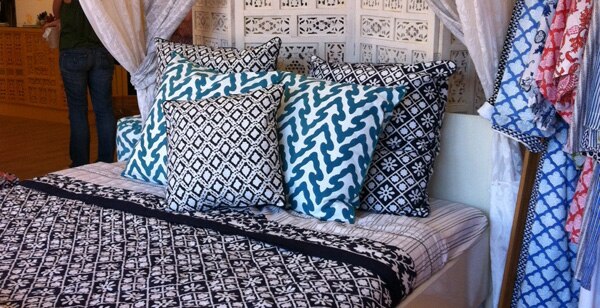 I must confess, I love a strong pattern. In fact, lately, I can't seem to get enough pattern into the rooms I'm designing, or even into my life in general. Right now I'm redoing a space that is part sunroom and part guest bedroom. I immediately concluded that stripes on the windows are a must, because the room is on the smaller side and some horizontal stripes will stretch the room out to make it feel expansive. So I knew I had to get the stripes box checked, but I also I had corresponding patterns on my wish list. However, I wasn't quite sure how I was going to bring it all together and make the stripes work alongside another pattern or two. Layering patterns is one of those things that when done right can be an unapologetically chic statement or, if not quite thought out, can be a disastrously unkempt mishmash. Well, I didn't want mishmash. I definitely wanted unapologetic.
Suffice it to say, my dreams came true when I spotted the patterned soft goods at the Roberta Roller Rabbit store.
The patterns here range a gamut of colors, so weeding out choices is not an easy task. Just look at the pillows alone— and these are only some of them.
Luckily, my heart was set on the blue family, so I whittled down my vision pretty efficiently. I'm still finalizing exactly which blue patterns to coordinate, but I do know that they will all pair well with the striped roller shades I've picked out from our Blindsgalore Expessions line. I'm thinking I'll go with Casual Stripe in either Cornflower or Nautical Blue. No matter what, though, I want stripes on those windows and patterns, patterns, patterns everywhere else.
I may just throw in this rug, too.
I love they way it's just casually hanging out underneath the bed.
Want to know what patterns I picked at Roberta Roller Rabbit and Blindsgalore? Stay tuned for when I finish this room!
Now all I have to do is keep myself focused on this sunroom/bedroom combo because when I turned the corner in the store I ran into the kids section. Oh, lordy.