When I was a child, my best friend lived on a ranch. I loved spending long, sun-filled days there, waking in the morning to the rooster crow and smelling fresh bacon and pancakes on the griddle. We would spend our days chasing sheep and riding horses, swimming in the creek and helping her father in his pottery studio. There was something so charming about that home, beyond the plot of land and the farmstead lifestyle. Its charm resided in the heirloom metal pitcher by the apron sink in the kitchen, the gentle linen and ticked stripe beds, fluffed with down and the framed pictures on the wall, storytelling the history of that family and their ranch.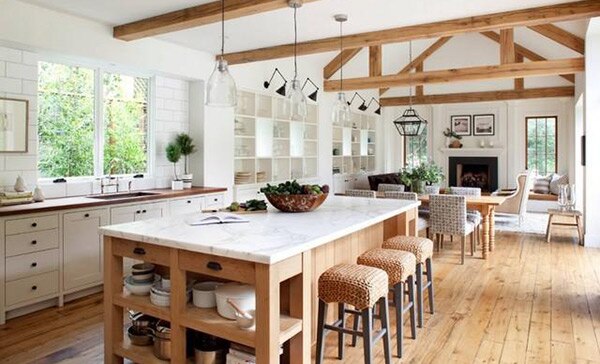 Today's Farmhouse style is an interpretation of this homey, casual, simple way of living that harkens back to a piratical, earth-bound way of living, combined with a more sophisticated blend of the old and new. Farmhouse style should feel like it has evolved over time with a collection of heirlooms, rustic accent pieces and eclectic furnishings. It has a lived-in esthetic, thoughtfully filled with pieces that have been gathered through time (or appear to have been). As with any design style, there are guidelines and tips to achieving this look.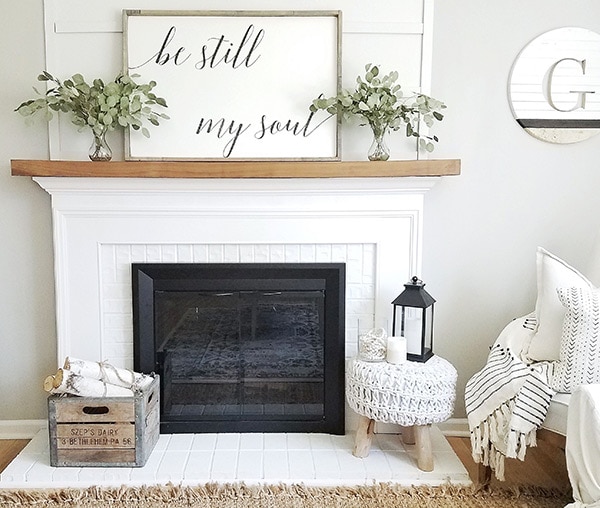 Practicality
The core of this design radiates from farm living, where practicality reigns supreme. When making the decision to change the style of your home, I recommend taking a step back and investigating your space. Consider how the room flows, furniture layout and lighting. Acknowledging what works and what doesn't will make the transition easier in the long run. When designing in the farmhouse style, I like to keep function at front of mind and remember that practical living is the goal, where furniture and storage take center stage above accents and decorative finishes. You want your space to feel lived-in, comfortable and tuned into your lifestyle.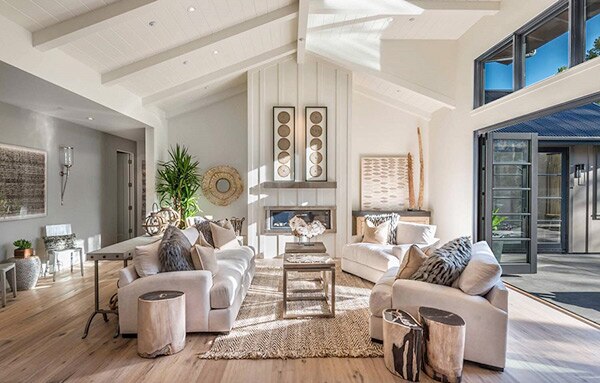 Fixtures and Finishes
Bright white walls and warm wood floors are signature finishes for farmhouse style. Does this mean you should rip all your carpet up and lay wood down? If it is something you are already planning and it's in your budget, have at it. Will it hold you back from realizing your home's farmhouse potential? No way! The beauty of this style is that it is laid back and lived-in. Just keep your space light and bright overall, with an emphasis on your floor coverings.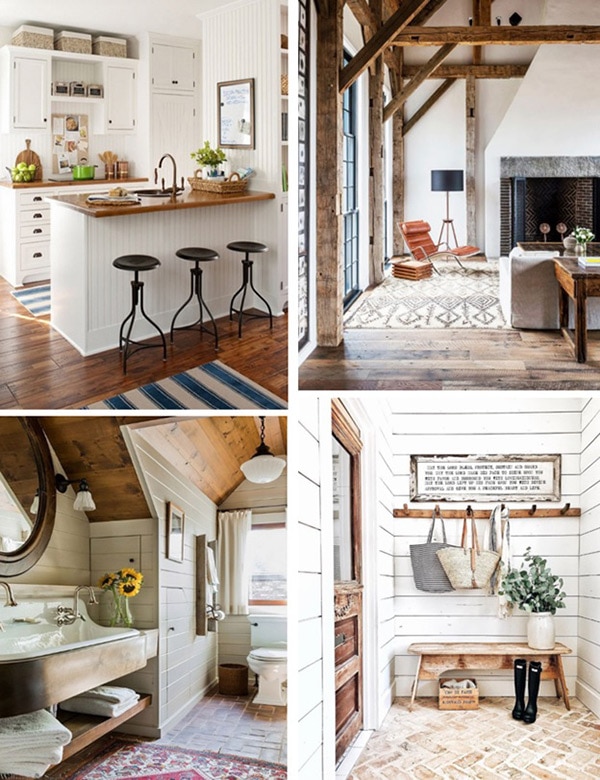 Another focal design feature of this style is decorative wall accents such as barn board, beadboard and shiplap. These accents are a spectacular way to add character to a room but I recommend working with a contractor or designer for scale and application. If done incorrectly, your room (and wallet) will suffer for it. Flexible enough to cover a portion or a full wall, these wall treatments are also a lovely, if unexpected, addition to the ceiling and a great way of adding depth.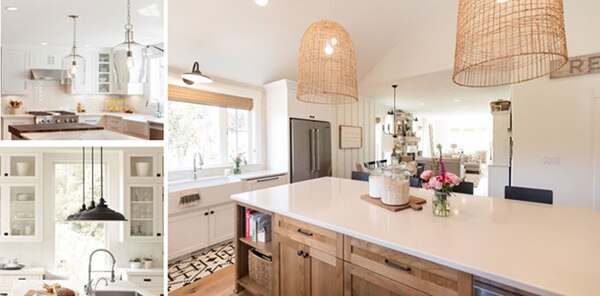 Lighting is probably one of the fastest and easiest changes that can be made to make a dynamic impact. Farmhouse design lends well to industrial lighting, such as gooseneck sconces and caged metal pendants. Adding in a new entrance flush mount or pendant lighting above the kitchen island will immediately infuse a little farmhouse into your style.
Room Styling
What makes this style so charming is its carefree, uncalculated air. It embraces the DIY-lifestyle, making it the ideal space for recycled, upcycled and renovated furniture. Vintage stores and flea markets are a great source for farmhouse style finds or pieces that speak to your soul that look and feel broken-in. Avoid matching furniture pieces and replicated textiles as these detour from the acquired feel that this design style emulates. If your furniture is well-loved but not quite right for this style, adding slipcovers to dining chairs, a couch, or armchair is a clever way to recycle existing furniture and ensure it fits neatly within the space. Cotton and linen fabrics are just the thing to dress up, or down, existing furnishings for a casual vibe.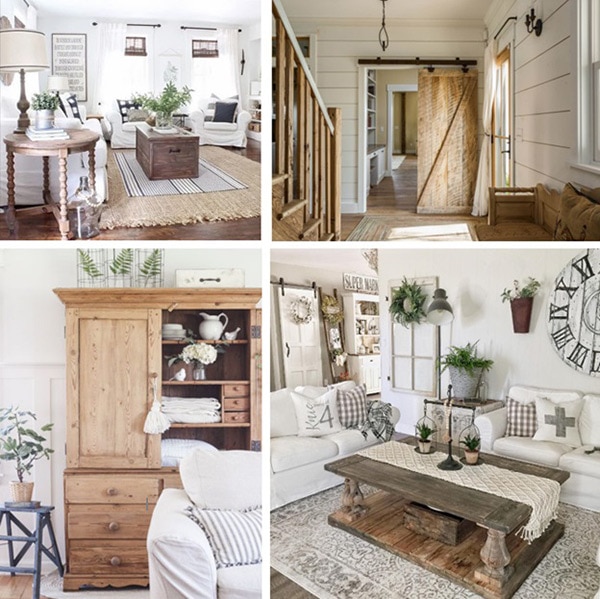 Reclaimed wood and painted finishes are always welcome additions and are best introduced as tables, both accent or dining and shelving units – the perfect place to showcase organic, rustic décor and heirloom pieces. I love a well-styled hutch, with open shelving up top and closed cabinetry below, perfect for storing linens or hiding those unsightly extras we all have in our homes. A little tip I like to remember is to mix old heirlooms or vintage finds with new favorites to create a personalized statement space in the home.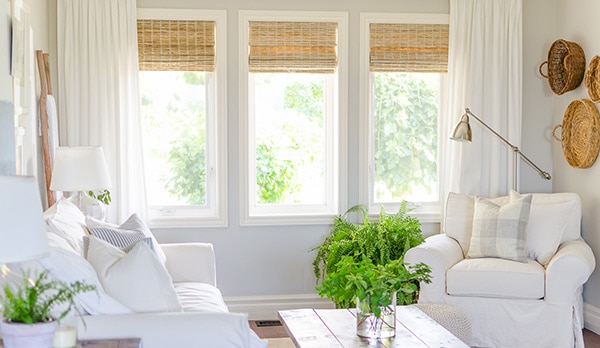 Natural windows
Nature is a primary source of inspiration in this design style, so it seems only fitting to use natural elements throughout the space. Woven wood shades, composed of natural materials such as bamboo, reed and grass, are the clear winner to treat windows in a farmhouse-inspired home. I like to keep in the light neutral tones like white and sand but find that grey tones are also a good fit. If you would like to add more texture or dress the window even more, I suggest drapery made from natural materials and minimal weaves such as cotton and linen. Keeping a clear header on your curtains will ensure that the design is simple and not too elegant for the room's design. A word of caution: don't overdo your windows with farmhouse kitsch, such as frilly cafe curtains, gingham checked or 50's country inspired fabrics on your windows. Keep it simple with that natural look.

Keeping it simple with textured woven woods or simple white shutters sets the stage for the rustic, weathered look, combined with modern materials and sleek finishes, accented in your own personal "farmhouse ethic."

The key to farmhouse style is finding a balance, mixing old with new, centering your space comfortably between too little and too much. It marries well with other design styles making it easy to transition as long as you keep in mind that this style is cozy, relaxed, full of character and all about emulating warmth. Remember to take your time to realize your space and charm as character doesn't happen overnight. The season of change is upon us, so don't let winter creep up before you "fall for farmhouse style."