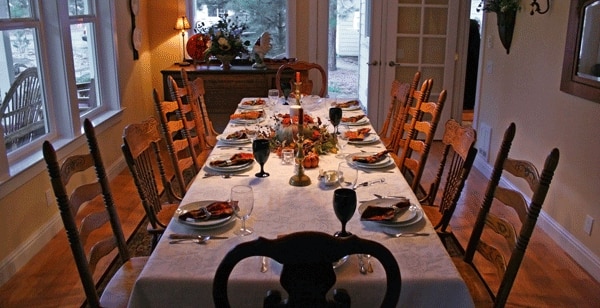 Holidays make us crazy with fixing up the house, polishing the silver (ugh!), scouring cookbooks for the elusive "best" stuffing recipe and finding the perfect pie to top off the holiday meal. I know by now you have renewed your bedroom windows for any cranky house guests and you have hopefully added some new, quick and easy drapery panels to the dining room. Now, the big holiday feast looms in your mind.
Yes, I have prepared many holiday dinners and this big food day can be daunting, especially if you are like me and pride yourself on a truly homemade delicious dinner, replete with family favorites and maybe the spice of a new dish. Your table decor should be just as tempting as your Thanksgiving feast. To relieve the pressure, here are some beautiful table ideas to set the stage. With all the colors and sizes of pumpkins, gourds and squashes and fall vegetables, a rustic basket, a few candles and some scavenged woody branches or sprigs of bittersweet or wheat fronds, and a can of silver or gold spray paint, you now have all the makings for a fall festive table.
Pumpkins of every style are the easiest way to bring color and evoke the fall mood. Just scatter, haphazardly, a bunch of pumpkins or gourds down the center of your table- a stunning and simple statement.
To enhance your pumpkin themed table, make place cards with those little yellow mini pumpkins, with the stem wrapped with a tag of twine and stenciled with the names of your guests.
For a tall and impressive centerpiece, construct a pumpkin topiary from multicolored pumpkins and squashes, surrounded by bay leaves, walnuts and fruits.
If you feel more adventuresome, you can create this centerpiece ahead of time, armed with paint and a stencil. Don't forget to stencil each side of the pumpkin so all your guests get the message!
My favorite go-to decor in a can is a bottle of gold, silver or copper spray paint. Spray away. You cannot go wrong with any creative arrangement of your choice- fabulous, easy, beautiful!
If simple is your way, a solid colored napkin, a spray of bittersweet and a solitary polished pumpkin (use vegetable oil) says it all.
Two of my favorite overlooked fruits and vegetables are persimmons, (I like Fuyu persimmons for their shape and color) and big, bright globes of green artichokes.
The shape of a perfectly unblemished pear is stately and noble, simply gorgeous.
Muted textures of cornhusks and wheat add a rustic feel to any table.
If you feel a table without flowers is like a turkey without stuffing, here are a few Thanksgiving takes on a flower centerpiece.
For those of you serious "DIYers", and you have the patience and a handy glue gun, check out the bulk seed, nut and grain bins at your grocery store and decorate candles, pumpkins and gourds with lentils, pine nuts, pinto beans or pumpkin seeds–a truly festive harvest idea.
Whatever you do, gathering together with friends, food, family and firelight reminds us all how rich we are in freedom to celebrate the holidays of our heritage.