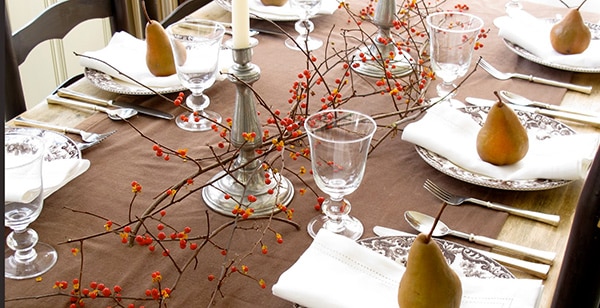 Don't let the holiday table intimidate you as cooking the extravagant feast creates enough stress. The table sets the scene for what is to come and can be styled now in your mind before the turkey is ordered and the piecrust is melding in the fridge, waiting expectantly to be filled with spices, pumpkin, toasted pecans or brown sugared apples. Gather your decor, platters and all the tableware ahead of time, so that night before you can magically design the holiday tablescape, beautifully and seamlessly. Ignore all of those Pottery Barn exquisitely decorated tables that are made for a tempting layout to entice you to buy a bunch of new things. I love to mix 'n match as a crowd always gathers and there never seems enough of "matching everything" to go around. I do, however, believe there are some hard and fast rules to follow to let the Thanksgiving table impart the anticipation of a relaxing and graceful dinner. As long as the aroma of good food cooking, high energy and an inviting table greet your guests, be assured that this day will be success. Here are my easy Thanksgiving Day table ready tips.
The Base Layer
A tablecloth can be your favorite antique or family heirloom linen or a patchwork of designer sheets or a swath of burlap or canvas. Whatever you chose, ironing makes all the difference as a wrinkle-free surface denotes the importance of this day. Napkins do not have to match and add style by paring a more formal lace napkin folded into a printed or rough textured material. Use only cloth napkins; paper napkins are not allowed today. An intricately folded napkin is not necessary, but the napkins should be neatly folded as simplicity is appropriate for the extravagance of the holiday. If you need to extend the table, be creative and make use of saw-horses or a plywood sheet. You don't have to invest in a new dining table. I always bring in my outdoor patio table and have to stretch a couple of extra tablecloths across to make a smooth fit. Don't just grab a bunch of chairs, but try to arrange them thoughtfully so that a visual balance is achieved. You and another person should sit in each chair to ensure that the chairs are not too close together and there is plenty of room for all to enjoy this special gathering.
If you are feeling "blah" and need some Autumn color inspiration, read "Harvest Hues" to get you in the mood for this lush season of vibrant hues.
The Middle Layer
Now you are ready to layer on the plates and silverware and other glassware and serving platters. If you are hosting a large crowd, scour the cabinets and scatter the plates in a decorative way and don't worry if you are mix and matching again. However, now is the time to pull out the silver and any "good stuff" as this is the ultimate dinner of the year. Crystal, polished silverware and wine glasses are designed to make dining elegant and beautiful. Gleaming silverware and bright glassware highlight the table, even if you don't have enough to go around and every other person gets a Mason jar and the beat-up everyday flatware. Make whimsy a part of the scene, not an afterthought. Hopefully you have your menu in mind and can do a dry run with the platters if you are serving from the table. Arrange the platters on the table to make sure you have enough room or clear a sideboard or buffet table so everyone can easily fill up for a second round. Establish places for condiments, salt and pepper, butter, gravy boats and cranberry sauce- about every six guests need these items to avoid the continuous hassle of "please pass." Gather small wooden bowls or painted crockery for a colorful layer at the table. I, also, like to place two or three insulated carafes of gravy on the table so everyone can always have plenty of this hot "liquid gold." Find ahead of time any of these missing elements- beg, borrow or buy now before the big day.
The Final Touch
All the main elements of dining are now checked off your list. Now the fun begins and you can add the final layer that shapes the style of your holiday table. Whether you want a modern, traditional, coastal, organic, formal or eclectic Thanksgiving table, follow these simple rules. Ignore the flowers for today as there are so many rustic and simple seasonal finds just within reach-gourds, mini pumpkins, twigs, leaves, bittersweet, dried grasses, fall fruits or anything autumnal. Avoid a high decked centerpiece as it interferes with conversation. Go low but always use candles (never scented) as everyone looks better in candlelight. Don't be lured by the ostentatious table arrays in all the food and decor catalogs-really who has time except "scene stagers" for such nonsense. Make it simple with easy place cards: a name written on a card tucked into a napkin; a sprig of bittersweet with a name tied with twine; cut-up photos, marked with names; a simple burnt orange wired ribbon; a painted Maple leaf. Pinterest is loaded with ideas that the children can create ahead of time. A favorite trick of mine is to switch up the place cards before dessert and let the group mingle and chat with another group of guests. It is easy to get carried away with decorations for the table and there is nowhere left for the food. Thanksgiving is about the never-ending meal, not all the crazy junk on the table. Declutter and create a classy, natural centerpiece, accented with candlelight and unique place cards. You, now, have your table all planned out except the final detailing, so it is time to dig out your traditional recipes and start dreaming about the best part of Thanksgiving- forever family, fabulous friends and fantastic food.
Happy Thanksgiving!