Since the mid-century modern architectural movement of the '50s and '60s, our desire for bigger windows and an uninhibited view continues to grow. It's not surprising, considering that the window provides a special type of art, framing the view outside and highlighting the beauty of nature.
Roller shades are the perfect treatment to achieve this look by seamlessly blending into the window and becoming a part of the architecture. Their slim profile and minimal, modern design make them the ideal choice for rooms that require a treatment that enhances to the décor, but doesn't draw attention away from the view.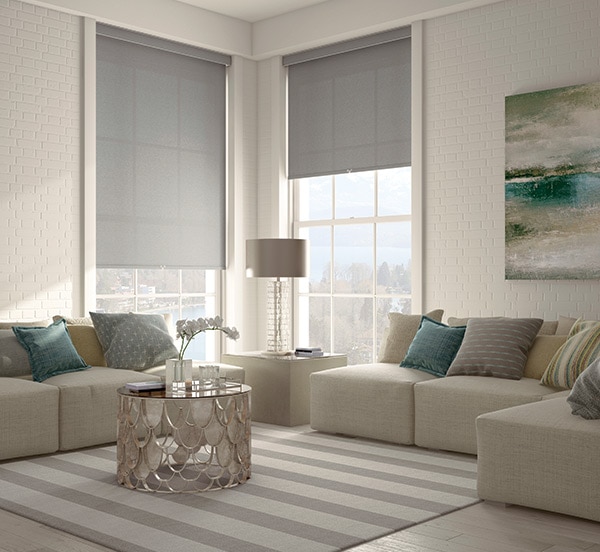 Once considered a basic, utilitarian window covering, roller shades are now available in a multitude of materials, patterns, and textures. The vinyl roller shades of days past have been revamped to reveal an enticing shade with a keen fashion sense. There are so many materials available to choose from that they almost rival drapery in selection. Due to their inherently minimal nature, roller shades tend to be overlooked for more robust treatments like roman shades or drapery. But it is this very nature that makes them an ideal candidate for so many design styles, both standalone and layered. Roller shades effortlessly blend into any room.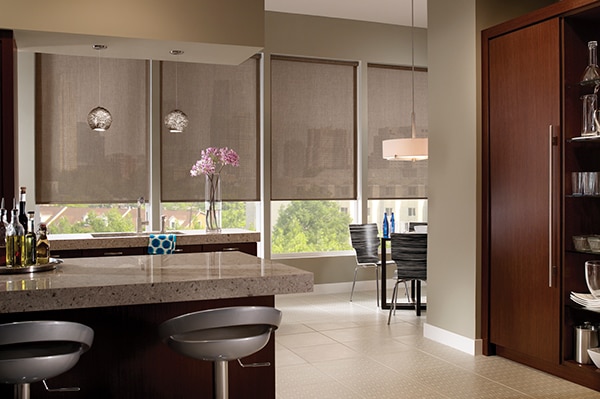 Utilizing an all-white design concept is perfect for a clean, minimal look to allow the outside to shine. However, a white roller doesn't have to be plain and basic, although that option works as well. Consider texture or a tone-on-tone pattern to add detail and interest to this minimal statement. Our Blindsgalore private label choices are bound to cheer up any mood.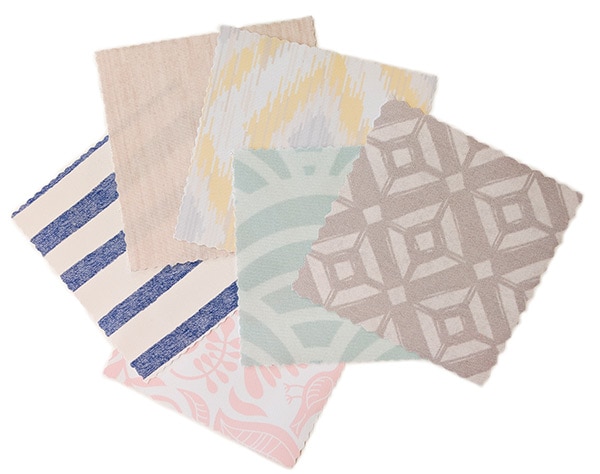 Opting for a decorative valance will further enhance the architectural detail in the room while maintaining minimum impact. To create a softer look, elect a fabric valance to dress the window and infuse a design element that is modern and chic. A utilitarian designed room is the perfect style for a minimum impact metal fascia or, for the true minimalist, no headrail or valance at all. After all, rolers are a "no frill" window treatment.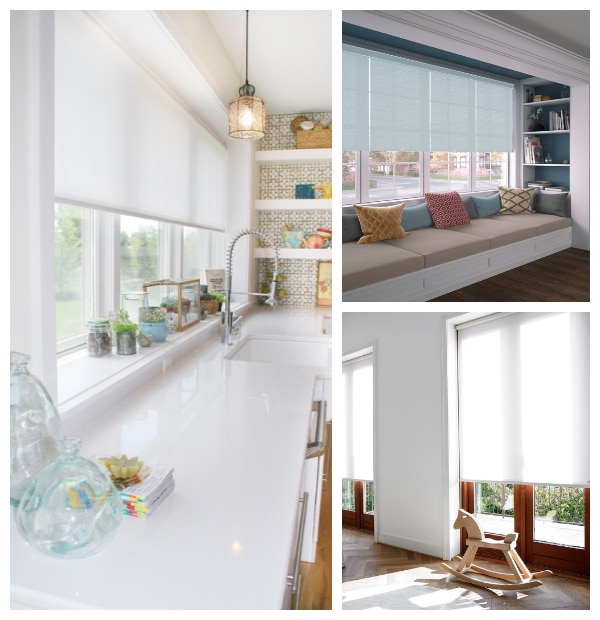 It's true that roller shades are ideal for casual applications, but I find myself using them for so many types of design and room styles beyond that. This shade archetype has such flexibility and is so chameleon-like in nature that it can find a home in almost any space. With its boldness of color and pattern, there are no breaks in the line to detract from the nominal statement of roller shades.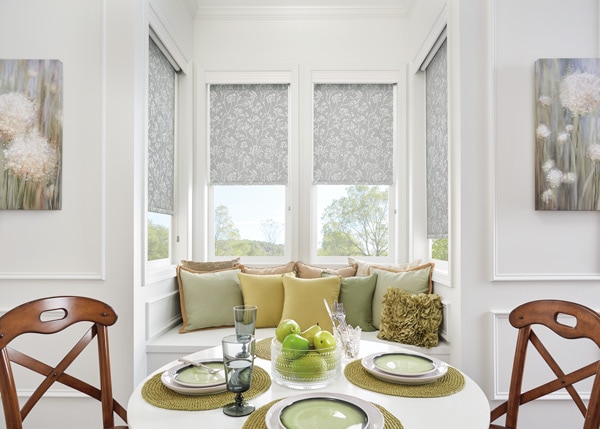 A brightly colored shade in a nursery or child's room makes a playful impression that is also safe for little ones. Layering in patterned rollers to the living room adds a pop of interest that can easily be tucked away with the pull of a shade. Blindsgalore even has rollers that can be designed and personally printed, allowing them to be unique to the space and creating a one-of-a-kind look that is designed by you.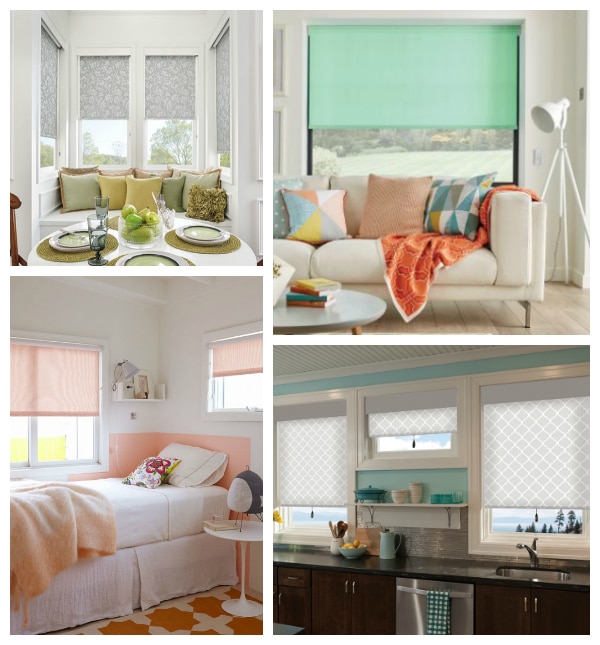 Being such a fan of woven wood shades, I tend to use them to the point of excess and have to hold myself back for fear of overuse. The struggle is real, ya'll. Sometimes the heavy stack and fold of woven woods are not ideal for the design of a room but the natural look of the material is always a smart choice. Lucky us, as woven woods have made their way onto roller shades, opening up more possibilities to use this favorite fabric. Think of it as a woven wood shade with the ease of roller – be still my beating heart.
Our Boutique roller shades also include stunning metallics, vivid solids, and designer solar shades for even more chic windows.
Natural shades are such a beautiful way to bring the outside in that they play very well in modern rustic rooms as well as beach inspired spaces. Introducing them into an all-white bedroom to add texture without distracting from the simplicity, is a lovely way to complete the design for a finished look.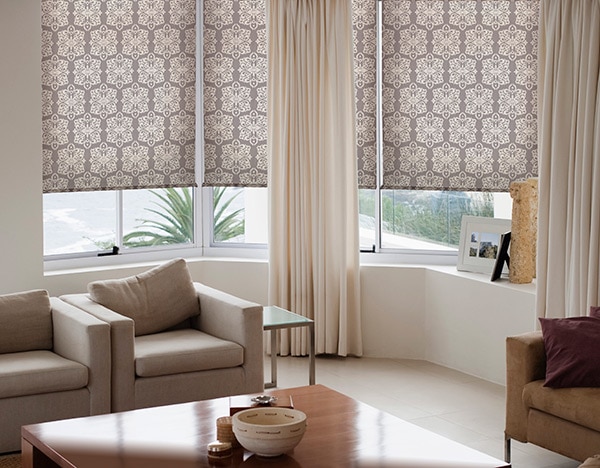 Although roller shades can stand alone, and look quite stylish doing so, they are the perfect companion to drapery. The diverse selection of fabrics in both treatments makes for a match with endless possibilities and brings the best of both worlds together. Pairing the utilitarian, minimalist nature of roller shades with stylized, decorative drapery not only creates a great contrast of opposites, but also serves as form and function when window dressing. Adding drapes to the window ensures that there is always a frame of fabric to add softness to the room, while layering a roller shade underneath adds light control that can be raised or lowered with an ease that cannot be found when pulling apart drapes.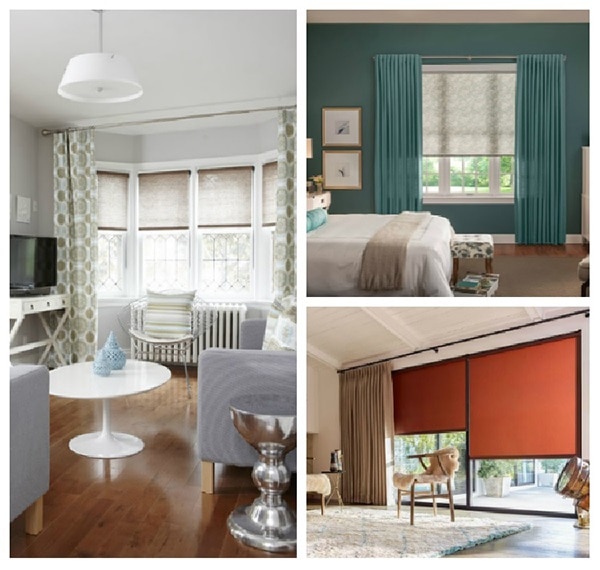 Which type of roller shade is tucked behind drapery can be dictated by a need for light control or a desire for style. Sheer roller shades, while beautiful, don't deliver much in the way of privacy, but when paired with drapery they gently filter light without fear of night voyeurs. The reverse may also apply to sheer drapery. A particular favorite design technique is to layer pattern over pattern. When done properly, this is a playful way to build character and up the wow factor in a room.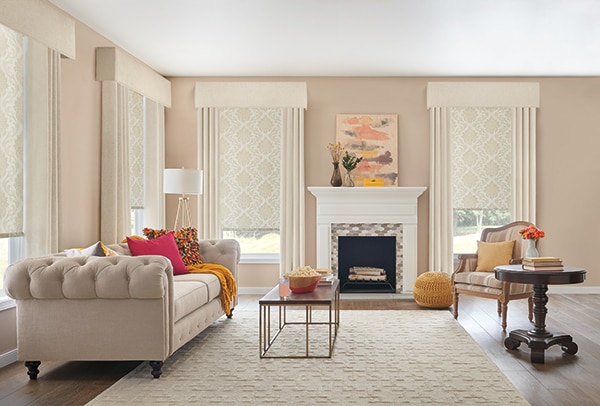 Now you know how versatile and easy roller shades can be. Wake up your windows today with new roller shades.