October is full of surprises as we rush to gear up for Halloween and the impending holidays, making sure our homes are guest ready and prepped for a busy season of celebrations. I do want to remind you that October is also Child Window Safety Month so the all important safety of your children at home is at the top of my mind. Before you become deluged with costumes, candy and craziness, take a few moments to ensure that your window treatments are safe for infants and small children and even your pets.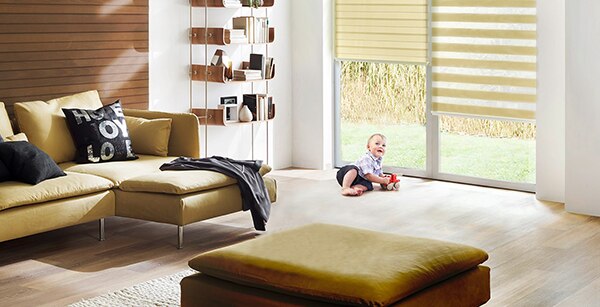 Any window coverings that are over ten years old are bound to be unsafe and any dangling cords or visible inner cords are a potential danger to small children. Curious children are attracted to shiny, moving objects that can entice unsafe play and can create a hazardous environment for an unavoidable accident. Blindsgalore advocates cordless window treatments as the safest, most secure way to prevent any unfortunate mishap, or for the ultimate peace of mind, motorized blinds and shades are an exceptional choice. Shutters and drapery also provide a cord free window treatment.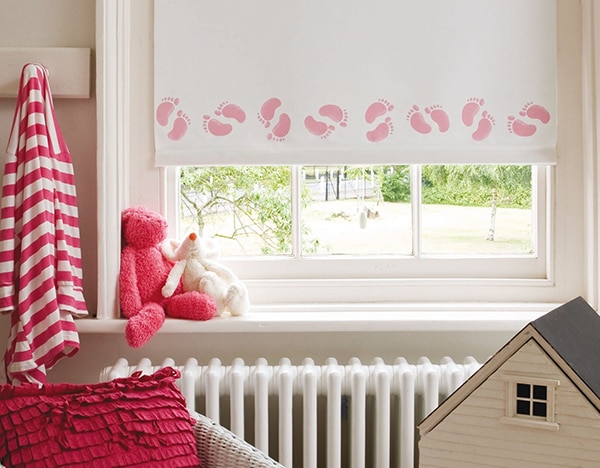 If replacing your current window treatments is not an option at this time, make sure any pull cords are positioned high and out of reach of any young child and install a decorative hook or even a nail and loop any dangling cords around it. If you have to break a design rule and hammer a nail in the wall to fasten any hanging cords, err on the side of caution as child safety should never be ignored when dealing with pesky cords. A better choice is to order a FREE retrofit kit from the Window Covering Safety Council, www.windowcoverings.org, to upgrade old blinds and shades. Your window treatments should never have looped cords or chains and no long cords, ever. Repeat the mantra: "anchor, anchor always" to keep your children safe.
A new "Best For Kids" program was launched in June, 2015 as a certification program to help consumers identify window treatments that are safe for infants and small children. The WCMA, Window Covering Manufacturers Association, admonishes that "a window covering product must have no cords or the inner cords cannot be accessible." Any window treatment that you buy should be held accountable to this industry standard, but for the ultimate peace of mind, I think that cordless, only cordless window treatments, are the gold standard. Blindsgalore's collection of cordless window treatments scan so many categories, jammed packed with many colors, fabrics, textures and patterns to match any design style for your discriminating design taste.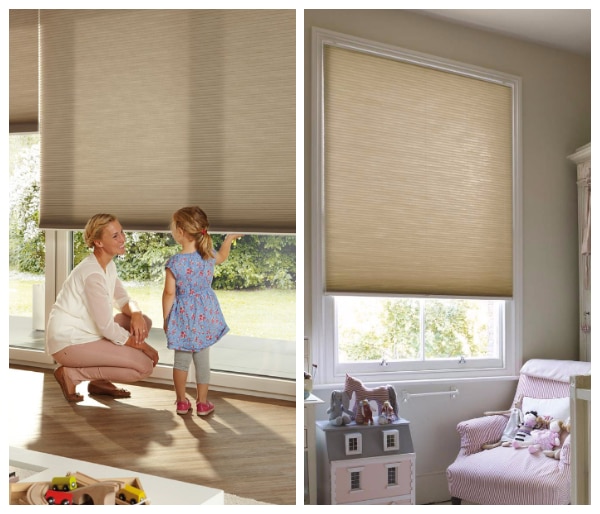 To make it easy, here is my quick check list as recommended by the Window Covering Safety Council.
Child Safe Windows Checklist
1. Go cordless – Switch to the safest window treatment to eliminate dangling or exposed cords. Cordless cellular and roller blinds are the best options but other choices include draperies or shutters.
2. Prevent Unsafe Play – Move all cribs and beds and furniture or playthings away from windows to prevent unsafe climbing, grabbing and playing to preclude any unfortunate accidents.
3. Gone Cords Gone – Keep all cords, if you have to have them, out of reach and out of sight always. No dangling cords, ever, anywhere.
4. Nail It Down – Permanently anchor all continuous cord loops on draperies, verticals and other blinds or shades to the floor or to the wall.
5. Redo or Renew – Retrofit all unsafe and old window treatments or renew with today's innovative, modern and safe window treatments.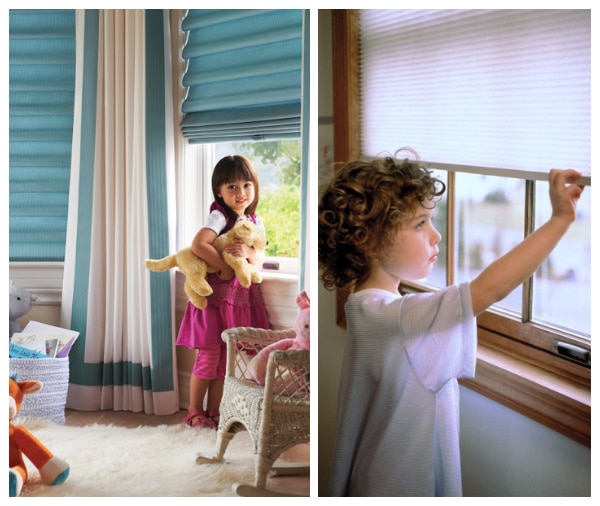 Accidents are always around the corner when our young and active children are on the move. Protect them from harm as the unthinkable can happen when you least expect it. Don't be tricked by seemingly harmless window shades. Treat those windows now before the goblins and ghosts come to perch in your home. A safe home is a happy home, even if it is haunted!