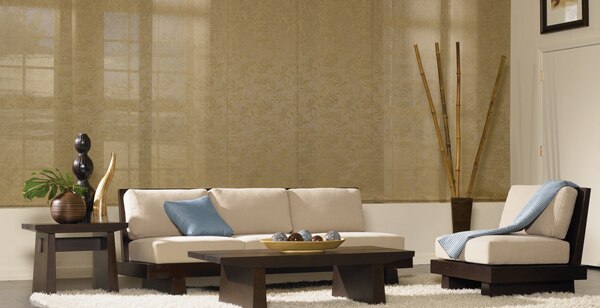 A customer called the other day wanting to know which window treatment colors we would recommend for a peaceful vibe in her Hawaii vacation condo. She wanted to make her small condo seem spacious and relaxing. Whether you are fortunate enough to live in Hawaii all the time, or you have a vacation property there, creating a relaxing island retreat is the goal. Designers know that color is often the key to a restful room, and natural color palettes are a designer favorite.
Blue and White: the crispness and nautical aspect of this combo are a go-to color combination for tranquil coastal living. From deep midnight blue to watery aqua tones, blue and white echo the ocean's hues, sky and clouds. How can you not love that look?
Green: green in any shade brings the outdoors in and blends perfectly with any wood tones in your house. A bright grass green looks especially cheerful paired with white, and with deep wood finishes, it takes on an "old island" flair. You can keep the look simple and natural with neutrals, or add a few pops of fresh color like coral or yellow in pillows, lamps, rugs and accessories.
All white: the crisp freshness of an all-white room is so relaxing. Imagine walking into a guest room with white linens and sheer drapery gently blowing in the island breeze. In an all-white theme, let your textures be the star in the bedding, rugs and window treatments. Mix up different types of textures, fabrics, sheen, and tonal patterns to create subtle visual interest.
Texture: many times what makes a tropical room work are the various natural textures at work. Window treatments are one way to introduce textures into a room. For homes in places like Hawaii, natural woven wood shades made of bamboo, grasses, reeds and jute are the perfect finishing touch. Best of all, they are an eco-friendly choice, made from renewable resources. You can layer them with sheer drapery or linen panels for a look that's perfect in bedrooms or living rooms. There are also unique natural draperies made of bamboo and other "green" materials that offer a distinctive look.
Whether or not you live in Hawaii, the key to a tranquil room is simplicity. Paring things down to the basic necessities with a few accent pieces mixed in will help create the calm you want. Check out this site for more ideas on how to add some beachy accents, no matter where you live.