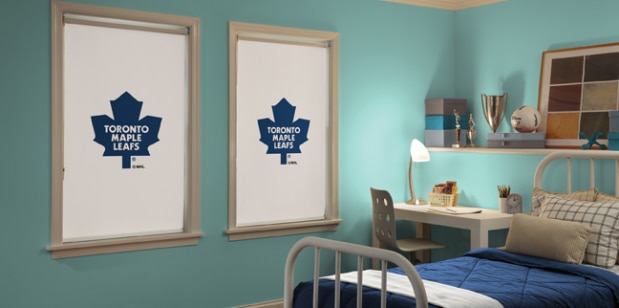 Hooray! The NHL lockout is finally over and we can now start cheering for our favorite teams.  Pump up your team spirit with one of our newly launched official NHL Team Roller Shades, from the New York Rangers to the Boston Bruins to the Anaheim Ducks. Hey, we love all our hockey teams, here at BG.
Now is the perfect time to deck out that man cave or your son or daughter's room with an official and colorful team logo shade.
These custom shades are made to order so the size of the logo will always be in proportion to the size of the shade. Available in blackout, they are the perfect fit for a media room. The free cordless option is included with every shade as is the motorization option, because we wouldn't want you to have to leave your seat during the game to adjust your shades!
Order now before the puck hits the ice and you can cheer your special team's dream of a Stanley Cup all year long.