Let's face it, our windows are as unique as we all are. No two sets are exactly the same, yet each is beautiful in its own way. As one of the most important features in the home, windows are still often overlooked. Right as you begin designing your windows, you realize that some may be tricky to properly treat. Those challenging windows include bay windows, skylights, large windows, tall and hard to reach windows, imperfect arches, and those with limited mount space. Don't fret as I have a solution for each of your tricky windows. Don't let the fear of the unknown deter you from making your home amazing with special custom window treatments on your one-of-a-kind windows.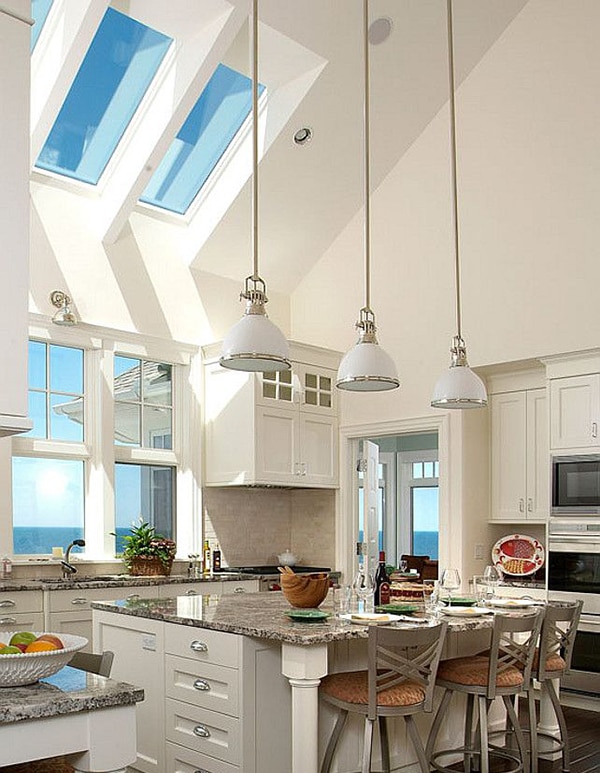 Bay Windows
Bay windows are a heavily sought after architectural feature. Consisting of a series of windows placed at specific angles, these windows look sophisticated in any home. Whether it's a reading corner in your bedroom, a cozy little breakfast nook, or a whimsical window seat, bay windows let in abundant natural light and make your home look larger and more open than typical window settings.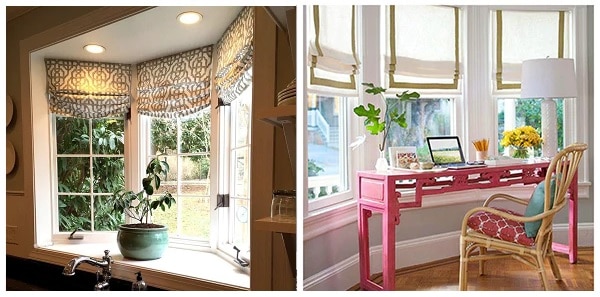 Bay windows are always stunning, yet they can be a difficult window to style. Varying flush mount depths make measuring difficult, so I recommend ordering and installing the middle shade first to use as your frame of reference. After installation, you can measure from each end of the middle head rail for the left and the right width of the remaining windows, eliminating common measuring mistakes. I always think less is more for bay windows , so my go-to window treatments for bay windows are streamlined cell shades or a row of roman patterned shades or the tailored look of a set of striped roman shades. You will never be disappointed if you choose the structure and simple beauty of shutters. Bay windows are so unique, may I say, just leave them bare if you dare.
Skylights
Skylights are magical, but they can be impossible to reach and make your home increasingly hot during summer months. Covering a skylight isn't easy, but with all that sun glaring in your eyes and causing UV damage on décor, there are times when you just want them closed. These portals to sunny skies, heavy rainstorms, and ravishing starry nights bring a lot of energetic joy to the home, but they can also be troublesome. What makes these windows difficult to treat is not only the height, but the track that the roller or cellular shade slides up and down to open and close. These tracks require an extra step in the installation process – and a very tall ladder, so measure carefully and safely. If these windows are high up on the ceiling like most, you will want to motorize your shade, making it easy to open and close with the simple press of a button. I think skylights are a portal to channel light and wonder into your home.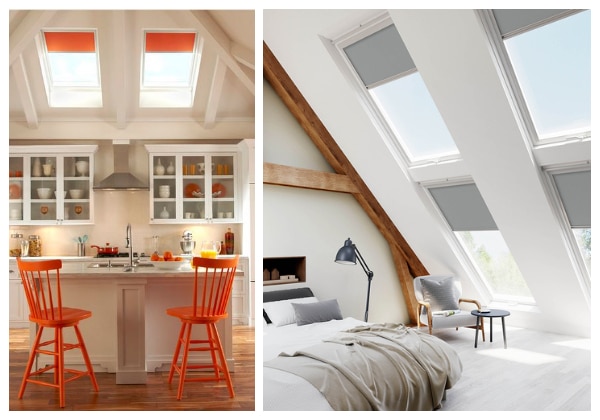 Very Big Windows
Presenting dazzling views while simultaneously filling your home with warmth and light, large windows are exquisite. Although this feature is an alluring home addition, large windows also allow increasingly warm days to heat up your home. As we approach summer, consider products that can easily keep your space cooler as the sun shines brighter. Roller and solar shades are my best choice for large windows, as they have the ability to roll up right into the cassette, barely to be seen. This makes your windows clear when the roller shades are completely up – letting your view take center stage. Because large window treatments can be difficult to maneuver, go motorized to make lifting and closing shades a breeze. You can manipulate shades with a remote control, wall controls, or right from your smartphone or personal Alexa. Add drapery or use panels by themselves for another decorative touch, bringing your gaze up the entire length of the wall and blocking out rays on hot, sunny days. Studies also show drapery panels can help reduce your homes heat gain by up to 33%, which will be very useful for a big window. I prefer to be a minimalist when choosing window treatments for big windows to dramatize the alluring vistas outside your home.

Arched Windows
Arched windows are a unique and elegant architectural feature, instantly adding shape and depth to your home. These windows can be left untouched, but many of us prefer to have some sort of covering for privacy and light control. Window treatments should add to the overall uniqueness and beauty of an arch, instead of diluting it. To treat these tricky windows, if you have an imperfect arch, you must make a template with paper, tracing exactly the full-size arch. Roll it up and mail it to us in a mailing tube. This sounds difficult, but is really quite easy when you consider how onerous and inexact it could be to perfectly measure an uneven arch. I prefer to outline the arched details to cover exactly the window shape to accentuate this architectural element. My favorite arched window treatments are wood shutters, but cellulars are our most popular choice. However, if you'd like to cover up the arch, drapery panels are another choice, allowing you to easily open and close as you please.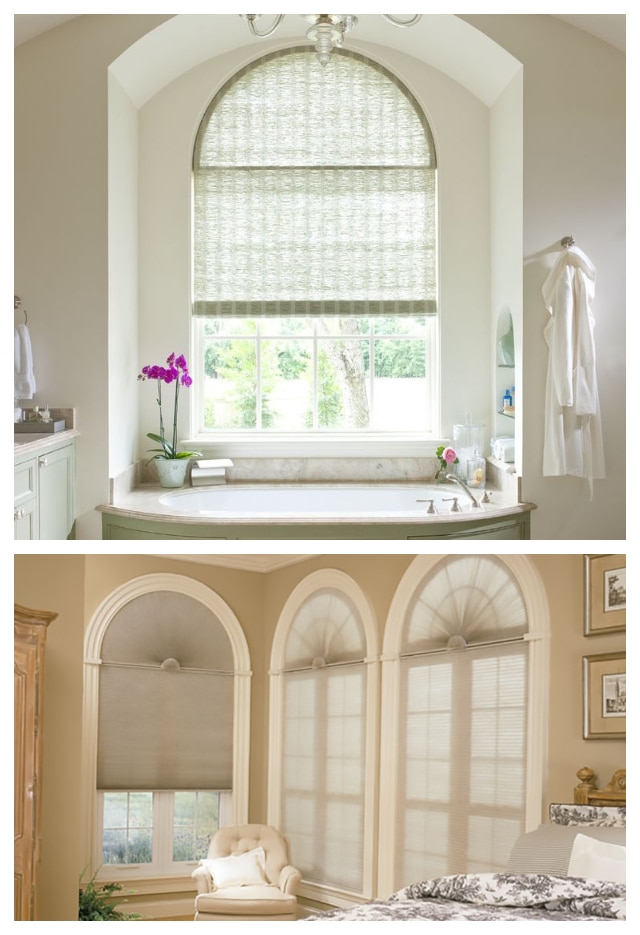 Limited Mount Space on Windows
Sometimes, windows have no space for installation. These windows don't have enough depth for an inside mount, so an outside mount is required. Lucky for you, outside mounted window treatments are just as beautiful as an inside mount. If your window requires an outside mount, first you must measure the center width of the area. It is advised to add three inches to this width to eliminate the possibility of any light gaps on either side of the window covering. Then, measure the height of this area and include any overlap. When you get these measurements, you have your width and height and you are ready to order your window treatments. Woven wood and roman shades are my favorite recommendation for windows with limited mount space, as they both give the window a unique frame with abundant choices of textures or patterns.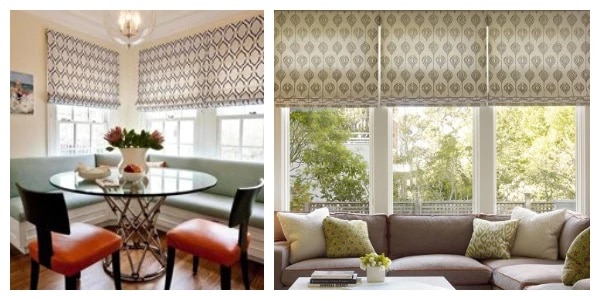 Windows give us our first glimpses of fresh new days and the adventures ahead. While some may be more difficult to treat than others, all windows deserve as much attention as you give to the other aspects of your home for a well-designed space. As you know, custom window treatments for any type of window are what we know how to do. Unpack these tricks to make your home shine.