Imagine stepping into a backyard oasis. A gentle breeze greets you as you open your elegant French patio door blinds. These doors are more than a simple entrances. French doors are a piece of art in your home that can swing open to invite the outdoors in and they deserve to be treated that way. French door blinds are the unsung heroes that take these unique entryways the next level. If you're yearning for extra privacy or are looking to invite more sunlight into your living space, the right window treatment will help you achieve a functional look you'll love. Whether they're French door Mini Blinds, French door Vertical Blinds, or French door Roman Blinds, these custom coverings add the ideal finishing touches to your carefully designed interior.

Why People Love French Doors with Blinds
Blinds for French Doors are the perfect companion for these architectural gems. Your window coverings can be customized to match the classic allure of the French Doors, effortlessly merging style and practicality. French Door Blinds have been a beloved choice for homeowners seeking both beauty and privacy in their living spaces dating back to the 17th century.
At some point during the 1600s, French Doors first waltzed their way into the hearts of Europeans. They were originally known as porte-fenêtre, or a "door-window" in French, and they were celebrated for their ability to flood your home with natural light. A way to seamlessly connect indoor and outdoor spaces. Of course, with great light comes great responsibility. Enter the need for privacy and light control. Enter the need for French Door Blinds.
Over the years, French Door Blinds evolved in design and materials, but their enduring charm has yet to fade. They're still considered an elegant feature in the world of interior design. The perfect marriage of form and function. If you're lucky enough to have them in your home, it's time to consider the perfect window covering companion.

The Most Popular French Door Blinds
Unless you have a French Door with built in blinds, you'll need to figure out what kind of custom window covering will best suit your home. The answer depends on your preferences and needs. Let's break it down.
The Light Game
If you're all about embracing that natural light, Light Filtering or Sheer Shades are fantastic options. Solar Shades are another option, created using durable materials that block UV light with small perforations that allow you to view through them. Traditional blinds with horizontal slats will also allow you to tilt and adjust to let in as much or as little sunlight as you want.
Privacy Matters
If you're not keen on being seen by a nosy neighbor or if your home faces a busy street, Opaque or Blackout Shades will protect your essential privacy. Some shades, live Woven Woods, can even be made to include an extra privacy liner. You can lower them down when you're binge-watching your favorite shows without feeling like you're on display.
Style Points
All of our French Door Blind and Shade options are designed to complement the classic look of your doors. Think of them as the perfect accessory that completes an entire outfit. You can choose from various materials and styles to match your interior décor to keep your space looking sharp.
Easy Operation
Motorized Shades offer the ease of remote control and becoming an increasingly popular choice. They're a big plus when you're rushing out the door or just want to enjoy a lazy Sunday morning in bed. If you have a smart home, many of our motorized window coverings can even connect to your Wi-Fi or Bluetooth devices for easy voice activation or to set your shades on an automated schedule.
Cleaning & Maintenance
As much as we may hate it, dust is our constant companion. The good news is that most blinds and shades are relatively easy to clean and maintain. A quick dusting or a wipe-down with a damp cloth every few months and you're good to go.
Budget-Friendly Options
At Blindsgalore, we pride ourselves on having solutions for every price range. We make it easy to find something that fits your budget without compromising on style or function. If you have any questions or need design assistance, don't hesitate to reach out to our in-house team of design experts online or over the phone.
Versatile Design
Whether you have a traditional or modern home, there's a custom window covering that can work for you. From classic wood blinds to sleek and modern options, the choices are endless. You could also consider curtains, French Door Shades, or even a combination of treatments to suit your unique style and needs. It all comes down to what makes you feel most comfortable and satisfied in your space.

Our blog has plenty of Fresh Ideas for French doors and we've explored the topic of these architectural entryways a few times in the past. Take a look if you're seeking inspiration. If you get stuck, don't forget, our team is only a call or a click away.
French Door With Blinds Between Glass
At this time, Blindsgalore does not offer French Door Blinds installed between glass. If you're capable of fitting our custom Mini Blinds between two panes of glass, you might be able to make it a relatively simple DIY project. If you have a French Door with built in blinds, consider yourself lucky. Until they break, of course.
Are Blinds the Right French Door Treatment for You?
The answer depends on your preferences and needs. Take a look at our blog about blinds and shades for specialty doors and doorways for even more solutions.

The Best French Door Blinds
The quest to find the ideal Blinds for your French Doors can seem overwhelming, especially with choices galore. Let's simplify your journey. I'll help guide you towards the perfect selection by sharing my top three favorite categories of French Door Blinds. These were carefully selected based on their style, functionality, and the unique flair they bring to your living space.
Faux Wood Blinds are like the chameleons of the window treatment world. They're timeless and they fit in everywhere. Unlike Real Wood Blinds, they won't fade, crack, or warp under the pressure of moisture and sunlight. ideal for rooms with high humidity and plenty of sunshine. You'll be looking good for years.
Faux Wood Blinds closely resemble the real deal with added durability. You can even get them with a simulated wood grain texture. if you're into that weathered wood look, textured Faux Wood Blinds have got you covered. A classic look without having to worry about damage or distress.
If you're looking to infuse your space with natural beauty, Natural Woven Shades are the way to go. Each shade will have distinct characteristics that are as unique as your home. Woven Woods are crafted using eco-friendly elements like reed and bamboo, giving your décor a unique look and texture that's hard to resist.
For added privacy or greater control over the amount of light filtering in, you can opt for a fabric liner upgrade. Also, when it comes to grass weaves, I always recommend side accent bindings for an added touch of visual interest and durability. Most Natural Woven Shades will softly filter sunlight, creating a warm and inviting atmosphere in your space. They're simply stunning in person.
When the sun is blazing outside, you need something to keep you cool indoors. Solar Shades to the rescue. They reduce heat and block harmful UV rays, keeping your space comfortable even on scorching days.
Solar Shades also minimize glare while allowing you to maintain a clear view of the world outside. They're like personal sunglasses for your windows. You can also customize the shades openness percentage when ordering to find the perfect balance of privacy and light control.

French Door Blinds Ideas
There is a world of possibilities to enhance both style and functionality around your French doors. If you didn't like my ideas above, here is a breakdown of the possibilities for your home.
Roller Shades are the epitome of clean lines and modern style. They roll up neatly when not in use, making them an unobtrusive choice for your French Doors. These shades come in a variety of fabrics and textures, allowing you to match your décor effortlessly. Our custom Roller Shades offer both Light Filtering and Blackout options, so you can choose the amount of light and privacy you want in your space.
Cellular Shades, also known as Honeycomb Shades, are renowned for their energy-saving properties. The honeycomb-shaped cells trap air at your windows, providing insulation against heat and cold. You can find a wide range of customizable options, including Double Cell Shades for maximum insulation and various lift options such as Cordless and Motorized.
For a classic and timeless look, consider traditional Faux or Wood Blinds. They bring the warmth of real wood to your space, creating an inviting atmosphere. These products both have horizontal slats are offered in a variety of fine-grain and rich stains, allowing you to choose the perfect wood (or "wood") finish to complement your interior.
For the ultimate in versatility, go for Day/Night Shades. These innovative shades combine both sheer and opaque fabrics, allowing you to switch between diffused light and complete privacy effortlessly. Our Dual Zebra Sheer Shades (here) for a stunning day-to-night solution. There's no bad time for a Day/Night Shade.
If you want something that will cover your door completely and easily stay in place, I recommend our Cordless Roman Shades. These shades are available in a variety of neutral colors and use magnets to keep the pleats perfectly in place. They're also cordless, making them a safe choice in homes with children or pets.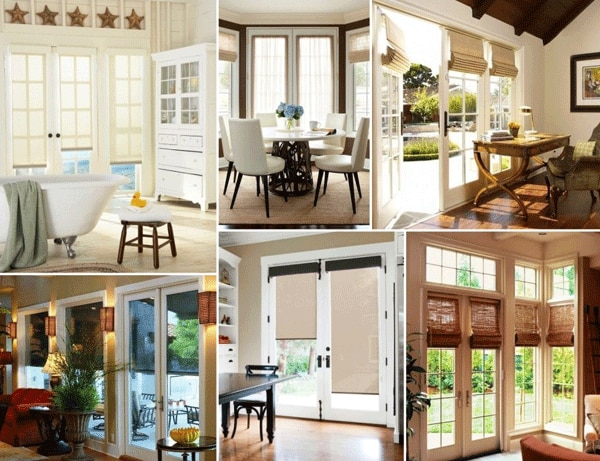 With these ideas for French Door Blinds and Blindsgalore's extensive selection, you can elevate the aesthetics and functionality of your home effortlessly. Whether you prefer the sleek simplicity of Roller Shades, the energy efficiency of Cellular Shades, the timeless beauty of Wood Blinds, or the balance of Light Filtering Blinds, there's a perfect fit waiting to adorn your French Doors. It's time to make your home the best it can be, one window at a time.