Drapery is just the best, isn't it? It's always been one of my favorite window treatments because of its versatility. There are so many uses for these fabric panels around the home, such as giving a small window the illusion of grandeur or a decorative alternative for boring closet doors.
They are happy to cover up your intellectual, yet visually busy bookshelves.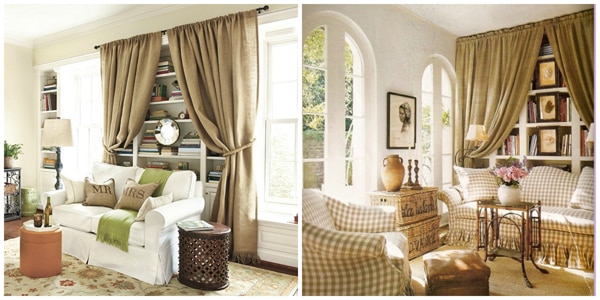 Use drapery as a softer and more interesting way to cover up your closet.





Have you transformed your guest room closet into an office alcove or craft or wrapping station yet?





Drapery can also be a stunning addition, not to mention help with privacy, to a wall of windows surrounding the front door.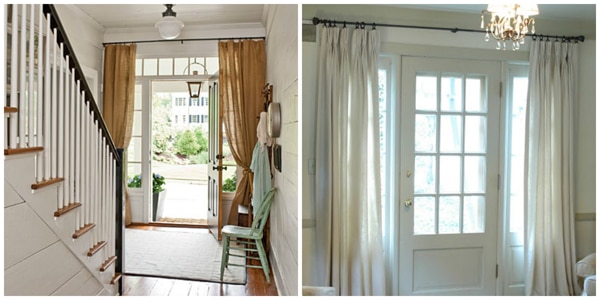 Measuring and installing multi-talented drapery is really straightforward and simple. All you need to consider is the application you are trying to achieve and then your common sense will help you with the rest!
HOW WIDE?
Measure
Many custom made drapery panels are made with built in fullness. Be sure to determine if this is the case. The width ordered for custom made drapery panels is the width you would like to cover. I find it best to add 4-6" to each side for proper coverage. If buying standard sized panels, the best method is to order the width as 2-3 times the width of the window. This measurement will guarantee a luxurious and ample fullness in your panels once they are installed and will help you determine the number of panels you need to order.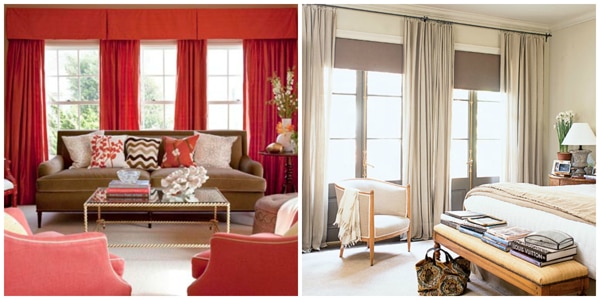 Install
If space allows, install drapery hardware at least 4-6" beyond each side of the window frame as these below images illustrate.
HOW LONG?
Measure
Traditionally, the height to install a drapery rod has been about 4" above the window. This install may typically be achieved with an 84" long panel. However, I prefer drapery panels to be installed as close to the ceiling as possible. For a standard 8' high ceiling, I suggest ordering panels with a length of 96". If the romantic look of puddled drapers appeals to you, then add up to 6 inches, anything more than that just starts to look sloppy. Ideally, your curtains should just barely brush the floor.
Install
It's best to install your drapery rod as close to the ceiling as possible. If you have crown molding, install the hardware just below the trim. This will give the illusion of height to your walls and therefore make your room feel larger.
Whether you prefer the tailored look of custom drapery or prefer quick and easy ready made panels, you're now ready to take your measurements, order, and install with confidence!