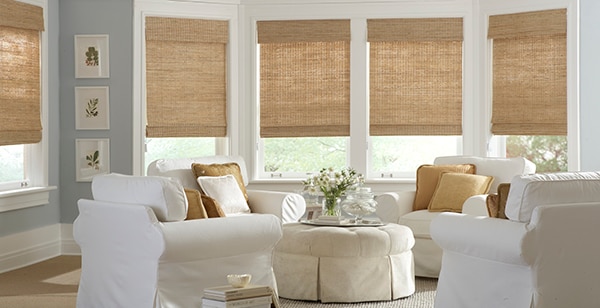 Roman shades are soft fabric window treatments that hang flat against the window when in the down position but fold up neatly and crisply into horizontal folds when raised with a cord, or for the ultimate ease of operation, a motorized option is always available. A basic roman shade simply results in evenly sized horizontal folds when raised. Roman shades are usually constructed with a series of horizontal bars to create the gentle folds, with eyelets and cords on the wrong side to draw the shade up. Do be aware that if you do not choose a liner or you select a sheer fabric, the cords and drawstrings will be visible from the outside of the window. Do not let that deter you as the beautiful undulating ripples of these shades create a light mood to a room and offer many style opportunities.
You might wonder why are these shades called roman shades? History tells us that roman shades go back to Rome's famous Coliseum, the ancient and spectacular arena where opulent and often violent events were staged for the crowds (remember the classic movie, "Ben Hur"). This popular venue (like our sports arenas and open air rock concerts) was bathed in the bright Mediterranean sun and archeological excavations did discover a system of retractable fabric shades that could be drawn over the Coliseum. Rome was famous for installing fabric coverings in many public places and homes to protect and shield the spectators from the bright hot sun. Although this grand and luxurious shade was unlike our roman shade of today, the arrangement of ropes and pulleys is reminiscent of the flowing motion of modern roman shades. Window treatments have been around as long as people needed privacy, light protection and security.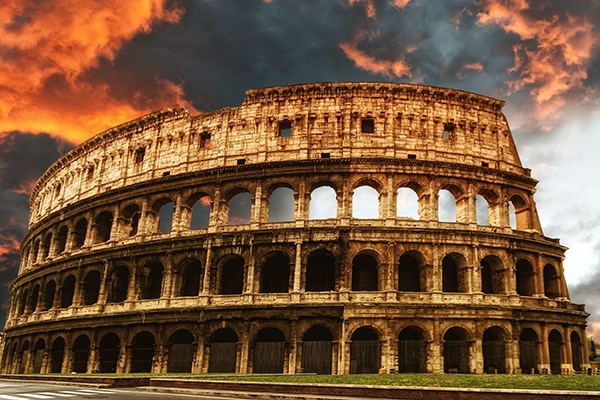 Two Main Styles of Roman Shades
Flat Roman Shades
Flat roman shades are made of a continuous piece of fabric and hang flat against the window and are made of horizontal fabric panels backed with sturdy bars to strengthen the shade. This style is more rigid and offers a structured look and is perfect if you love patterns so the design remains uncluttered and pristine. Flat roman shades give a clean and tailored look, yet the appeal of a soft fabric adds a depth of design. The unique folds still tuck in tightly at the top of the shade, resulting in those gentle curves at the window stack.
Waterfall, Looped, Teardrop or Hobbled Roman Shades
Waterfall is the usual name of this type of roman shade and this style retains the loose folds in both the lowered and the raised position, cascading the rippled fabric all the way down the window and then stacking at the top. Waterfall romans add an informal aura and can create a romantic mood and airy feel or can be styled in a more traditional manner. Since these romans are constructed with permanent folds and retain the folds when open, many of us think of this style when considering a roman shade. The waterfall construction adds another level of dimension and loads of design interest.
Fashionable Roman Shades
Roman shades can really change the look of the room as so many fabrics and materials in a rainbow of colors, patterns, liner or no liner, addition of drapery or a valance, which all combine to create a unique look, specially suited for a particular function or just for pure decor. Roman shades are so fashionable and display an incomparable character to a room. Let's take a look at the many ways a roman shade can lend flair to your home. Here is my gallery of "Romans in Wonderland!"
Modern Roman Shades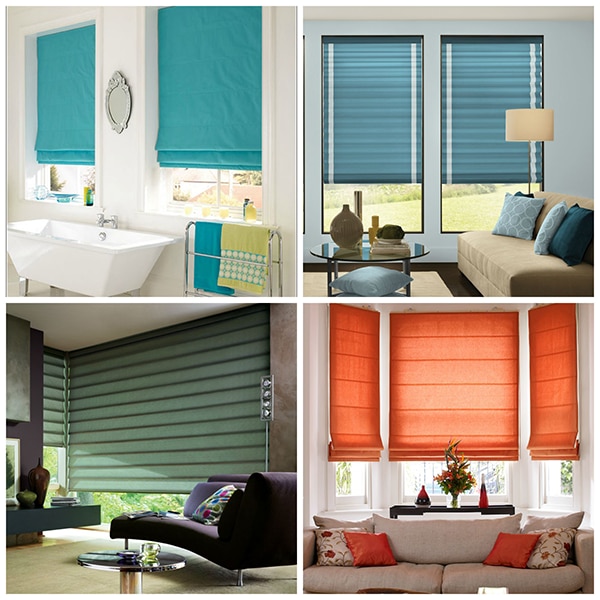 Tailored Roman Shades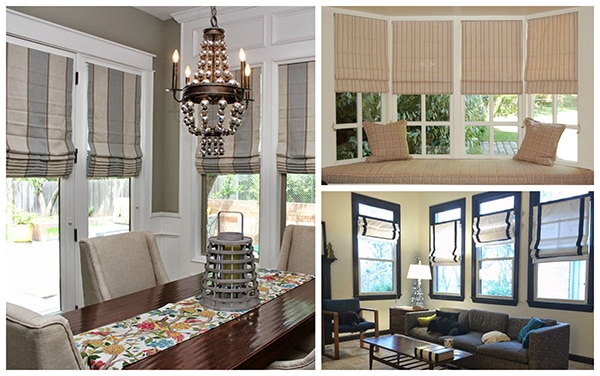 Romantic Roman Shades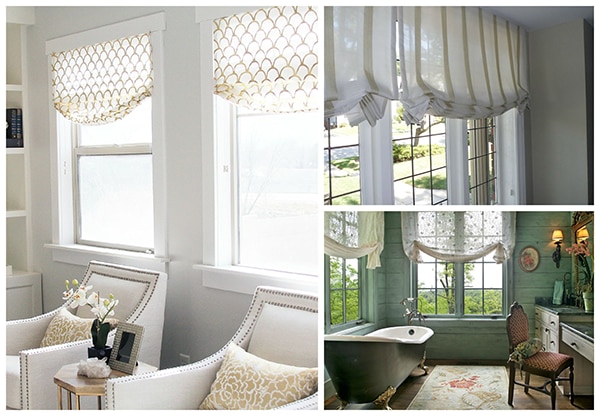 Traditional Roman Shades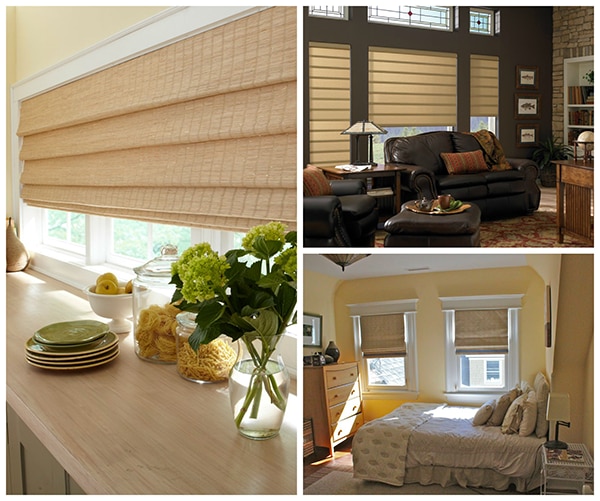 Roman Shades Paired With Drapery
Roman Shades continue to set trends in window fashion and complement the most elegant or the simplest decor. Roman Shades are simply a classy window treatment.