block the light
Stop harsh, distracting sun and glare from entering your home with a light blocking window treatment. Opaque materials will work best to block the light and many of our blinds and shades can be configured with light filtering options or blackout fabric. Whether you're looking to keep your view, maintain your privacy, or block out light completely, we have a solution for you.
What's Most Important to You
Maintaining the View
Creating Privacy
Darkening the Room

Maintain the View
Solar shades are the best choice if you're looking to maintain your view and block the right amount of light. When choosing solar shades, be sure to select the right level of openness. Openness of a solar shade determines the desired level of light let in by the fabric. Higher percentages let in more light and leave you with a less obstructed view. Think of solar shades like sunglasses for your window.
shop now
Create Privacy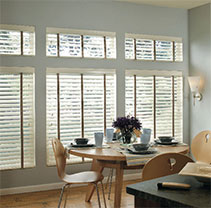 Blinds
These window treatments have adjustable slats that you can tilt to find the ideal balance of privacy and light control. Blinds can also be lowered, or raised, as a whole to block, or let in incoming light.
shop now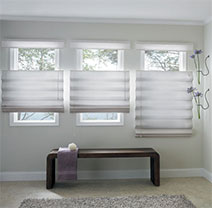 Shades
These coverings are sewn together as a solid piece of fabric that can be raised or lowered. Shades have many light filtering options and are customizable with a wide selection of colors, patterns, and prints.
shop now
Darken the Room
Room darkening shades come in all shapes and sizes and will block most of the light coming in through your windows. These shades are an ideal fit for media rooms or bedrooms, allowing you to dramatically darken your surroundings to cut back on glare or catch up on sleep.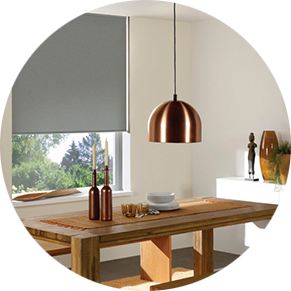 Roller Shades
Minimalist roll-up shades available with semi-opaque and blackout options.
shop now