When I think of awnings, I think of the forest green and white stripe window awnings of my youth that were a permanent fixture above the windows of my grandma's house. Did you know that awnings date back to ancient Egypt and Syria when shopkeepers would use woven mats to shade market stalls and homes? For many a year, shading space was reliant upon awnings to protect interiors from sunlight and help keep a cool environment during the summer months. While fixed window awnings are no longer as common for modern homes, retractable awnings are still quite popular for providing outdoor shade.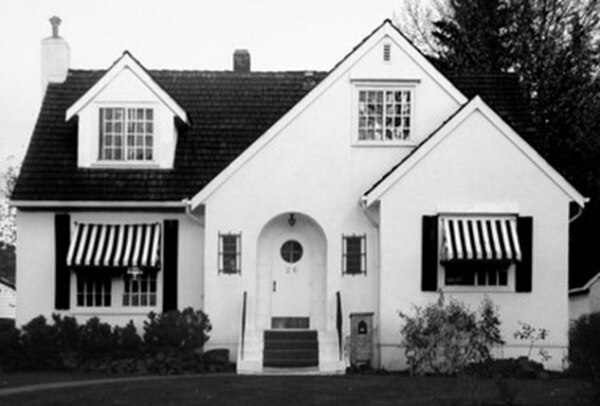 Available in two applications, stationary and retractable, awnings serve both form and function to the exterior of a home or business. Fixed awnings, whose benefits include a strong, long-lasting frame and full weather protection, are better suited to historic homes and businesses than residential homes. Their history is long and weathered, holding up to the test of time and all of nature's elements.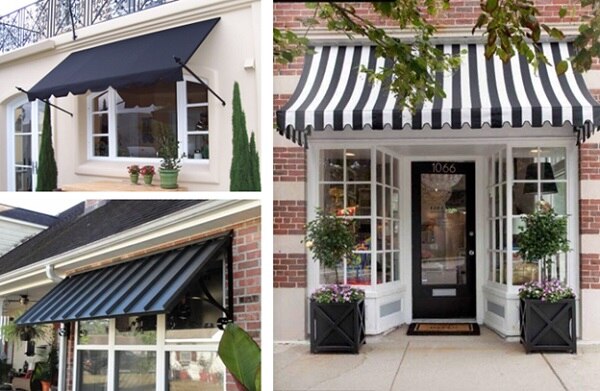 Applicable on both windows and patios, retractable awnings provide functional shade and cater to modern appeal with a minimal footprint. Their functionality stretches beyond a fixed awning with multiple styles and operations.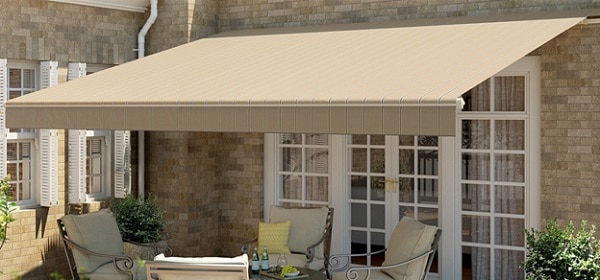 A window awning, like our Blindsgalore Solana Awning, is a minimal awning, simple in its design. As a retractable awnings most basic form, it is a roller shade with two straight vertical arms that are hinged at the joint, allowing the shade to be extended and retracted. The fabric used on this type of awning ranges from woven acrylic to laminated fabric, is approved for outdoor use and will resist the elements and fading. It can be manually manipulated or wired for motorization and usually has the option to add-on a separate protective hood to ensure fabric integrity over time. Window awnings, as their namesake suggests, primary adorn windows and patio doors, but can range up to 18 feet wide, making them an option for outdoor patios as well.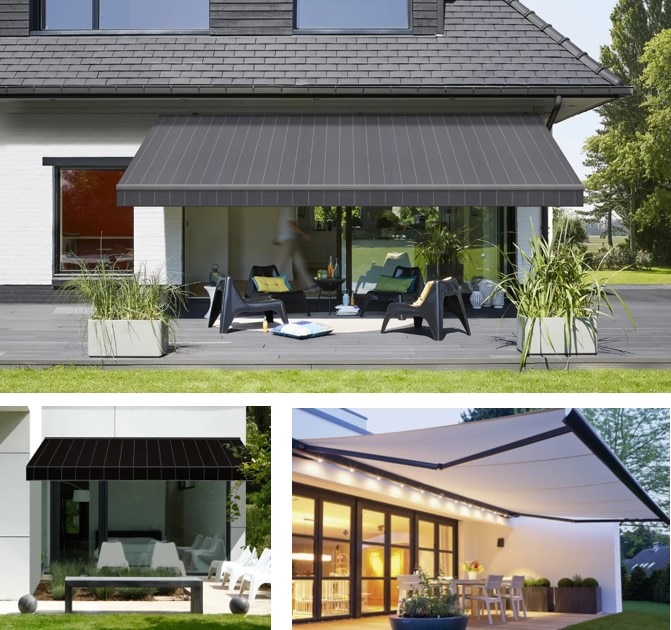 While there are many similarities between window and patio awnings, such as fabric type, hardware and function, the main difference is in performance and scale. Patio awnings are much larger in scale with a set of horizontal arms that bend at the joint to ensure tension in the awning regardless of position. They are wider by design, ranging from 8-40 feet wide and can have projections up to just over 13 feet. Not limited to two positions like window awnings, these awnings feature pitch shoulders that allow the awning to be adjusted to better block shade as the sun rises and sets. Patio awnings, such as our Blindsgalore Marisol Awning, also may have add-on options for motorization upgrades. While it is recommended that the awning be fully retracted while not in use, most motorized awnings have the option of sun and wind sensors to ensure the shade closes if inclement weather should occur*.
Regardless of application, awnings serve to provide shade, assist in maintaining a comfortable climate indoors and, in turn, control energy spending. Awnings may be as old as man but retractable options with smart home capability are the wave of the future.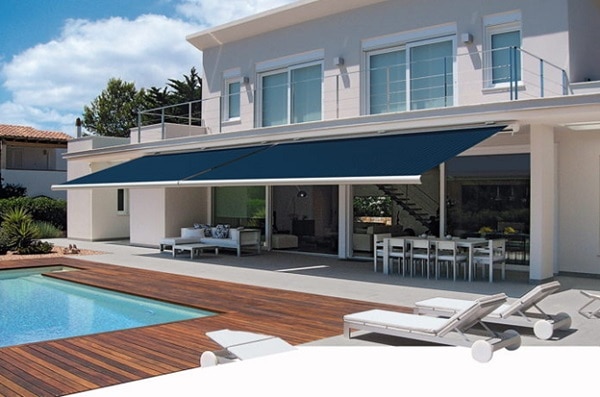 Our Blindsgalore awning collection offers you a striking choice to revive your outdoor space in style and to luxuriate in all the beauty surrounding your home. Don't let the sun go down on you!
*A wind and sun sensor will not be able to retract an awning quickly enough in severe weather or with wind bursts. Ever see an umbrella left open during a really intense storm? It's like that but attached to your home.
Featured Image Source: Prix Store