A sweeping restlessness creeps in as we gear up for the spice of autumn as we long for a crackling fire, the crunch of dried leaves, the ripening of crisp apples and the sprinkling of the provincial scents that define this season as we shift our sights inward. Let the colors and tastes of fall inspire you to enhance the autumn essence in your home with these 15 easy decor ideas.  Fall's color palette always gets me percolating with fire. Just riffing on the fall colors- rust, saffron, burnt sienna, butternut, crimson, vermilion, chestnut and burgundy are all I need to turn over a new leaf and add an autumn flair. Get ready now for deeper and more intense feelings.
Find the perfect Fall-colored shade at Blindsgalore.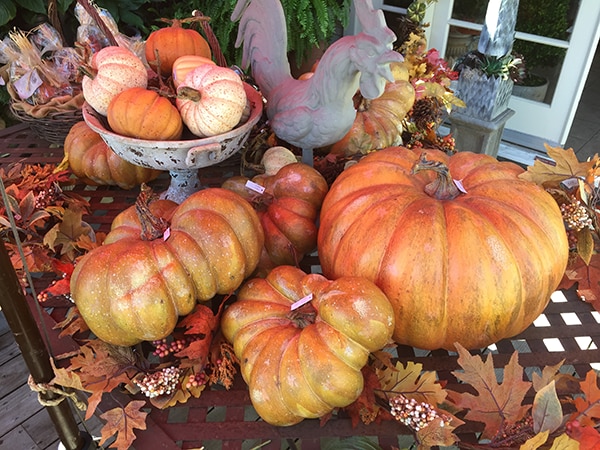 A Rake Wreath
Wreaths always welcome fall but how about a new idea for your front door. Grab a rusty rake from your yard or home goods store, and cut off most of the pole and wind in through the spokes, dried flowers, weeds, bittersweet, wheat stalks or grasses and tie up with raffia or a burlap ribbon. Plunk on your front door for a fresh spunky look.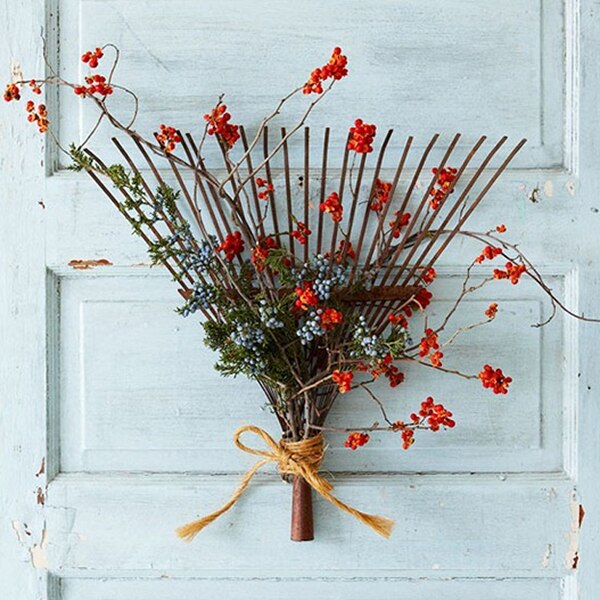 Wrap Up
Pile on chunky knit throw blankets, vintage quilts or even sheepskin or plushy faux fur throws to nurture the cocoon feeling of being warmly wrapped up. Fall tweeds and herringbone fabric and anything thick and cushy will keep the rustling winds at bay.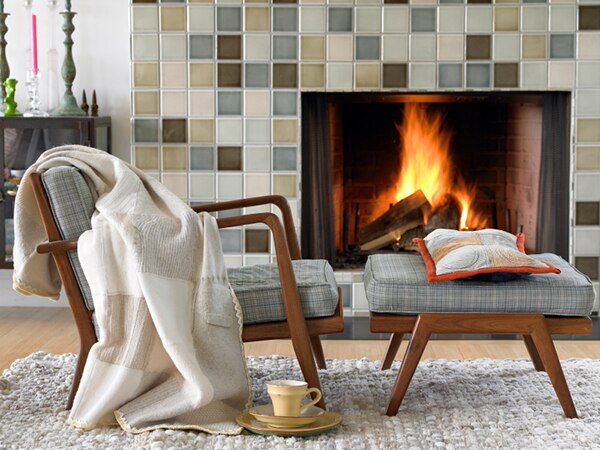 Make A Mumpkin
Grab a very large pumpkin and hollow out and pick out your favorite large potted Mum and pop the flower in the pumpkin and set on your front porch or on your table. I like to make 3 or 4 fall "mumpkins" for any empty spot that needs a shot of fall freshness.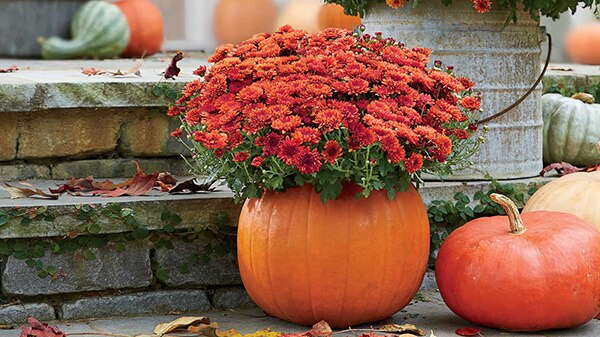 Faux Fireplace
A fire immediately adds a glowing spirit to any room. If you don't have a fireplace, fill a large wire basket with pine or birch logs and weave in those sparkling orange lights that are always available this time of the year and imagine the warmth. Anything can happen with a little fantasy.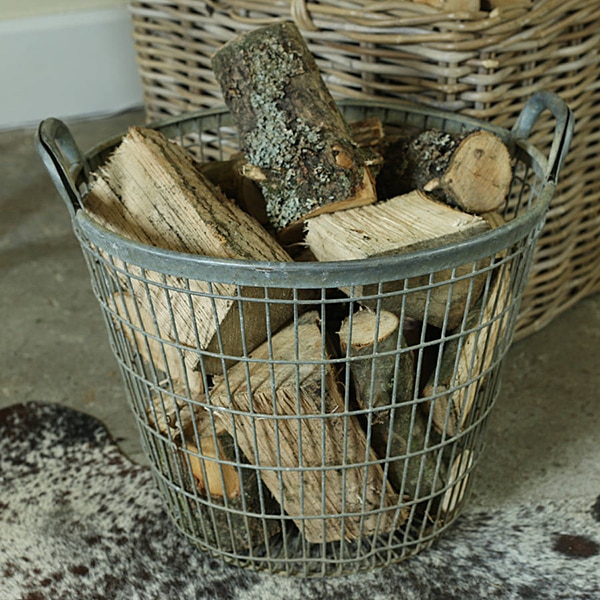 Pile On A Rug
Keep cold feet warm by adding an area rug for an extra layer of softness and interest. Layers add a luscious feel to all chilly nights ahead.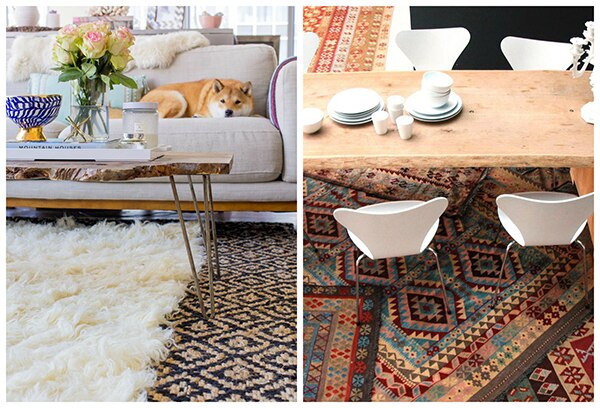 Pumpkin Tableau
There are a million ways to style a pumpkin, but the easiest is to select different sizes, colors and shapes and march them down your dining table or on your mantel for the quickest fall scene.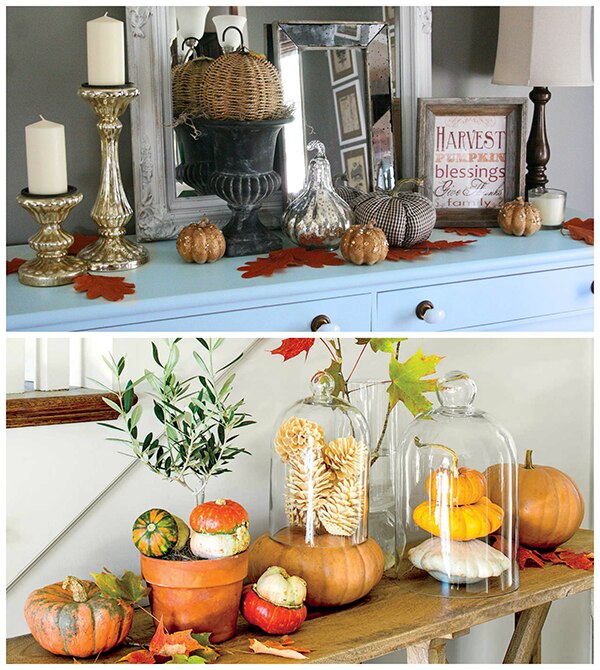 Warm Up The Windows
Prepare yourself for wintry days ahead and switch out your sheer or barely there window coverings for a more energy efficient treatment. Cell shades are a wonder as those nifty little pockets of air trap the cold air from coming in and retain the warmth of the inside of your home. Cell shades are automatic heat retainers and cold buffers. Heavier drapes also act like a blanket over your windows. Don't wait for the first icy blast to blow through your home. Warming up your windows instantly creates a snug home.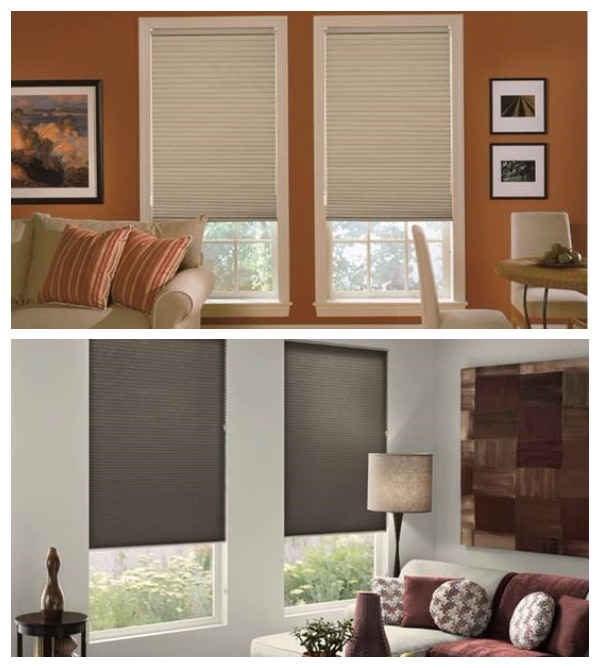 Cellular shades are an all season favorite. Take a look here at the many styles and colors to match any style
Fall Chandelier
Here is another idea for the versatile Mason jar. Drill a hole in the lid and place a rope through the hole and knot it under the lid. Drop in the jar, your choice of a mini pumpkin, a faux fall leaf, or dried stems or mini pinecones. Tightly twist the lid and make an assemblage of jars. Tie together with string and hang from a hook from the ceiling or hang it on your front door for instant fall décor.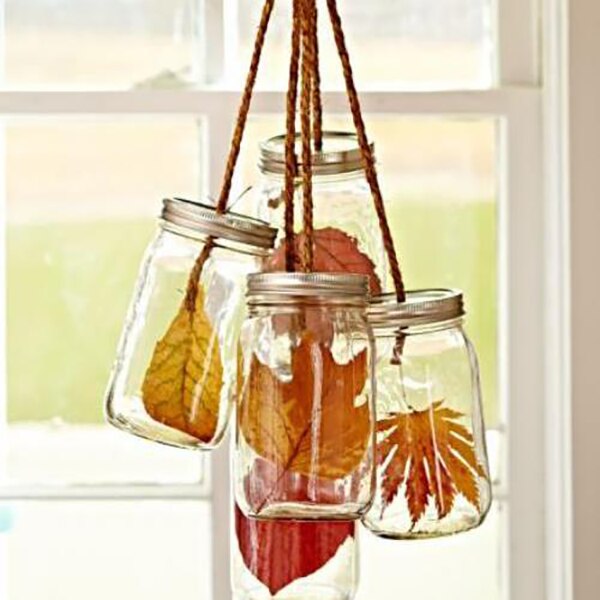 Velvet Table Runners
Perk up your dining table with a fun table runner. Why not capture the craze of velvet and spread an elegant velvet table runner across your fall festive table.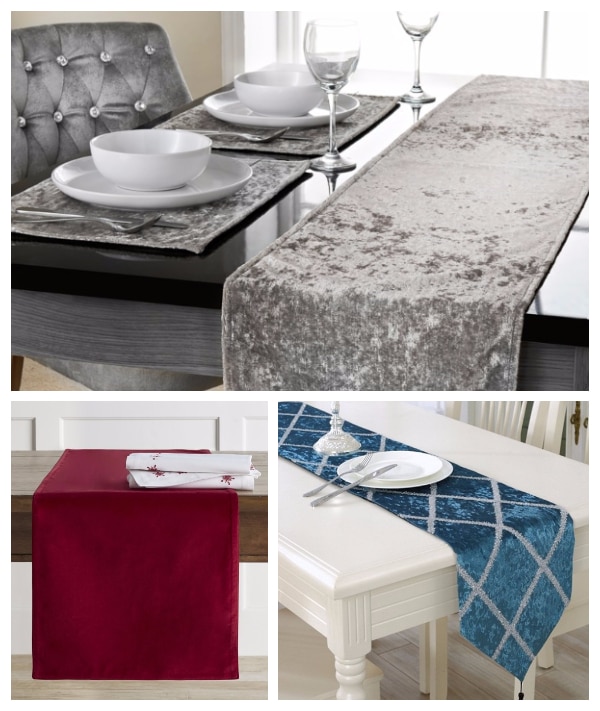 Cover The Legs
Leggings are "de rigeur" for the colder days and now an indispensable part of your everyday wardrobe. What about covering up the bare legs of a nightstand or small side table for an updated look. Just drape a cloth over the bare legs to add a new look and as a bonus, you can hide clutter underneath the table.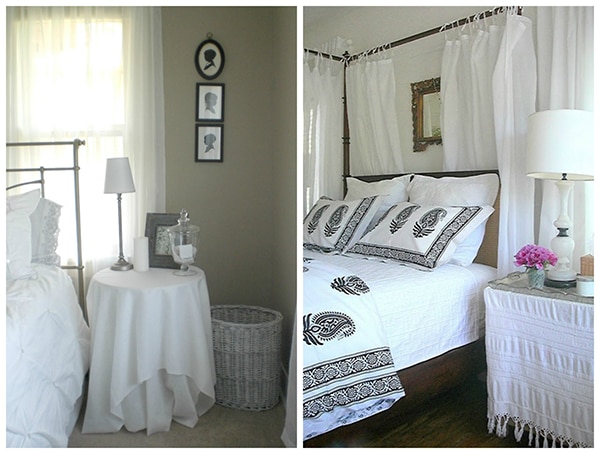 A Stick Up
As the leaves flutter and green turns to the burnished hues of gold and chestnut,  the gnarled structure of sticks and branches placed in a large bucket or tall vase create a handsome, rustic look.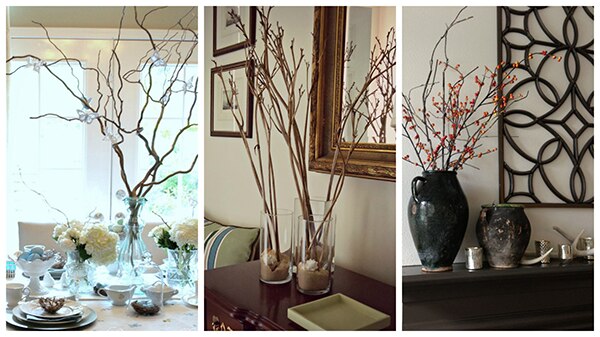 Reclaim The Porch
Check out your favorite junk shop or flea market for some reclaimed wood or a shipping pallet to make a large sign to adorn your fall porch. Pile on as many fall accents that excite you.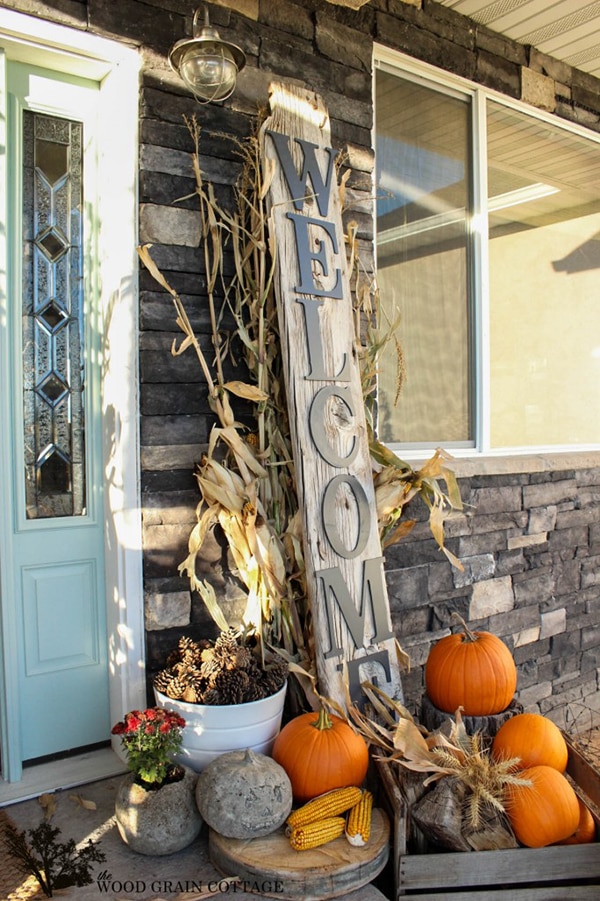 Aromatherapy
Ditch the floral "perfumey" candles around the house and resupply with the fall scents of cinnamon, nutmeg and earthy fragrances. I like the aroma of pinon wood and anything that smells citrusy or cookies baking. If you love hot spiced cider or just like the smell of the spices, make this easy recipe and store in an airtight jar and add 1 T to each 8oz (1 cup) of apple cider or just enjoy the comforting aroma.
 Mulling Spice
1 large orange, zest, peel and pith, minced
1 oz jar of cinnamon sticks
.75 oz whole allspice
.75 oz whole cloves
Preheat oven to 200 degrees.
Scatter the zest, pith and peel on parchment paper on a cookie sheet.
Bake for an hour until dry.
Place cinnamon sticks in a Ziploc and wrap in a towel and mash up with a rolling pin or hammer.
Mix everything together and store in sealed jar.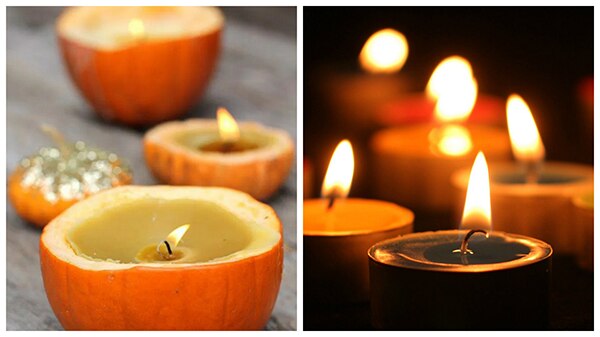 Copper Hurricanes
Renew your outdoor hurricane lanterns with a glam coat of sheets of copper leaf that you can find at your local craft store or online.  Your lanterns will find new life for this burnished season of deeper, metallic colors.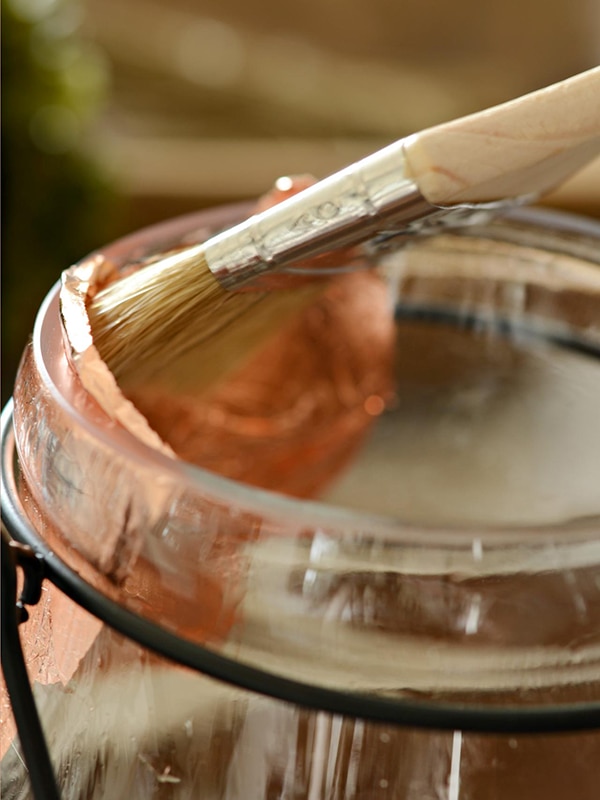 Monogrammed Pumpkins
Pumpkins always enliven any fall scene, but monogram them with your initial or boldly state your address as these unique pumpkins proudly stage the entrance to your fall home. You can either stencil, stamp, etch or paint your unique monogram.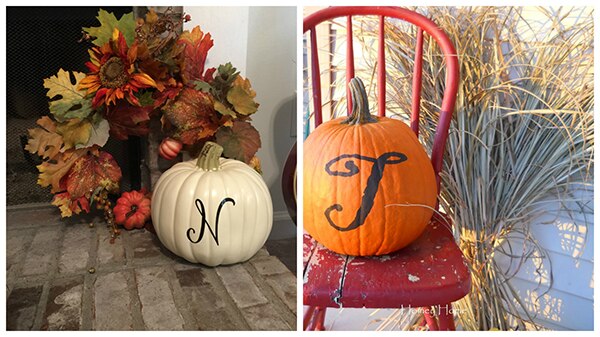 Autumn's shadow is lingering on the horizon for you to shape into your own "Season of Harvest Hues."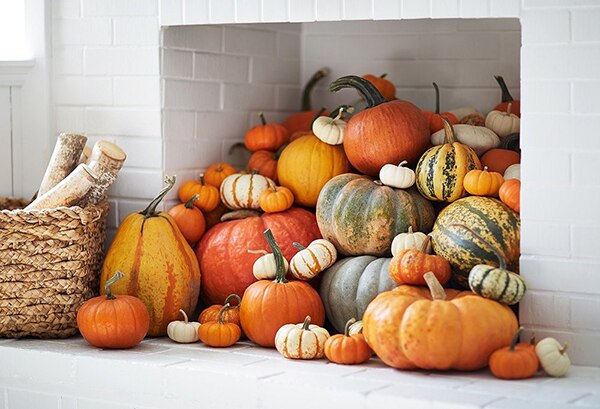 Get your windows ready for Fall!