Before the holiday bedlam crushes your spirit, grab a quick minute now to take a whirlwind tour around the house to make sure all rooms are guest ready. Get this item checked off your list, giving you more time to stuff your days with baking, shopping, wrapping and bestowing holiday charm. Let our design experts help you get your window treatments fixed up so they arrive before your guests do! Whether you are having parties, or friends and family crashing, or you just have some ordinary, "Plain Jane windows" that need a little "tszuj" (that means they need some jazzing or spicing up.) It seems like every home has a problem window that keeps popping up when we least expect it. Custom window treatments come to the rescue as our Blindsgalore window coverings are handcrafted, cut and shaped to your specifications and designed with all the extra details you want. Get your home ready to welcome in happy holidays.
Here are five window challenges with design ideas to make each room in your house comfortable, warm and inviting for all the good cheer coming your way.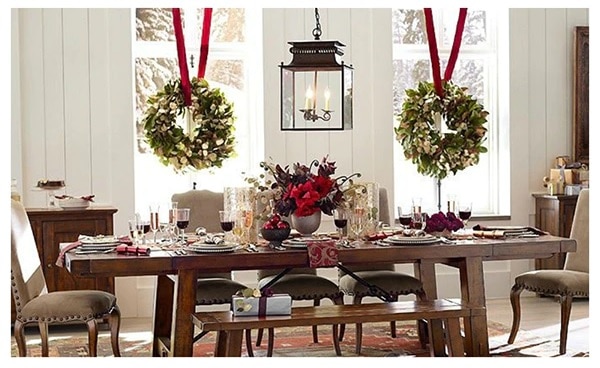 Bedrooms
Guests can really be cranky as no one likes sleeping on a mattress too hard or soft with a smashed, lumpy forgotten and discarded pillow, or those perfumed smelly candles and a ticking clock, inducing sleepless nights. But, I can help soothe frazzled nerves to help you create a dark room to keep out glaring street lights and early morning sunlight. Bedrooms demand window coverings that come with a room darkening or blackout liner or are made with a special vinyl 3-ply darkening material. For the best room darkening, choose Roller Shades or Cellular Shades or Roman Shades and enhance the light control by mounting the blinds or shades with an inside mount for a tighter fit. Many levels of blackout are available for your specific light issues. My favorite blackout shades are the Blindsgalore Ultimate and the Bali Blackout. You can browse many of our Room-Darkening Ideas on our Blackout page.

Since we do spend a lot of time sleeping and hanging out in the bedroom, reading, obsessing over our smart gadgets and chilling out at the end of the day, don't skimp on treating this room, for you or for your guests. Keep light from leaking in the bedroom from crooked slats, misshapen blinds, flimsy material, see-through drapes and store-bought, big bargain cut-down window treatments that are bound to fail. Custom blinds and shades fit perfectly and do make a remarkable difference in any room in the house. Crabby sleepless kids and guests upset the whole household.

Kitchens
With holidays peeking around the corner, you know that means the kitchen gets heavy duty attention with baking, cooking and everyone dipping fingers into the frosting bowl, the crock-pot or licking the beaters, while you are stuck with messes galore. Since the kitchen is the heart center of activity, I like to keep it simple so I can concentrate on perfectly decorating the cookies and cakes.

Window treatments that crisply complement a clean and spacious look and can withstand heat and moisture are your best bet. Cellulars and Rollers are good kitchen choices and if you love a bit of pattern, our Boutique or Simply Chic blinds add that much-needed punch to keep your mind off the dishes piling up in the sink. Faux-wood blinds are another perfect kitchen selection as they resist heat and warping and don't mind kitchen splatters, as a swipe of a damp cloth will keep them happy. If you have a large kitchen window or a bank of windows over an expansive counter-top or big sink, think about motorizing those blinds with a flick of the switch to make kitchen time easier and fun.
If you are like me, I like lots of light and a clean sharp look without a lot of fussiness in my kitchen. The choices in color and pattern are limitless to achieve this effect. Your kitchen can be inspiring, homey and peaceful, amid the storm of holiday kitchen overload.

Dining Rooms
Is your dining room screaming for a more relaxed, casual feel for easy celebrations that are full of good cheer or are you the arch traditionalist, seeking a more formal, sophisticated entertaining vibe? Whatever style you prefer, you will want to diffuse the light and glare for a comfortable dining experience. Select window treatments that can adapt to the changing light of night and day as well as the different seasons. Your dinner and lively conversations should be the centerpiece of gatherings, not annoying distractions.

If you are the free and easy "family buffet" style, choose Cellulars or Rollers for a casual look. If bright sunlight is a special nuisance, Solar Screens are another pristine window treatment. Wood or Faux-Wood Blinds can add an extra dimension of structure, but still retain a clean smooth look.
For a bone-china, sterling silver and crystal-cut wineglass type of person, Roman Shades or Drapery will balance your finely set table and gourmet dinners. The graceful flow of these soft window coverings will enhance any elegant dining room.
Your window treatments should complement the ambiance and be carefully selected and diligently planned with as much care as you design your menus, tableware and flowers. We have an alluring assortment of window treatments to tempt you as you scroll through the many choices for that perfect combination of dining style, paired with an appropriate window treatment. If you need to find a way to diffuse light, see our "Block The Light" page.

Family Rooms
Family rooms need to be comfortable and homey for playing, studying, for reading or relaxing. Everyone likes to hang out in these big open rooms, so please make sure you select cordless window treatments for safe windows for children and pets. Cellulars and Rollers are my favorite choices here, or if bright sunlight is a particular issue in the family room, Solars are versatile, blocking glare, but preserving the view to the outside. Shutters are another handsome and safe window treatment for family rooms. Woven Woods can furnish the family room with additional texture and warmth in tune with the organic, all natural décor trend.

Many family rooms have beautiful patio doors that extend to the porch or backyard. If you are lucky to have French or patio doors in your big room, you might think of Verticals with new modern fabric slats or a slick "Verticell Treatment." Big open doors provide exciting spaces to express your creative spirit, but don't overdo the family room with big, complicated window treatments which can interfere with a calm place for the family to gather together. Keep it clean and crisp and snug.

Media Rooms
For those sports fans, movie buffs, TV addicts and game players-need I say more? Shroud this room in darkness to prevent group griping or you might have to load up on more snacks and beer. Solar Screens work well in media rooms as glare will be reduced, but the room won't be submerged in total darkness and a few glimpses of the outside world can be seen. For total darkness, most Blackout Shades will usually suffice for easy viewing. For additional window coverage, a bank of drapery over any window treatment or just a layer of drapery with a liner should make gamers and watchers happy.

As long as those big screens are glare-proof, the chairs and couches are big and comfy, the drinks ice-cold, the chips and dip plentiful and a big soundproof door is between you and the media room (if your free time demands other diversions), life should be easier for you. Treating this room with respect will work out for everyone in the long run.

Don't procrastinate any longer as Santa won't have time to get those special window coverings ready to deliver the night before Christmas. But once your list has been checked by our design experts and you have been nice, not naughty, your order will be loaded up quickly on our sleigh, headed for your holiday home to make it shine brightly all through the season!