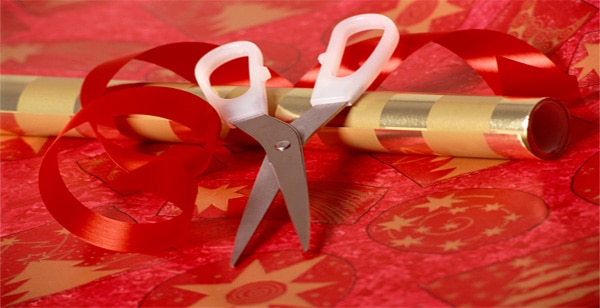 As the days become shorter and the nights grow colder, you are reminded that it's that time of the year for family, goodwill, snowmen, hot cider, and of course gifts!  For every holiday party or family gathering you are invited to, it seems a gift is always in tow.  Why not tackle the Twelve Days of Christmas and more with a gift-wrapping room or station inside your home.  Sounds intimidating?  No worries, it couldn't be easier.
1.  Find the perfect space
Don't think you need to devote a whole room in your home.  Look around for any open space.  It could be a small closet space, the back of a door, inside a drawer or cupboard, or as easy as a bare wall for a peg board.  If you are lucky enough to have some space to work with, just adding shelving and compartmentalizing drawers is a start to a successful gift-wrapping station.
2. Set up shop
Look for carts that can roll into small spaces, totes that can slide underneath the beds, organizers that can hang on hooks or wall and door racks that can turn the back of any door into a wrapping wonderland.
3. Be organized
Magnetic canisters and glass jars are perfect for gift tags, stickers, beads, and loose ribbons.  Wooden dowels or even a shower curtain rod allows your wrapping paper and ribbons to hang like a department store.  Bins and hooks are great for storing gift bags, scissors, tape, bows, and anything else to make your gift look extra special.
Here's to many wonderful nights sitting by the fire, roasting marshmallows, and tackling those gifts like a true professional!  Happy Holidays!