Window treatments are my passion and I love inspiring you to find that special blind, shade or shutter to fit each unique window in your home. With the largest variety of custom window treatments, curated for you, Blindsgalore wants you to love your windows. But, hey, read on to find out why our customers love our product and our company. Here are a few tasty tidbits about our favorites.
Woven Woods
"I knew from the beginning that I wanted to include woven wood shades. I love the simplicity of their classic design, and of course, the warmth and texture of the natural material instantly adds an extra cozy layer to any space."
– Alicia & Nick, A Burst of Beautiful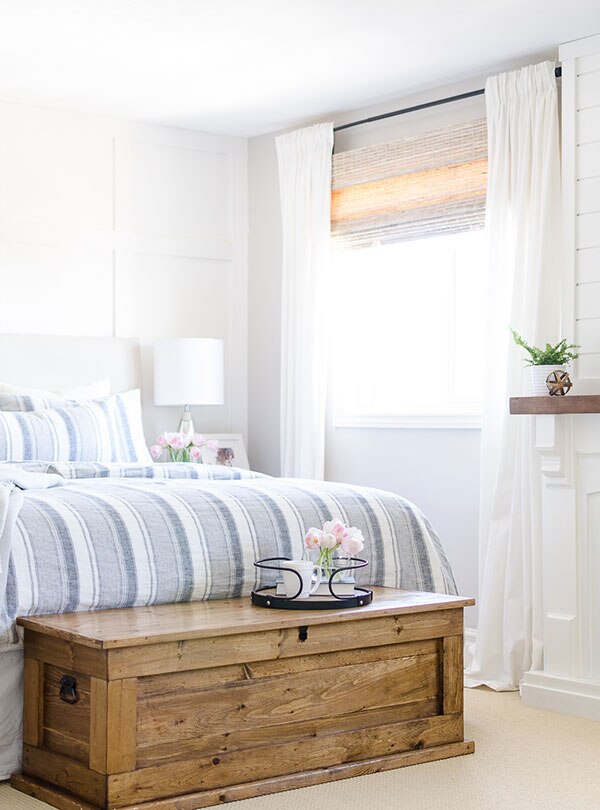 If you read this blog with any regularity, you know my deep affection for woven wood shades. I consider them the perfect shade, ideal for any season and flexible enough to compliment many styles of design. Natural shades are a beautiful way to bring the outside in and with the recent addition of roller shades to our woven wood collection, there are even more opportunities to enhance the look of a room with texture, style, and warmth. Our Blindsgalore Natural Woven Shades are the ideal collection for those in search of a diverse selection, offering Bamboo, Mixed Weave, and Grass Weave shades in a palette ranging from bright whites and light sands to rich greys and warm browns. Layer on white drapery mounted high above the window and in just a few small steps, you can change the look and feel of an entire room.
"They make the windows appear larger and streamlined. I also wanted a little warmth and texture- the woven bamboo adds just that."
– Sarah Gibson, Room for Tuesday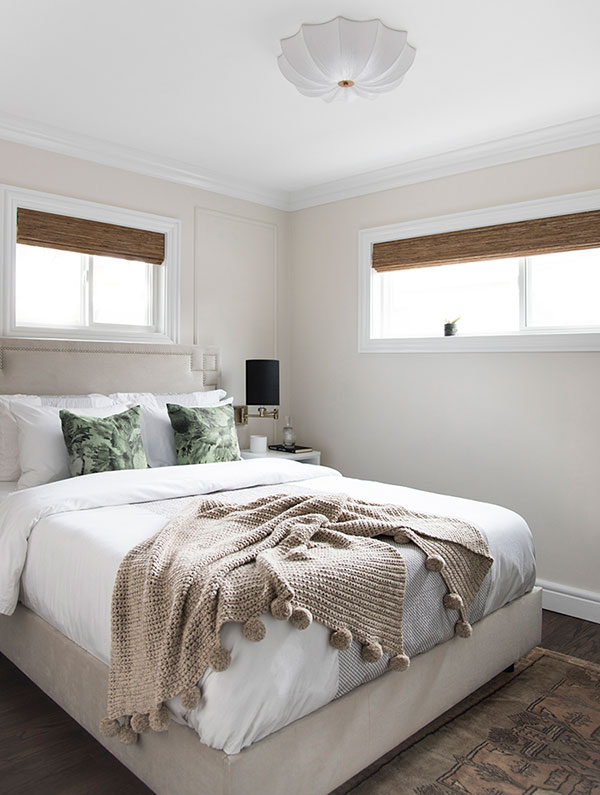 "This is the nicest window covering that I have ever owned. It is lined with black out fabric and is white on the back which is great because on the exterior it faces the front porch."
– Jessica, Honey n Hydrangea
"We are thrilled with the woven woods! They add beautiful texture and color to our windows as expected. We are getting compliments from friends and neighbors asking where we got them."
– Hilanne M., DE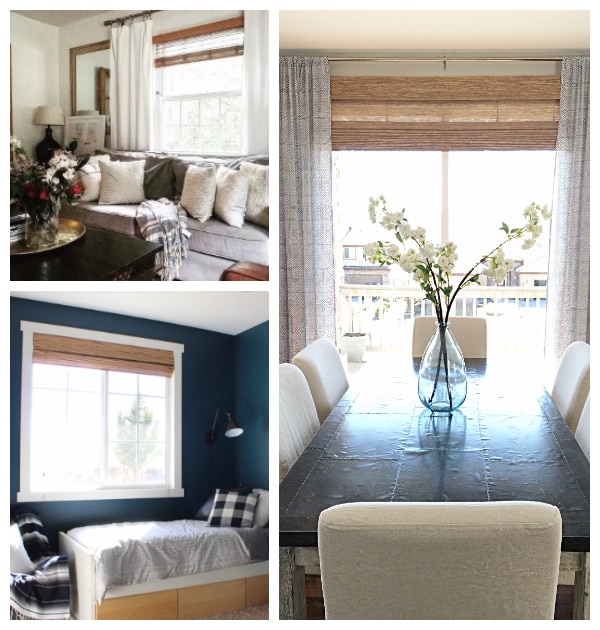 "I'm an Interior Decorator and am so glad I ordered these blinds! They look amazing in the space flanked with curtains while the sunlight slightly filters through."
– Kim H., NB
"I absolutely love the look, functionality, and quality! They are exactly what I was hoping for on all levels. They are installed in my kitchen but I want them in other rooms now. They do let a small amount of light in, which is perfect."
– Teresa G., VA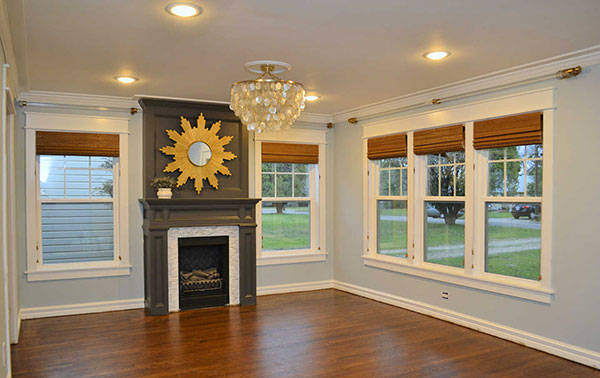 "Woven wood shades are my absolute favorite, so I don't know why I even entertained any other options last year. I should have gone straight for the woven shades and never looked back."
– Kristi, Addicted 2 Decorating
Roman Shades
"The difference it made in the overall look of the room is pretty wonderful, but the ease of pulling the shades up and down is even better. If I never have to hear the sound of metal blinds or fight with the cords again, it won't be long enough."
– Emily A. Clark, Design Simplified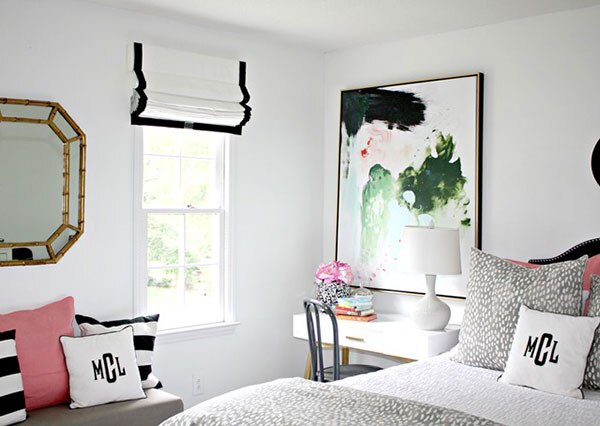 Roman shades are the steadfast, tried-and-true window companion that designers consider an ace in the hole. Often the clear choice because of their effortlessly welcoming construction and diverse fold appeal, roman shades are an ideal treatment for many different types of design. A contemporary window in an urban modern home is a great fit for plain fold romans whose shade is clean and structured with measured seams and a flat face. Nearly any style of design is the right fit for flat fold romans with their crisp and tailored shade, unadorned with pleats making it a suitable match for patterns and prints. Flat and plain fold romans are the most popular roman fold types. They're also my favorite of the four styles we offer, most commonly seen in model homes and gracing the pages of interior design bloggers. Our most popular roman shade, the Blindsgalore Designer Roman Shade, is available in all four fold types with over 150 fabrics in solids, patterns, and stripes.
"I love the roman shade for my kitchen window. I got the yellow pattern and it looks exactly like the picture. The quality is great!"
– Erika H., TX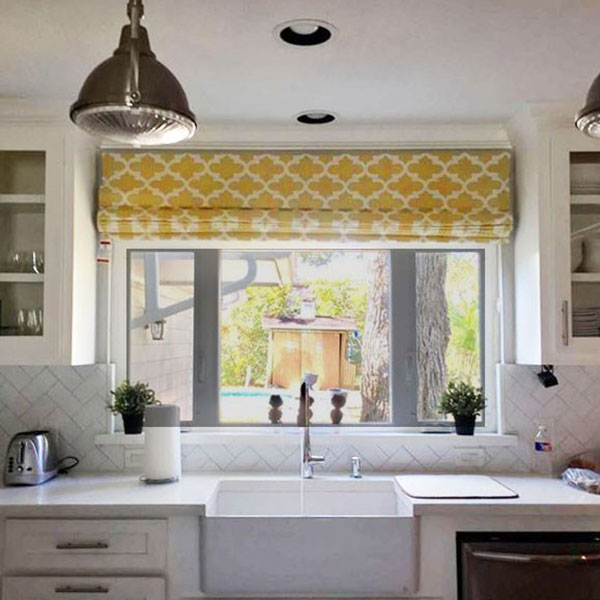 "I ordered these roman shades for two of my living room windows. Love, love, love them! Get compliments on them all the time."
– Patti R., PA
"I absolutely love my custom shades. The material is beautiful. I had the light filtering backing added for heat resistance; my kitchen gets a lot of sun and gets warm quickly."
– Jennifer F., LA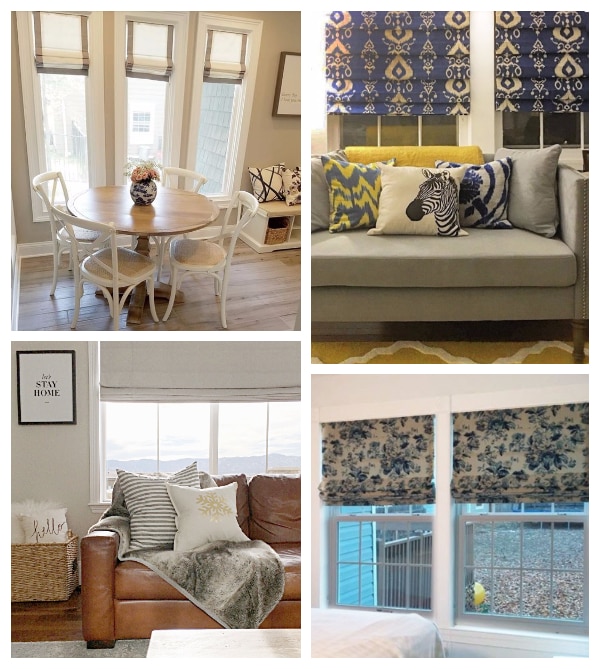 "We bought this roman shade for our newly remodeled master bath. I was pleasantly surprised by the quality, construction, and beautiful fabric. We chose the "blackout" feature and it truly blocks all light."
– Brenda D., WY
I got the cottage rose in cerulean, and they are simply beautiful. I keep them down halfway just so I can look at them. I love the ease of Roman shades, too. So much less cumbersome than curtains!
– Renee R., NJ
Roller Shades
"They had me hooked the moment I saw them on their site. It is the convenience and affordability of roller shades – and the textured beauty of jute blinds – all in one."
– Cami, TIDBITS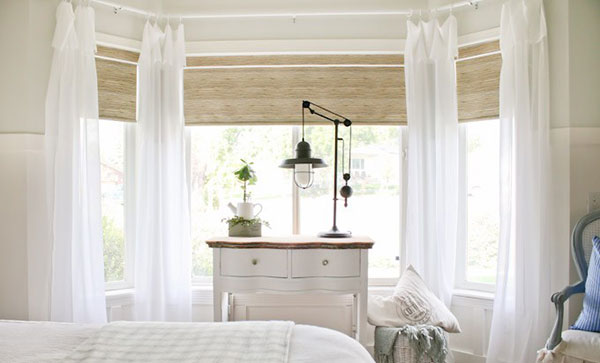 Over the last year or so, roller shades have been making a comeback. Once considered a basic, utilitarian window covering, they are now available in a multitude of materials, patterns, and textures. Move over vinyl roller shades! It's time for these fabric forward, enticing shades with a keen fashion sense. Due to their inherently minimal nature, roller shades tend to be overlooked for more robust treatments like roman shades or drapery, but it is this very nature that makes them an ideal candidate for so many design styles. Layered or alone, they have the flexibility and range to grace windows in minimal architectural focused design and traditional, warm-welcome homes alike. It's no wonder that they are adorning windows and gaining in popularity. My favorite roller collection we offer comes from our Boutique brand and is comprised of a diverse compilation of woven woods, solids, and metallic shades suited for fashion forward, urban modern homes.
"These shades block the setting sun and still allow me to look out at my vegetable garden. We have little children in our home and we needed to go cordless. We went with the motorized function and love it."
– Alisa C., CA
"We love our new blackout roller shades! Thanks to these great shades we can block out the sunlight anytime we need and successfully present our projects on the large screen to our clients without any glare."
– Kari K., CA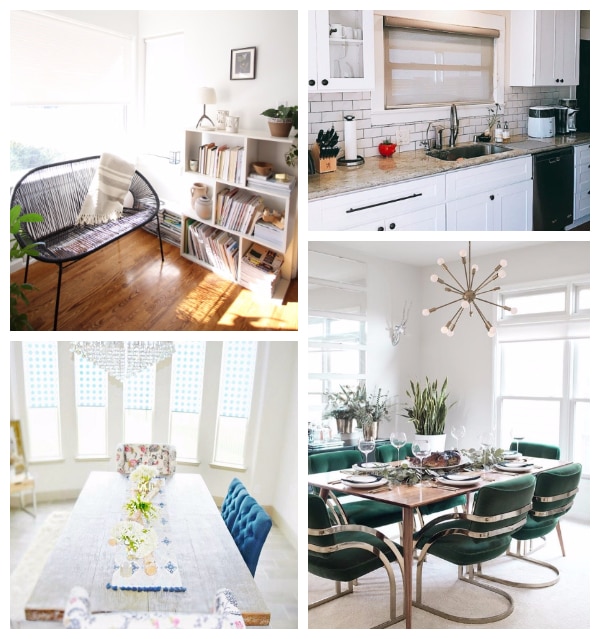 "We needed a shade for a window that let a lot of afternoon sun into our front entrance but the window was too high to reach on a daily basis. The motorized solar shade was the perfect solution! It lets enough light in but not straight sunlight that heats up the front room and bleaches the floor. My husband installed it in no time."
– Kathy S., TN
"It is beautifully made, the fabric is gorgeous. It is exactly what I was hoping for."
– Lois T., PA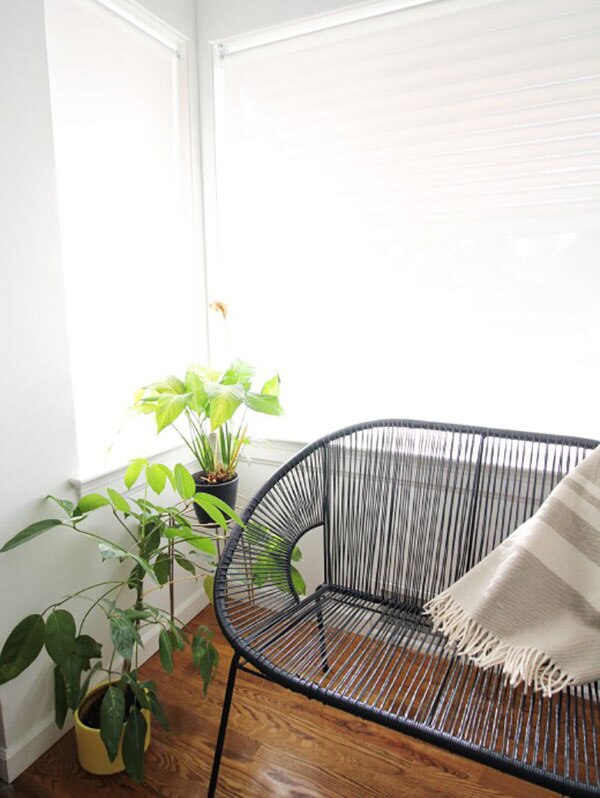 "I love simplistic roller shades, or modern solar roller shades, that allow the window to not disappear. I wanted to keep this corner simple and full of natural light. These are PERFECT for rooms that receive constant direct sunlight."
– Kirsten, Simply Grove
Faux Wood Blinds
"These blinds feel and look like wood blinds but are less expensive and more durable. Plus, they won't fade or warp so they're perfect for my kitchen."
– Laura, Inspiration for Moms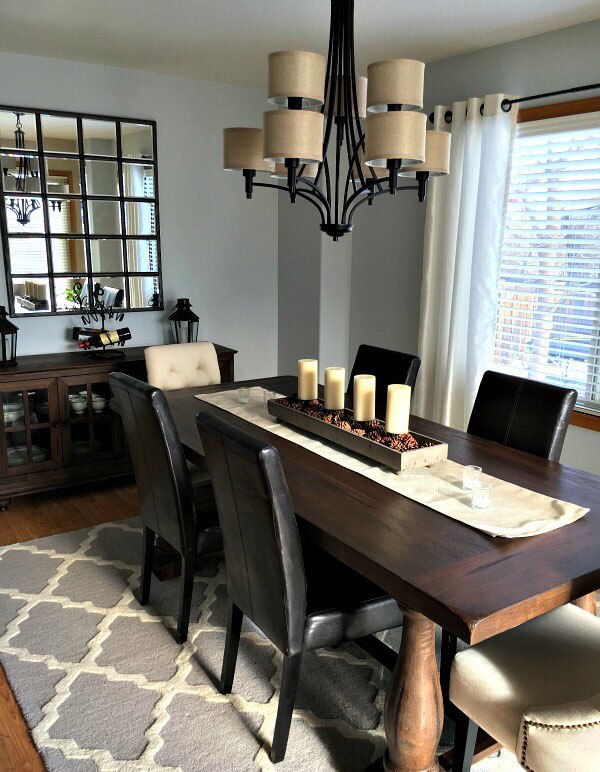 Faux wood blinds, the only blinds gracing our customer favorites list, are considered by many to be the perfect treatment for kitchens and bathrooms. Easy to clean, moisture and temperature resistant, these synthetic wonders are a popular option in both rentals and owned homes. They emanate warmth and elegance without the fuss of fabric or the worry of warping like real wood blinds. While white far outranks any other color offering, woodgrain blinds are a logical alternative to wood if you are wanting the convenience of faux wood blinds but have a more traditional home that needs the warmth of wood. Faux wood blinds also shine in layered applications as their slats allow a view out into the world but are not the best option for blocking light if used in a living or bedroom. There are so many positives to faux wood blinds, it's no wonder they are a customer favorite.
"Got these blinds for my daughter's room to go behind some sheer curtains that just weren't blocking enough sunlight. They look great behind the purple colored curtains and really accent the window."
– Michael I., TX
"At the recommendation of my son I ordered these blinds. I was so impressed with the quality, price, ease of installation, packaging, fast delivery, so I ordered more to furnish my whole house with your excellent blinds."
– Heinz H., BC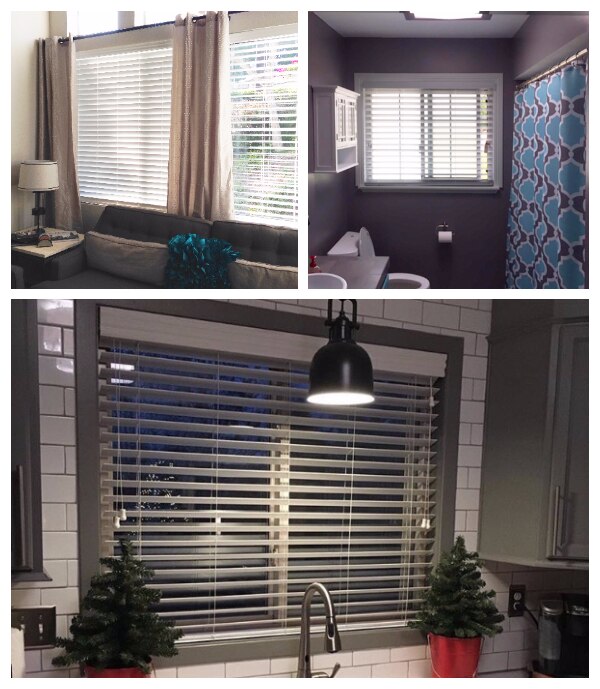 "I am so glad I didn't buy blinds from the big box home improvement stores and have to shorten the blinds. I'm all about the custom size to fit now. All I had to do is hang them. They even fit the old brackets from the 50's."
– Chris M., FL
"They look gorgeous in my dining room and give me a clear view into my backyard. Great for when I need to check on my son playing on the trampoline."
– Laura, Inspiration for Moms
In the vast world of blinds and shades, with so many options and choices, it's easy to feel lost in a crowd and overwhelmed by the selection available, not to mention the numerous products available on our site. We are Blindsgalore, after all! These customer and blogger favorites are a great launching point towards building envy-worthy window treatments. When in doubt, go with the flow and join the popular group.