I love Shutters as they are on the top of my list as one of my favorite different types of window treatments. Shutters double the pleasure as you get a classic, architectural look, plus shutters are treated as a fixture and actually increase the value of your home. Shutters always attract attention and offer a structural balance and elegance to any room.
Shutters are simply a solid, stable window covering set within a frame which can be installed within an opening (inside mount) or they can overlap the opening within a frame of their own (outside mount). Whichever style you choose, shutters control light, provide privacy and security, buffer the noise from the outside and enhance the aesthetics of your home. The beach might just be a step outside your patio doors.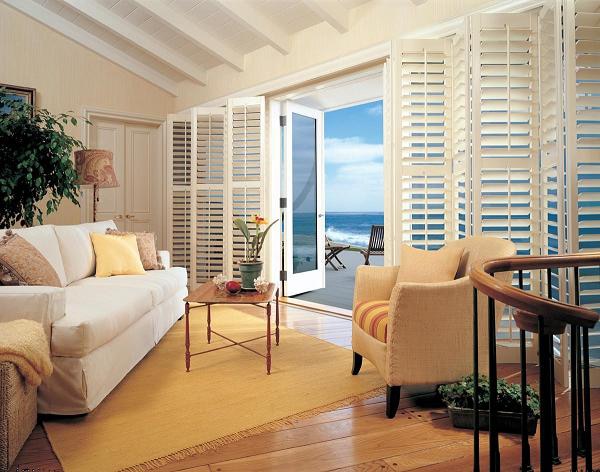 Plantation shutters are the design trend today and have operable louvers (slats). Louvers are the vertical and horizontal slats that give shutters their character and timeless beauty. Use a minimum number of these panels to create a sleek look and if you select wider louvers, additional light can gloriously seep through the slats. If you prefer more screening, choose smaller louvers. What makes shutters so versatile is the large variety of sizes you can match to any dimension and shape of window. Use shutters in multiple sets to cover a large array of windows for extra drama.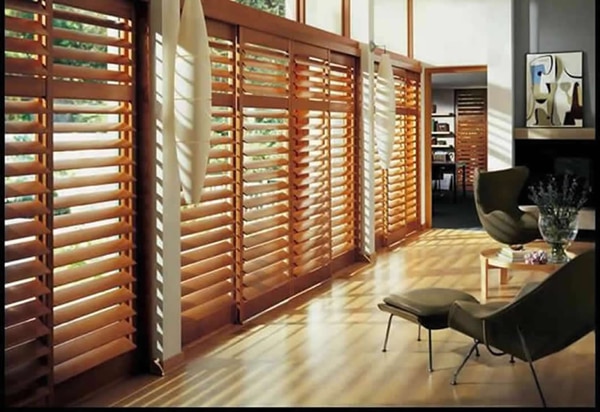 Plantation shutters are so sleek and structural, no other window treatment is really needed, unless you love the layered look. Shutters are stunning on French doors, sliding glass doors, odd shaped window and those pesky hard to cover arched windows.
Of course, our traditional idea of a shutter is the grand exterior shutters that conjure up an image of a proud, ivy covered Victorian, a New England Cape Cod, a Santa Fe Adobe, or a Parisian country cottage. I grew up in a red-brick classic colonial, with many windows framed in perfect white shutters, from bottom floor to attic, shutters galore.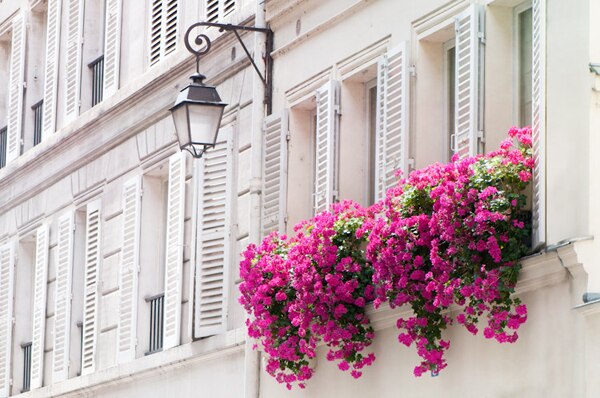 Outdoor shutters, to my dismay, are being relegated to nostalgia and neighborhoods of history, but for us DIYers, antique, distressed and trash-heaped shutters are a trove for home decor accents. All you need is a trip to a flea market or a garage sale or an architectural salvage market: grab a few shutters, a can of paint, sandpaper and jolt of creativity, and a piece of knobby wood is magically transformed into art, whimsy, a fence, or even furniture. Shutters are not only one of the most exceptional of the many different types of window treatments, but are a super decor style idea. In my house, we call them "Super Shutters."
If you are looking for more ways to frame your windows, our Ultimate Guide To Window Treatments is here for all your decorating questions or ideas.