Bay Windows
Bay windows add depth and dimension to a room, but can also raise privacy concerns. These uniquely shaped windows can be treated individually or as a whole, depending on their construction.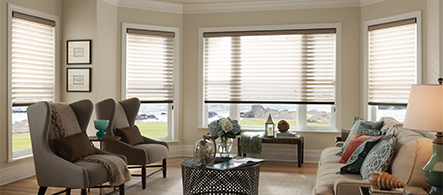 Measuring a Bay Window
If you aren't able to treat each window pane individually, you will need to use a special template to properly measure for window treatments. Please contact one of our Customer Service Experts for precise instructions on how to measure your bay window.

Call now 1(877)-702-5463
We highly recommend these types of window treatments for your bay windows
Arched Windows
Arched windows make a unique architectural addition to any home. Before picking out a window treatment, it's important to determine whether you have a perfect or an imperfect arch first.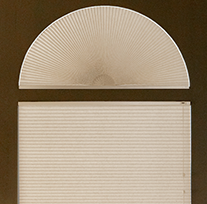 Perfect Arches
To have a perfect arch, your window's height must be exactly half of its width. In this case, we recommend stationary cellular shades. These shades will fit perfectly inside your arch and are helpful in insulating your windows and filtering or blocking incoming light.
shop now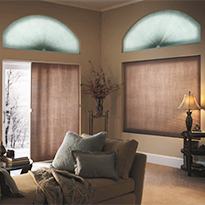 Imperfect Arches
If your window is an imperfect arch, meaning its height is not half of its width, you will need to send us a template of your window so we can measure it for you. Please contact one of our Customer Service Experts for detailed instructions on how to create a template of your window.

Call now 1(877)-702-5463
Skylights
Skylights are fantastic sources of natural light, but they can let in unwanted sunlight or inclement temperatures if left uncovered. The best solution is a shade with insulating and light filtering qualities. On most skylights, we recommend cellular shades.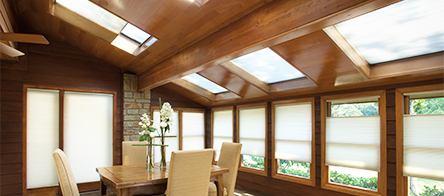 Cellular Shades
Cellular shades are a versatile solution for your skylight shades and will be able to shield your home from any harmful incoming UV rays. Available in insulating double or single cells, as well as light filtering or blackout options, these shades are installed on special tracks to allow for easy movement at all angles.

shop now
Motorization
To make your skylight shade more accessible, we recommend adding the motorized option. Motorized skylight shades can be adjusted with a remote control and can even be solar powered.

shop now
Other Odd Shapes
If you can't find the correct shape above, don't give up! We encourage you to contact our Customer Service Experts to discuss solutions for your odd shaped windows 1(877)-702-5463.