Who wouldn't want to call a cozy coastal cottage right by the ocean, home? Living in San Diego, I love spending every second I can by the beach. The soft sand, white lazy clouds, brilliant skies and seashells galore infinitely inspire and put me at ease. Beach chic style is really all about bringing that laid-back feeling you get on the beach right into your home. Reflecting the beauty and charm of coastal living creates a warm, inviting and relaxing atmosphere – after all, beaches are really all about the getaway.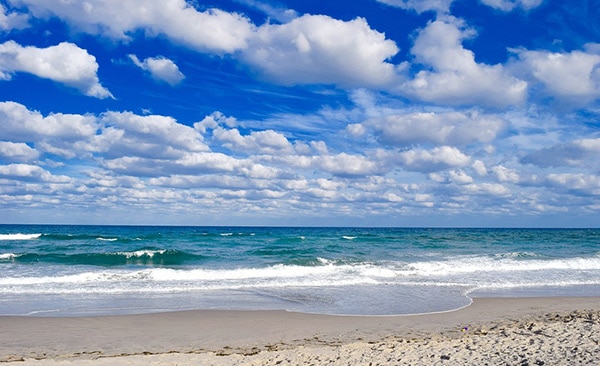 Seaside style can be broken down into a few key elements. Beach tones, coastal touches, plants, distressed wood, and breezy window treatment ideas in the home all bring you into a calm world far away from the stresses of everyday life. The simplicity of this style can easily be tailored to complement your individual personality and interests. Bring any of these five elements into your space to create your very own beach cottage and get ready for easy, breezy living.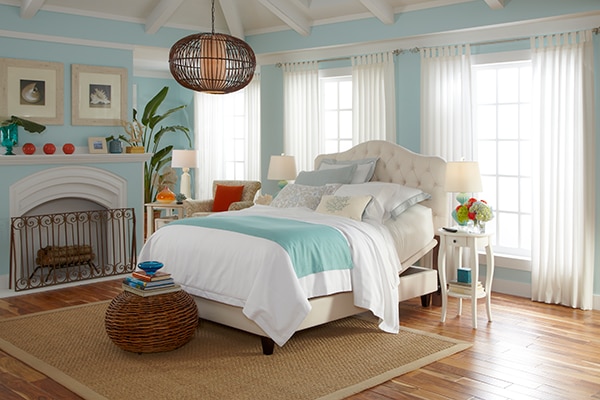 Beach Tones
Neutral tones that reflect the simplicity of the coast are easy on the eyes and allow you to focus on breathtaking water views. White seashells, blue skies, azure water, beige sand, green moss, and distressed driftwood – these key colors define coastal chic style. Let white flourish your space and incorporate the more vibrant hues in smaller doses to add a little visual interest. Use beiges and browns with furniture or accessories to really tie this color palette together to make it complete.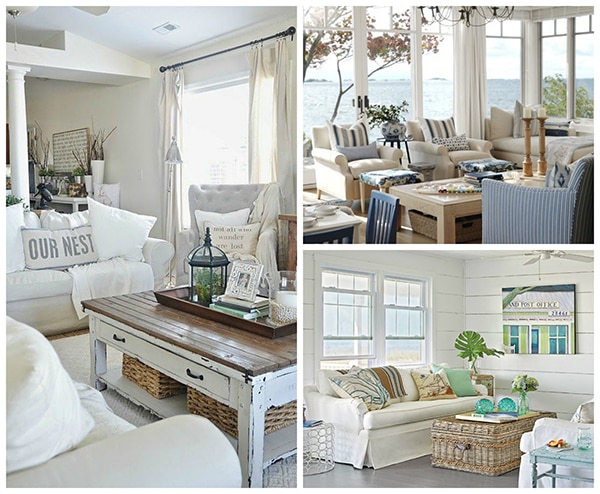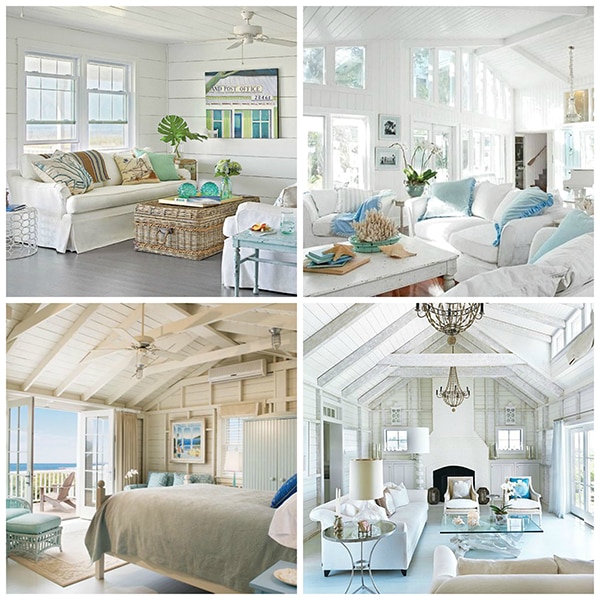 Plants
I am a firm believer that every room in your home should have at least one living plant. Why? Because they clean your air while also adding an organic tone and a pop of color, complementing any décor scheme. The best part about this decorating element is that there are endless species, creating infinite possibilities. For a beach chic home, I suggest incorporating a low-maintenance plant to blend in with the rest of your relaxing décor. Many palms do very well indoors, require little watering and can grow to be quite tall, creating a tropical focal point in your room. Any kind of flower or plant instantly perks up a room.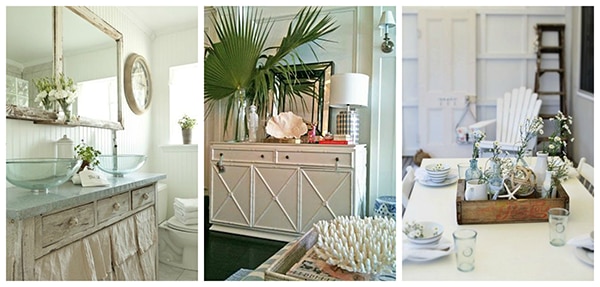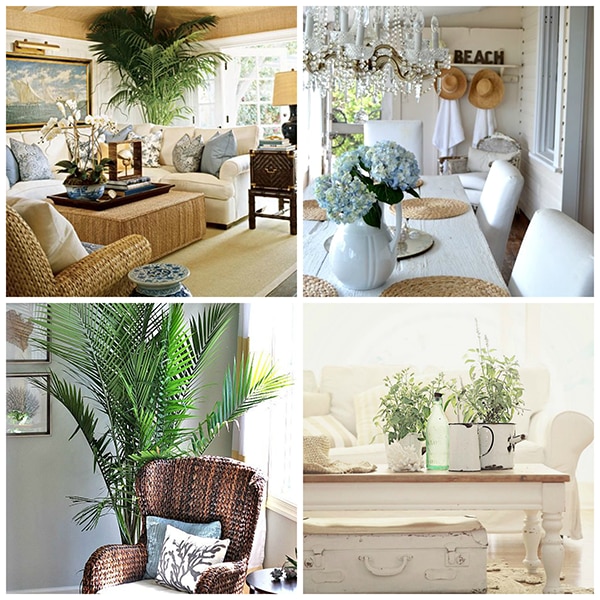 Distressed Wood
Distressing techniques will add a one-of-a-kind, antique look to your sea-themed home. Incorporate distressed shutters, a rustic table, rough ceiling beams, or a vintage ladder holding your blankets to imitate the texture of driftwood. If your budget is tight or if you just love a good DIY, simply distress whatever wood piece you have laying around. Not only will it complement your style, but distressed wood will add character to your home.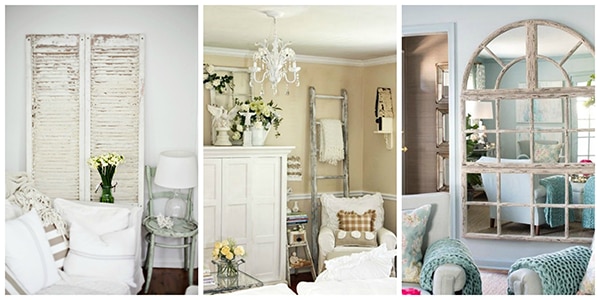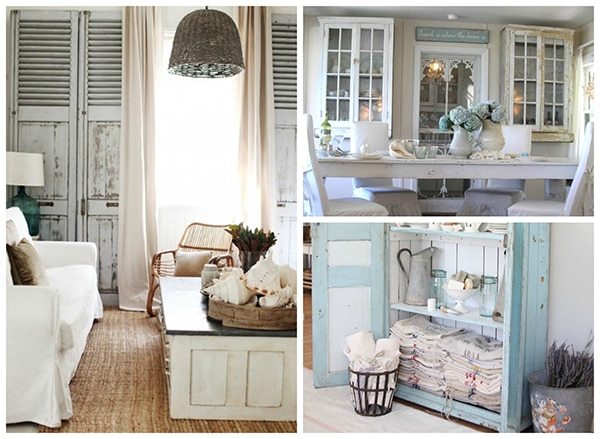 Breezy Window Treatments
Coastal homes are made to relish dazzling views, so you'll want your window treatments to have that "barely there" feeling. Solar shades allow you to see your outside view while still protecting your furniture and eyes from the light. Sheer drapery is another great option that will blow when those brisk beach breezes flow through your open windows. To match the neutrality of beach homes, you may want to go with woven wood shades. Made of bamboo and reed and other natural materials, I don't think there is a design style that works better with woven woods than beach cottage chic.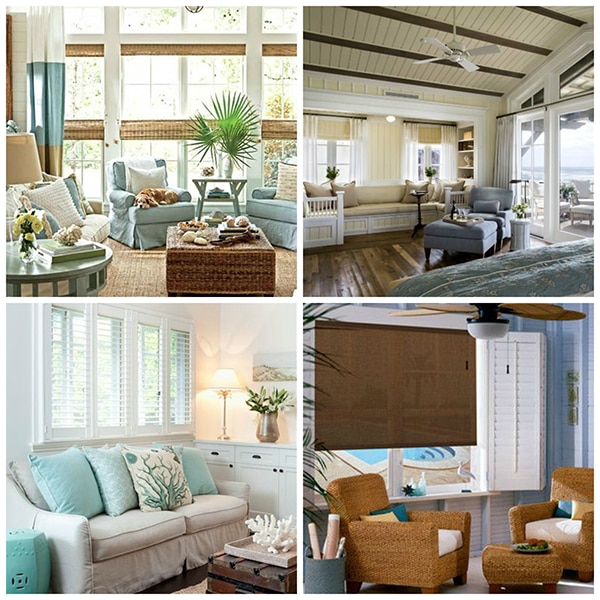 Blue and white is a classic beach style for your windows.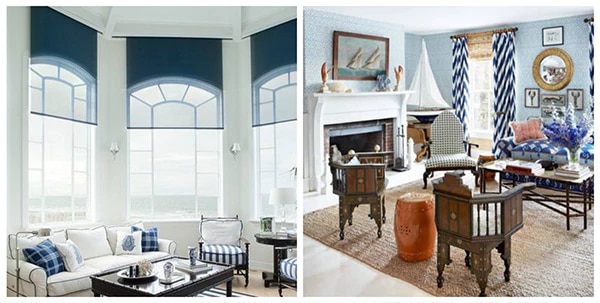 Coastal Knick Knacks
Nautical and natural accessories that reflect life on the water will complete your beach theme. Big seashells, starfish, model boats and rustic paddles can all be used as accessories to liven up your coastal style. Incorporate wicker baskets to mimic the rope and netting fishermen rely on to bring in that fresh catch. Include throw pillows with fish or seashells on your comfy couch. Whatever you choose, I truly don't think any coastal inspired home is complete without an accessory from the sea.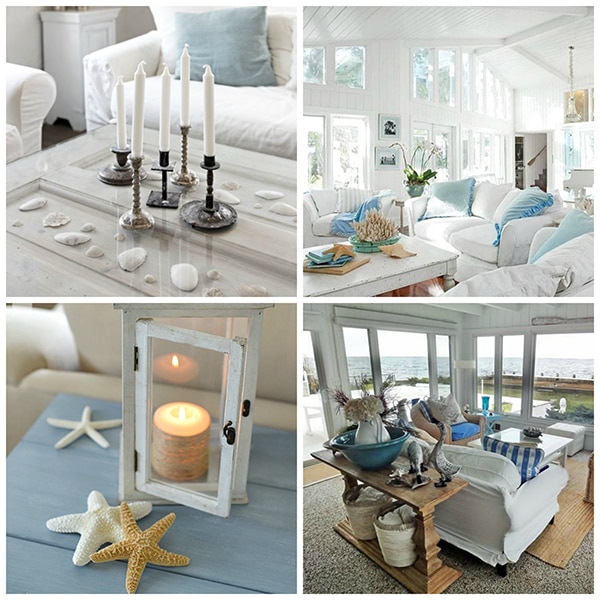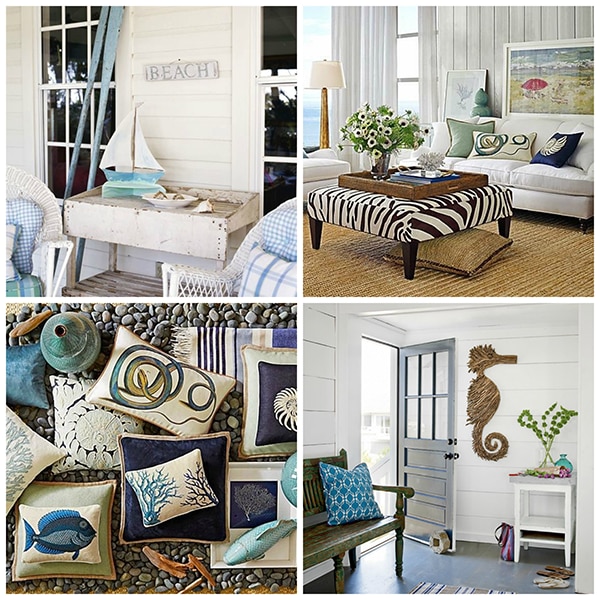 Enchant your guests and live in a comfy, relaxing oasis by including beach style in your home. Beach chic style doesn't have to be reserved solely for coastal homes.
Whether you live steps away from the ocean or you reside in a landlocked state, we can help you customize a beach-chic look that's custom made fit your home.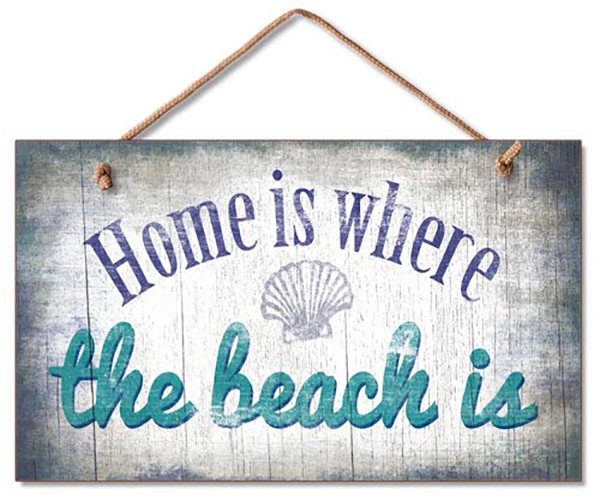 Featured Image Source: HGTV