Since the early days of the Cro-Magnon, men have sought refuge in a personal space where they can toss their spear aside and rest easily. Tens of thousands of years later, not much has changed. Men are still seeking sanctuary in a cave where they can hide away from the rest of the family for a few hours at a time to prize as their own. For most guys, fall means football and with the sports season ramping up, there's no better time than now to prepare this lair. Not only will this put him in a better mood and help whisk away the winter blues, but it'll also give you guaranteed peace and quiet on an otherwise frenetic Sunday morning. Light up a cigar and break out the poker chips because it's time to help your man outfit a man cave of his own.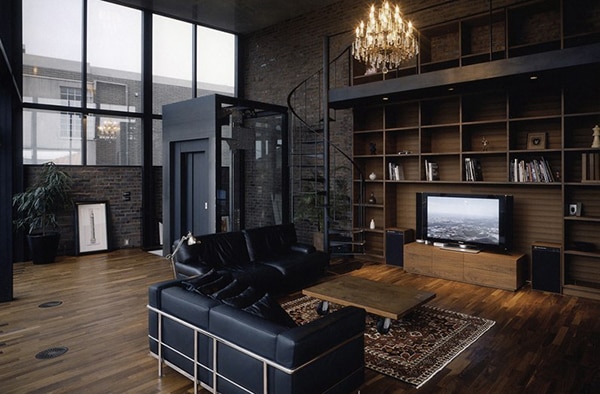 Modern man caves run the gamut from dark and dingy to garish and gleaming. They're the kind of place where the lingering smell of testosterone and nacho cheese can fill the air without any objection from the womenfolk. Intended to be a place for seclusion, men will retreat into their cave together where they can freely flaunt their extraneous Y chromosome and talk incessantly about sports for hours at a time. Of course, comfort will be a major factor here and the design of the room should cater to the individual. What about those windows? If you haven't noticed, archaic caverns didn't have windows, making this a relatively new issue for cave dwellers. Since sweltering heat and daylight glare are natural enemies of relaxation, I've come up with the best ways to cover up your man cave windows with modern treatments that offer both form and function.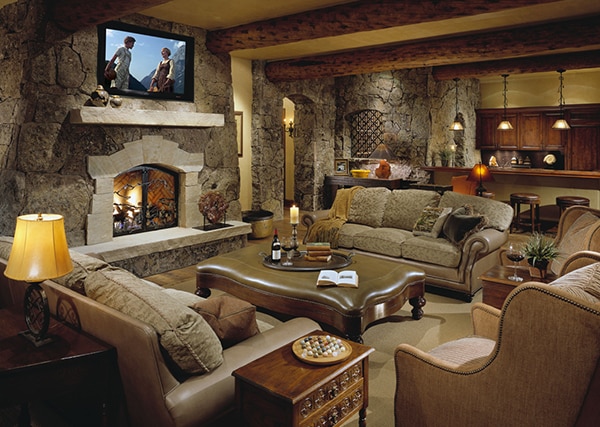 Blackout Blinds

Contemporary man caves don't necessarily have to be pitch black, despite their primitive origin. However, this should be an option at any time because nobody wants to deal with wayward glare while watching the big game. Blackout blinds are perfect in this scenario and will not only block 99% of incoming light but also create a feeling of complete privacy. He won't even be reminded that there are neighbors living within striking distance of his fortress of solitude. Many styles of window treatments can be outfitted with the ultimate blackout liner, making custom shades a welcome addition to any cave. Just lower the blinds or shades and all distractions are instantly "blacked out."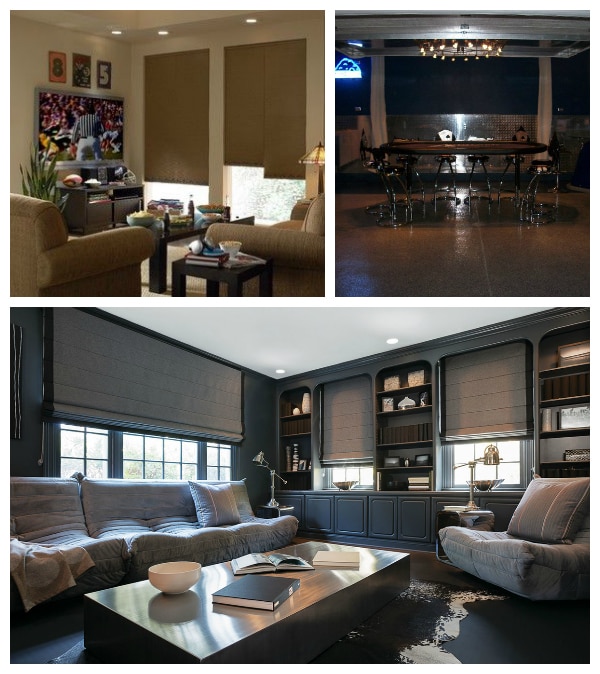 Cellular Shades

Known for their unique honeycomb shape, cellular shades will add a layer of insulation to your windows that will not only help cozy-up your space but also save you big bucks on your energy bill. These shades will trap air at your windows so you can run your thermostat as often as you'd like without worrying about losing any of the heat or cold, which is a perfect choice as it starts to get chilly. Controlling your temperature, without having to combat the weather outside, will make you a true master of your domain. Cellular shades can also be customized to include blackout and motorized options, making them one of the more versatile choices for your man cave.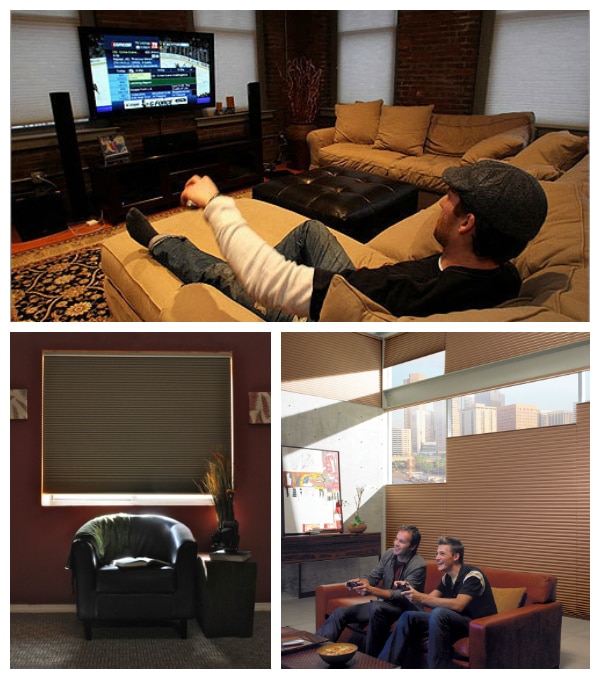 Motorized Blinds

If you're ready to step up to the big league, seek out a motorized shade option. Now, your lounge lizard guy won't even have to get out of his couch groove to shut out the sunlight. With just a push of a button, you can raise, lower, and tilt your shades or even set them on an automated schedule. What's one more remote, right? If your house is already outfitted with a smart home system, you can also control them with your phone or iPad or Alexa to make his life even easier. Almost every style of window treatment can be upgraded with motorized control. If you're going for luxury, nothing can compare. This deluxe option ensures your man cave will rival some of the best hotel rooms in Las Vegas.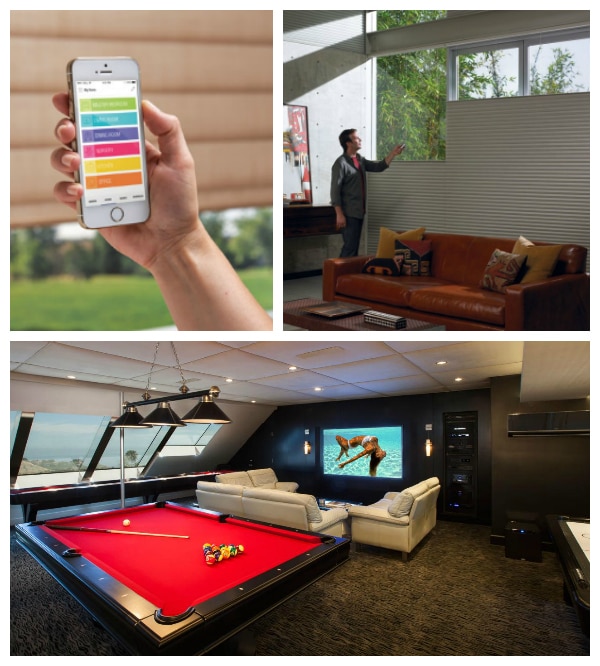 Remember, the man cave is more than a grotto of guttural sounds. It also needs to evoke a manly state of mind. At the very least, keep it dark, keep it cool, and keep it comfortable. Play up the hobbies that are his passion and, always, keep the glare off of the TV screen with customized smart window treatments. Outside of those golden rules, the overall design is up to you. Enjoy your peace and quiet while relishing the rare invites you may receive. At the very least, you'll know how to keep him content through an interminable haze of nachos, beer and fiery wings.
The right window treatments will make him think he truly is the king.