Don't let these warm sun-dappled days get lost in the hustle-bustle of summer stress.  Outside living spaces are now so easy to design.  Elaborate wicker furniture, patterned outdoor rugs, fancy stenciled pillows, a string of exotic lanterns, Koi fish ponds and an ever-blooming garden stuffed into glazed ceramic pots might be your dream patio, but for most of us, creating a comfy "chill spot" is all we need or can afford.   I have a few easy and inexpensive ideas to re-imagine your outdoor space into a special unique retreat that will totally pack a punch. Chuck out all those dreamy design catalogs and with a little ingenuity and fun, you will have the "coolest" place on the block to hang out, party down or float away.
Paint A Rug
Paint a bold, graphic pattern right on your concrete or brick patio floor to mimic a patterned rug, just mask out an easy design and with a gallon of outdoor paint and a big paintbrush, your floor will be instantly rocketed to a new level.  The bigger the pattern, the easier and quicker the painting. If you need some pattern inspiration, review Pattern Primers, 1, 2 and 3 for lots of pattern ideas.  Enlist the kids for an afternoon of painting fun.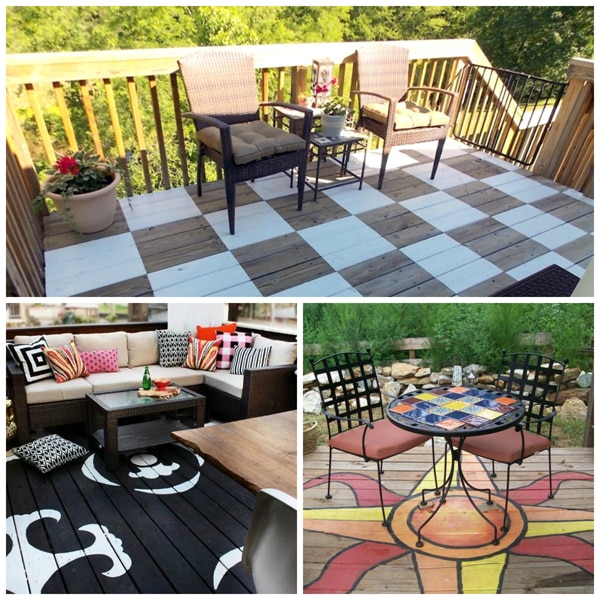 Pull Out The Pet Pillows
Now, you will need some big, cushy floor pillows. Inexpensive pet beds can be re-purposed for human lounge cushions to scatter around the patio.  Big, comfy cushions are essential for the 3 "R's of summer-reading, relaxing and reminiscing!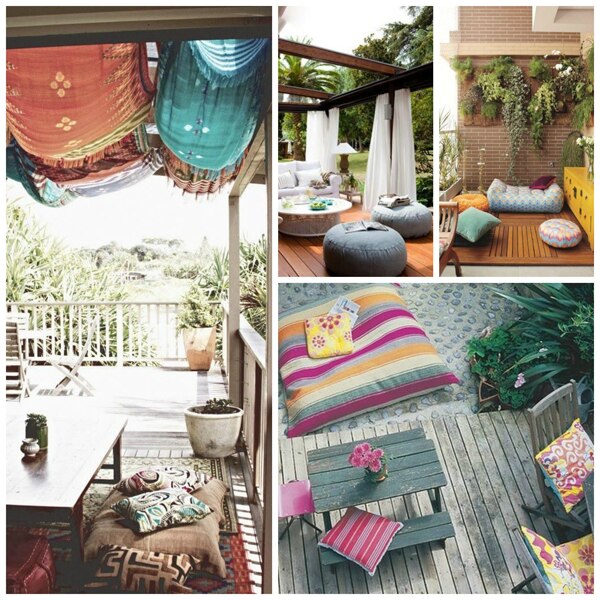 Hang A Hammock
If you need more lounging space, instead of overstuffed, big and bulky decorator (and pricey), perfectly coordinated outdoor furniture, just hang up a few hammocks-easy to put up and take down when you need extra space. I am partial to the handmade Mayan string hammocks.  I have been lounging in them for years and have rocked many fussy babies to sleep in these colorful, soothing and snug wonders.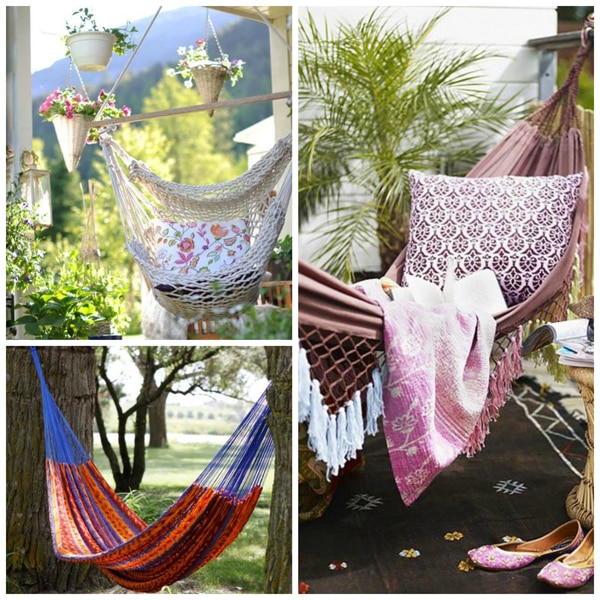 Redo A Wine Barrel
Wine barrels are a staple at most hardware and garden stores. Turn one of these big barrels upside down for an instant coffee table.  How easy is that and  you can still always use it for a planter or for pillow storage.  Paint it a bright color for more design style.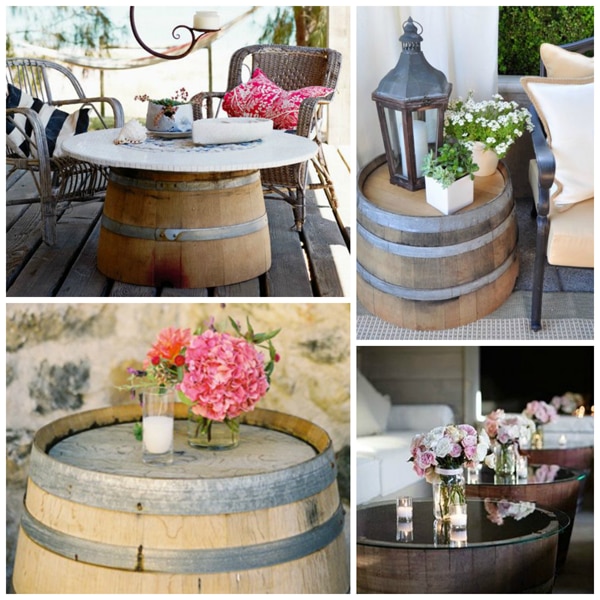 Decorate With Fabrics
Outside curtains are the rage this summer and are always a smart addition to your patio, but if you like, a vintage tablecloth or decorative sheet can be a creative stand-in to enclose your outdoor space for privacy and sun shelter. If you are lucky and can scrounge some distressed shutters, or large, mottled picture frames to hang outside for more space style, your outdoor area will really strike a pose.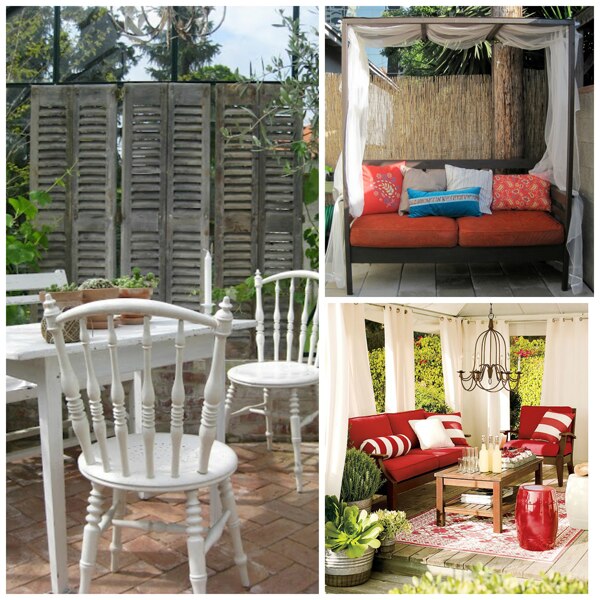 Plant In Found Pots
No patio is complete without flowers. Flowers are essential in all design. If you have any old tool boxes, drawers from a bureau or old buckets, all of these make whimsical flower planters.  Just make sure to drill a few holes in the bottom for drainage; then paint your favorite color or distress them for a vintage flavor and grab some blooms and you will have an instant mini-flower patio garden.  Really, any container makes a garden pot.  Who needs expensive, Italian glazed pottery?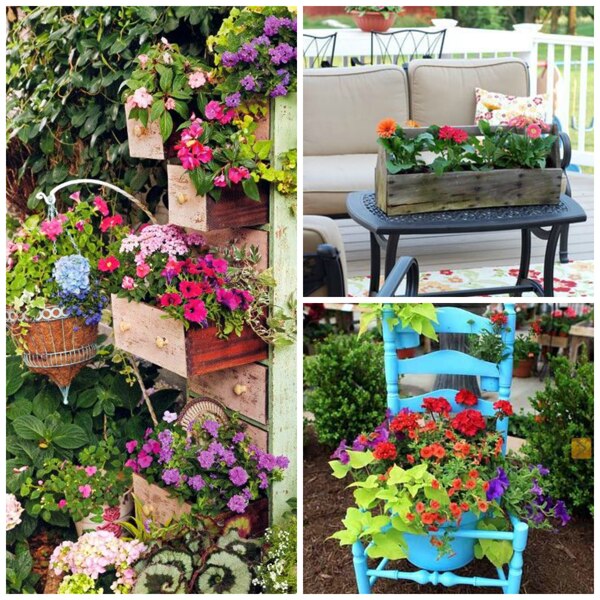 Glow With Light Baskets
Now, for the "pièce de résistance"- mood lighting. Of course, candles never fail to flicker with a warm glow, but how about a woven, textural basket, with a long string of small twinkling lights, rolled up and stuffed into the basket. Hang the basket or a row of baskets, upside down around the patio for your own homemade lantern of lights. Your globes of light will cast an unforgettable spell throughout the summer nights.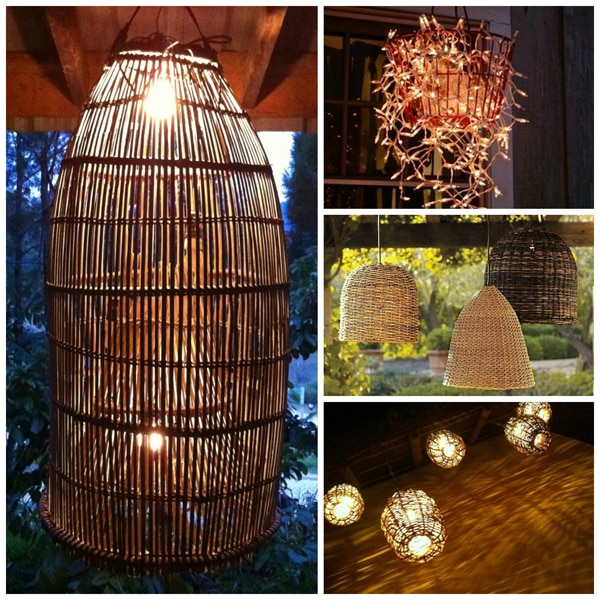 Oh, to dream that these languid summer days linger but as we revel in our outdoor patio, however small and chic or large and luxurious, the sky above us will inspire us throughout the seasons.