When I think of summer, I think of lazy days spent at the beach or in the park enjoying the sunshine and the kiss of warmth these months bring. Here in California, we enjoy many days like this, but if your summer is like the majority of the country, those warm sunny days fall far too short each year. I love all seasons but the call of warmth and waves tend to be the inspiration for my personal décor. If you're like me and want year round summer, I have a few favorite shades that are great for summer, but can transition into the other seasons and maybe even bring some of that bright, sunshiny feel with them.
Woven Woods

I cannot think of a shade that delivers a more beach-inspired statement than woven woods. These natural material shades are a favorite of designers and influencers alike, making appearances on blogs and Instagram stories as well as countless magazine's interior design features. Considered a chameleon in many ways, woven wood shades are exotic yet rustic, span design styles from Bohemian to Coastal Casual to Modern, and are available in a wide range of colors and finishes. If all this isn't enough to sway, the material used to create these shades are Mother Nature approved, fast growing and sustainable in a way that is not only eco-friendly but stylish as well.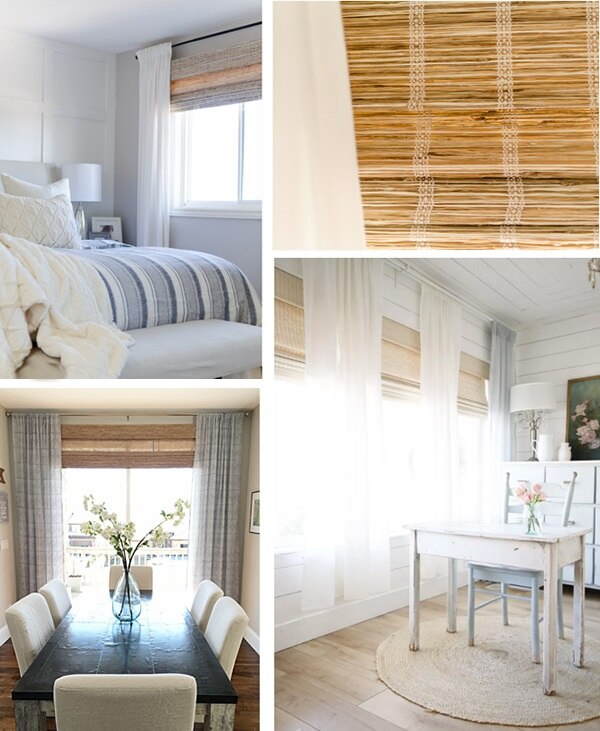 I personally love them unadorned, free to show-off those natural fibers without distraction, but these natural beauties are a masterpiece when paired with drapery as well. The soft wave of a tab-back or tie-top panel is a great way to add fullness to the window and frame out the texture of a woven wood shade.
Solar Shades

Love a beautiful summer day but tired of the glare? You are not alone. The most obvious choice for controlling heat and sun seepage in the summer months, solar shades are an ideal shade when the day's rays become too much to bear. The different openness factors available allows the view outside to be preserved, but filters harsh incoming light to reduce glare and protect your interiors from damaging UV rays. The hottest shade for summer views, without glare, ranges from zero to 14% openness and continue to prevail as my recommended shade to fill windows in rooms with a view, be it the beach or your baby's outdoor play area. Layer them up with drapery to create privacy in the evening hours when the light indoors permits your neighbors a peep show.
Sheer Shades

Of the hottest products to grace the window treatment world in the last 25 years, sheer shades are still considered a relatively new product to most people. These window wonders are a blind that, with a twist of the wrist, become a shade. Sheer shades filter the summer rays through the layered fabric to soften sunlight to an ethereal glow. Near perfection is their design, allowing them to share the functionality of a roller shade and horizontal blind, making them an ideal choice for bedrooms and lounging areas.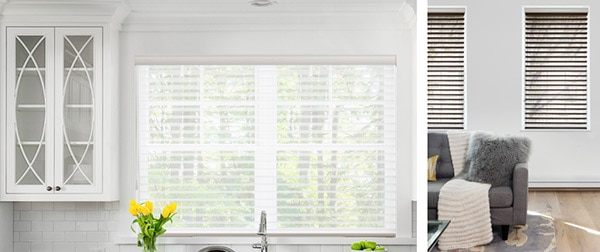 Select soft whites and creams to create a delicate, feminine aesthetic. Looking for something more edgy and masculine? Stick with sheer shades in black and dark grey hues. Whether you choose the dark or the light, these modern marvels are sure to heat up any room.
Motorization

Those lazy summer days wouldn't be complete without motorized window shades. Technology is always evolving and our busy lives lend easily to programmable, motorized shades. As smart home tech continues to improve and access to affordable motorization becomes more common, the concept of a smart home is realized more than ever before. The push of a button on a remote or my phone can command your shades to raise and lower. Some shade motorization is now even able to pair with smart home automation allowing voice control, like our products featuring Neo Smart Hub that pairs with Alexa or Google Home devices. It's modern day magic at work! For me, motorized is my go-to must have for all my window treatments.
Although summer doesn't last forever, with the right design and these hot summer-inspired shades, your home can radiate that sunny season glow all year round.