Easy Window Treatment Ideas
Easy Window Treatment Ideas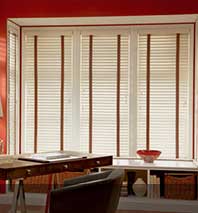 Designing window treatments doesn't need to be a chore. Maybe curtains and drapes are a feature you've never given much thought to before, or maybe you've got some great ideas that you're unsure how to implement. Either way, there are plenty of easy window treatments available to help you get set up quickly and painlessly. First, you do need to evaluate your goals and priorities. Maybe your easy window treatments are a purely functional consideration, or maybe you have a decorating scheme that you're looking to put together. Don't forget to take the functionality of the space into consideration either-the kind of window treatments you put on your bedroom will probably be utilized differently than window treatments in the dining room. With that in mind, here are a few easy window treatment solutions:
Privacy and light control: these are the two primary functions of any window treatment. The bare bones, if you will. And treatments that provide a maximum amount of both are available in everything from stylishly budget-conscious models to brand name designer window fashions. Mini blinds work great on any budget, and can be installed by drilling a few simple holes.
Temperature control: With energy costs on the rise, many homeowners are looking to their window treatments to help save a few dollars. Though they are more expensive than your bare-bones mini blinds, cellular shades and wooden shades are both effective when it comes to trapping warm air in and keeping cold air out. Installation is easy, but should be done properly-getting the drapes as flush with the glass while still maintaining functionality-in order for the heat trapping technology to be most effective.
Style: this is the part where you've got the most choices. Here you can blow your whole budget or go for a few choice accents. Cloth curtains and swags are an easy way to add a little drama to any interior. Look through magazines and movies to find inspiration.