3 Measurements: Width
x Height x
Depth
Measure and record these 3 dimensions in that order. Width is horizontal (across the window), height is vertical (up and down), and depth will be a few inches straight back into the window pane.
How Much Overlap To Include?
Consider how much privacy and light control you want in order to get the right outside mount coverage and enough overlapping on the sides. You want to maintain your privacy and cover the whole window fully. The more coverage, the less light seepage from gaps on the sides.
A Note on Height Consider Your Hardware
The hardware height must be added to the height you choose, so the blind will not be too short when installed. Also, if you choose a valance, you won't want it to be too low where it will hang down into the open window.
Measure to the Nearest 1/8"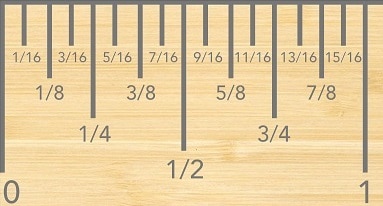 * All size adjustments will be made at the factory to ensure proper fit and operation.
*Take into account any obstructions near the window such as cabinets, bookcases or counters.