Easy To Install Blinds & Shades
Blindsgalore Makes It Easy to Install Blinds
We know the idea of installing a new window treatment can be a bit intimidating, so we make it as easy as possible on you. Here are four ways we can help you take the headache out of hanging your new blinds or shades.
Our easiest shade to install
Nothing is easier to install than our

Pop-in Shades. These cellular shades can be installed in just seconds. You don't even need to break out the toolbox, just push down on the end of the shade, peel off the adhesive, pop the shade into the window and lock it into place. They're a perfect solution for those looking for effortless installation or in situations where drilling is not an option.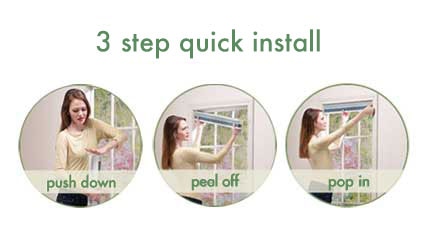 Which Shade is Right for You?
All of our Simplefit Pop-in Shades feature standard cordless operation, making them a safe choice around small children and pets. Their unique cellular design will also help insulate your home and shield it from uncomfortable seasonal weather. Choose between a double or single-cell style with light filtering or a blackout fabric.
Light Filtering Single Cell

- Single cell design traps air at your window to reduce energy costs and provide insulation.
- Light filtering softly diffuses light to darken the room but does not block out light completely.

shop now

Light Filtering Double Cell

- Double cell will have two rows of pockets to provide superior insulation and energy efficiency.
- Light filtering softly diffuses light to darken the room but does not block out light completely.

shop now

Blackout Single Cell

- Single cell will provide a layer of insulation on your windows to trap hot and cold air.
- Blackout fabric blocks most incoming natural light, to darken the room and keep the sun out.

shop now