Skylight Shades, Skylight Blinds
Skylight Shades & Blinds
Filter By:
Fabric Opacity
Brand
Cell Style
Green Products
Orientation
Product Quality
Room
Type of Window
Skylight Shades & Blinds
Cellular shades popular for their superior insulation
Avoid common unwanted heat loss and gain
Special tracks allow all angles of window coverage
Protect your interior from UV damage
Enjoy the light above while maintaining temp control
Custom Shades for Skylight Windows
Skylights are a beautiful feature for any home and are an excellent provider of natural light. However, without custom skylight shades, the extra sunlight will also lead to extra heat gain. Skylight windows also aren't very economical when it comes to insulation, but the right shade can help. Blindsgalore makes it easy for you to customize and install your own DIY skylight shades. Skylight shades are installed on stationary sidetracks which help the shades stay in the perfect position and smoothly raise/lower.
What to Consider When Choosing Skylight Shades
Take an in-depth look at what to consider when purchasing your custom skylight shades.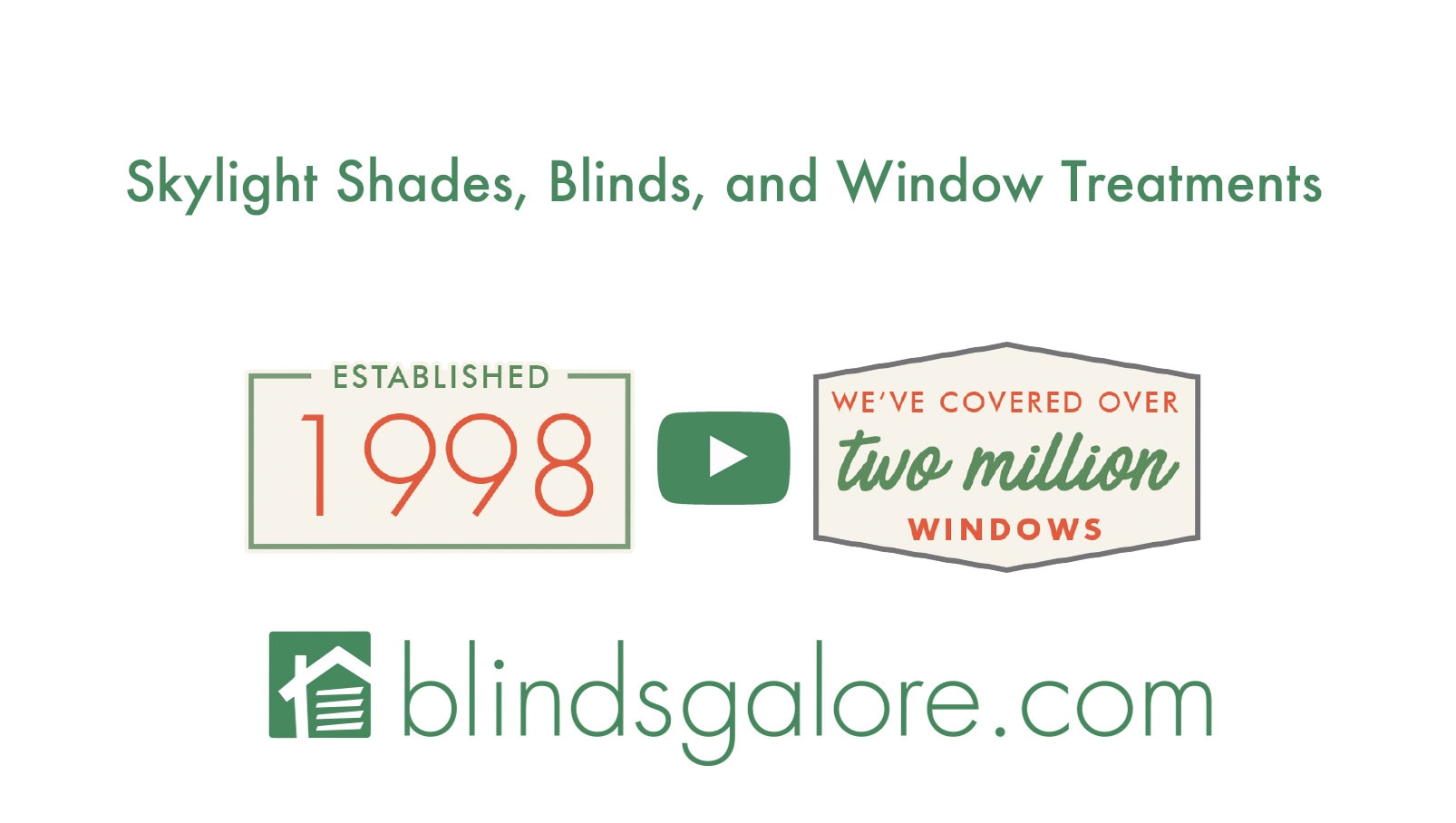 Benefits of Skylight Window Shades
The major benefit of custom skylight shades is how cost-effective they can be. Not only are these shades excellent at blocking light (especially blackout skylight shades), but they also add an extra layer of insulation to your windows. Cellular skylight shades will help keep your home cool in the summer and warm in the winter, saving you on your monthly energy bill.

Some homeowners may notice that dirt and grime is quick to pile up on exterior skylights. While not a long-term solution, these shades will help keep your room aesthetically pleasing from below. The right skylight shade will also add style to your home, as there are multiple color and design options available. Custom skylight shades will also help preserve the rooms in your home by blocking damaging direct light, which can rapidly fade furniture.

RV skylight shades are also an excellent choice to cover tricky motorhome windows. They are also able to be held firmly in place while driving.
Different Types of Skylight Shades
Cellular Skylight Shades vs. Pleated Skylight Shades
Visually, both styles look very similar. However, if you look at them from the side, you'll notice pleated skylight shades contain only a single layer of pleated fabric. Cellular skylight shades, also sometimes known as honeycomb shades, are built with honeycomb-shaped pocket of fabric. This pocket provides added insulation benefits and customization options.
Choosing Between Light Filtering or Blackout Skylight Shades
If you want complete darkness, in a bedroom or nursery for example, then you want to think about getting skylight shades with blackout or room darkening. Blackout skylight shades will make sure you can get a comfortable nap during the day without having to worry about incoming light. If you're looking to keep some natural light, we recommend a light filtering skylight shade. A light filtering option will allow you to keep your room light and bright, while still covering your window.
Manual Skylight Shades vs. Motorized Skylight Shades
In order to raise and lower your manual skylight shades, we recommend including an extension pole with your order. Extension poles are relatively cheap additions for your skylights shades and will make it possible to access these hard-to-reach windows. Motorized skylight shades are a more convenient option and can be operated via remote control, along with any matching motorized shades in your home. Some motorized shades can also be linked to your smart home, phone, Amazon Alexa, or Google Home devices. In order to link your motorized shades to your smart home, you will likely require a NEO hub device. Please reference the specific product details for more exact information.
Skylight Shades for RVs
RVs windows are often difficult to cover, which can lead to an overly stuffy interior. Luckily, our pleated skylight shades make for a simple and economical option. There are a variety of colors to choose from, as well as light filtering and blackout options. Skylight RV shades also include special tie-down brackets to keep them in place while your vehicle is in motion.
Customizable Options for Skylight Shades
Single or Double Cell

If you're customizing a cellular skylight shade, you will get the option between a single or double cell. The difference is quite literal. Double cells include secondary layer of honeycomb pockets. For those looking for top-tier energy efficiency, as well as a way to block excessive noise pollution, then select a double cell skylight shade.



Pleat Size

The larger your pleat size, the more effective your insulation qualities. However, the difference is very minimal between pleat sizes. The most important consideration is the size of your windows. For larger windows, we recommend larger pleats for a more fitting look. Small pleats on a large window can look dizzying.
How to Measure and Install for Skylight Shades
We have a quick video that will show you exactly how to measure for custom skylight shades.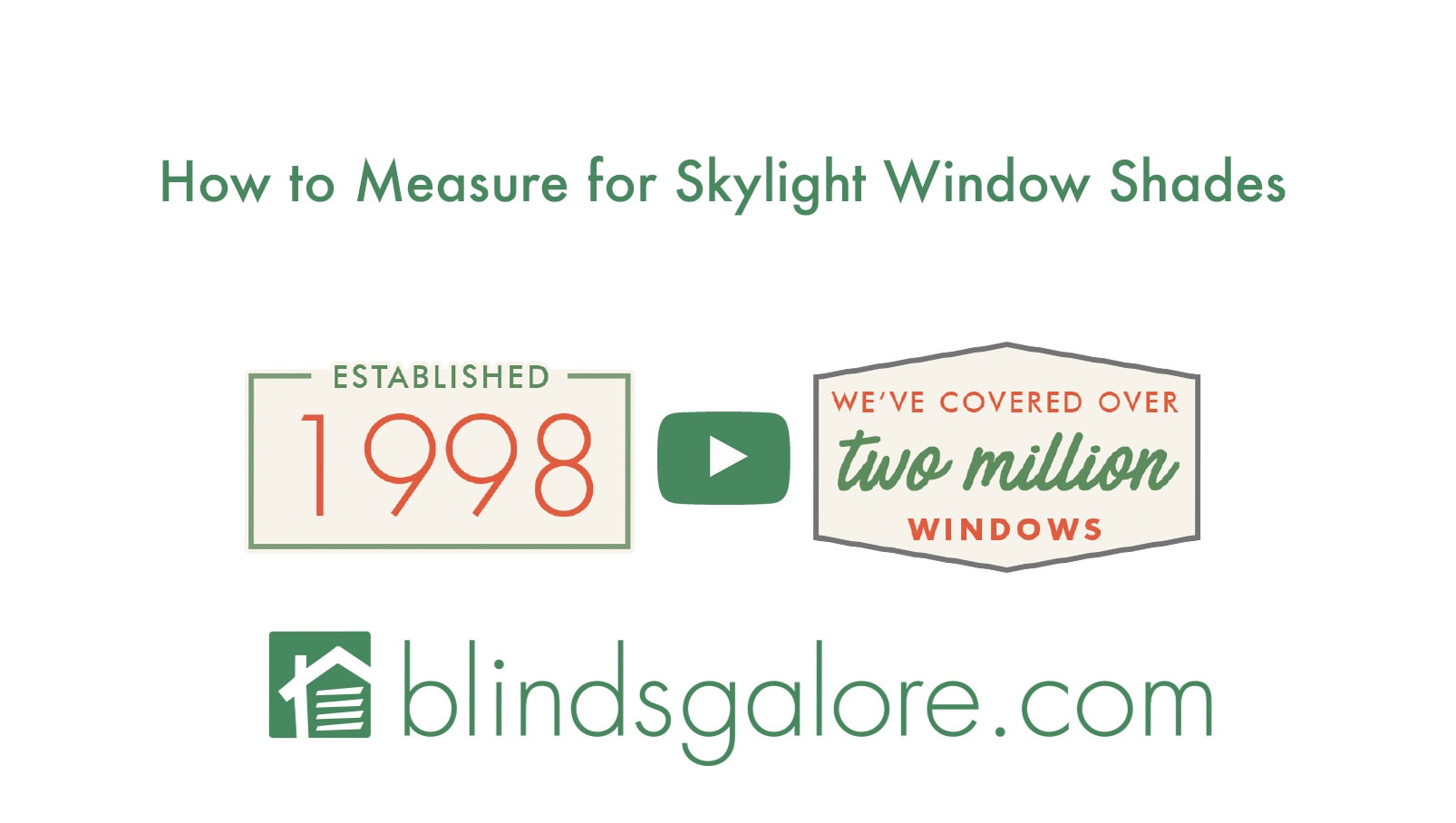 Visit our installation page for guides on how to install your motorized or manual skylight shades.
For assistance measuring, installing, or customizing your custom skylight shades, please contact our in-house team of design experts over the phone (877.702.5463) or through email (customercare@blindsgalore.com).
Book an online appointment with our virtual designer if you'd like to discuss a design solution via webcam.
customer reviews for skylights