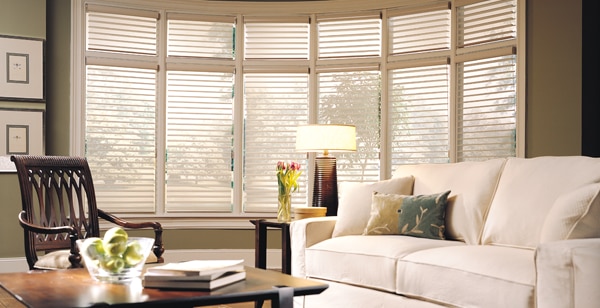 In California, being stylish is important, whether it's in fashion, cars, accessories or home furnishings. Even window shades are a fashion statement on the west coast, but function is still the primary consideration. Californians have different needs than some other areas of the country when it comes to window shades. Because of the intense sun, solar shades are very popular. Solar shades can be used indoors or out to help block heat and UV rays. One reason outdoor shades are popular is because they keep out the heat by preventing it from hitting your window in the first place. Both indoor and outdoor solar shades allow a certain degree of the view to show through. It's no wonder they are the window shade of choice in many California homes, so many places have wonderful views of the ocean, canyons and mountains.
Large windows like sliding patio doors and wide walls of windows are especially challenging to cover. Panel track blinds are being seen more often in trendy places like California and they are catching on in other areas of the country. Panel tracks offer a clean, updated look with a minimalist track that won't interfere  with the other elements in the room, or the view. There are dozens of fabric options to match any décor, including solar fabrics to improve energy savings.
Functionally, not many window coverings can compare to roller shades, which have been a classic forever. Contemporary roller shades offer more styles than ever before, and are available in an array of updated fabrics in solids, stripes, tone-on-tone, patterns and more. Plus, with blackout, cordless and motorized options, they can be customized for any room. Hems, valances, roll options and cornices add even more design possibilities.