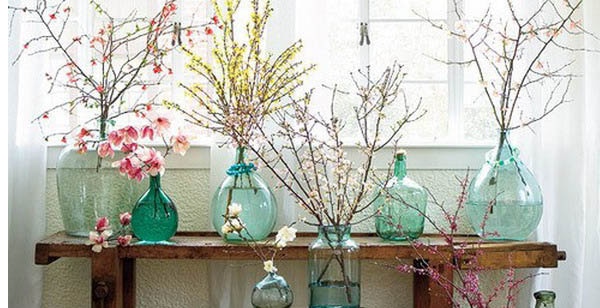 Spring is finally peeking its way around the corner and a lightness and brightness overcomes us with spring fever.  After such a miserable, blustery winter for so many this year, the change in season can't come soon enough. As the chill burns off and the green buds start to sprout, welcome the spring this year by opening up your windows and freshening up your space.
Sheer colorful drapery is a great way to bring in color while maintaining a light and airy feel.
A fuss-free treatment, traditional white shutters blend in with a room's architecture.
Bright, boldly patterned drapery panels bring in a lively vibe to wake up your home from the winter doldrums.
Transitional woven wood shades give a nod to the budding nature outside while coordinating beautifully with various wood furniture or wood floors.
The simplicity of a white roller shade or a white roman shade lends a sunlit glow and visual calmness to windows and their surrounding areas- the perfect application to appreciate the growing beauty outside.
Aside from updating your window treatments, there are other quick and lively efforts you can make around your home or office to give your rooms a lift for the fresh new season.
Switch out your throw pillows to bring in bright, bold floral patterns. Colorful and non-committal, new pillows can easily bring in cheer and be switched back out when the days once again become darker and shorter.
Bringing home fresh flowers from the weekly farmers market is a small dip in your produce budget that is worth every penny. Garden-fresh flowers just make you feel good, it's as simple as that.
Another tip to embracing spring is to grow a few herbs on your window sill. Get that basil growing so you'll have plenty in time for Caprese salads with summer heirloom tomatoes! Having fresh mint around for a refreshing mojito or Italian parsley for a signature pot-luck pasta salad doesn't sound so bad either.
Spring open your windows and embrace the fresh air!