How to Hang Window Treatments
How to Hang Window Treatments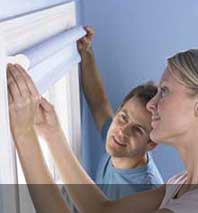 Installing your window treatments can be easier than you think! The hardware is all fairly simple and requires a minimum number of tools to install. However, installing window treatments is the time to be at your most detail-oriented. Measurements will be crucial when positioning your window treatments, so get a ruler and pencil and remember, measure twice and drill once! Blindsgalore.com has compiled a detailed window treatment hanging guide that can be found here. But here are a few more simple tips on how to hang window treatments:
First, you will need three main tools. These are a metal measuring tape, a drill and a screwdriver. Having a pencil to lightly mark measurements is also a good idea.
How to hang window treatments will also depend on what type of window treatment you bought. There are two primary varieties: inside mounted and outside mounted. Outside mounted blinds are attached to the window molding or the wall, while inside mounted blinds are hung inside the window casing.
Inside mounted window treatments come with window brackets, whose dimensions are specified on the product page. Before ordering, make sure that your window casement is deep enough to accommodate this hardware. Inside mounted blinds also specify a "minimum flush mounting depth" that is the minimum depth required of your window casement in order for the blind not to protrude outside the window casement. This is optimal for most window treatments.
Outside mounted blinds with specify a stacking height, which is a piece of information you won't get for inside mounted window treatments. This is typically a few inches, and this is how much space the blinds will take up when fully raised. Stacking height is of concern if you're worried about preserving your views, or if you plan on hiding your stacked blinds with a valance or other concealing element.
Blindsgalore's customer service is on call to answer any questions you might have on how to hang window treatments.