Plantation Shutters & Window Shutters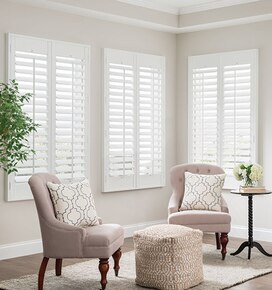 $349.05 $174.53 you save 50%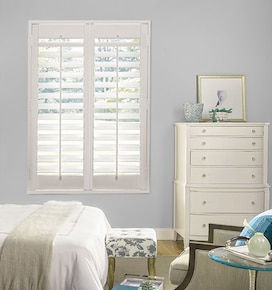 $349.05 $174.53 you save 50%
Shutters
Interior window shutters, also known as interior window shutters, are the ultimate in custom window coverings. These timeless window treatments offer long-term value and increased appreciation of your home. Blindsgalore offers its own signature series of high-quality faux wood plantation shutters in composite faux wood, real wood, and PVC vinyl. Composite and vinyl materials are more durable than traditional wood shutters, allowing you to confidently put your plantation shutters in bathrooms, high traffic areas, children's rooms, and kitchens. Add the old world charm of shutters to your home and enjoy the rich beauty that shutters bring to your interior decor.
How to Order
There are a few steps to consider and we recommend calling our team of experts if you have any questions. The first, and most important step, is deciding if you'd like to mount the shutters in your window frame or on the wall surface. This will make the following options simpler to understand.
Inside vs. Outside mount
Inside mount shutters fit completely inside the window opening. If the window is set deeply and has no obstruction (like a crank handle), they can be flush to the wall. If the window is shallow or you prefer a bolder look, the shutters will be set above the surface.
Options
There are several options for upgrades including cloth tapes, routeless slats, cordless operation and motorization. Cloth tapes are meant to enhance the style and soften the look of the blind. Routeless slats, as mentioned above, take light control and privacy to the next level, providing better room darkening. Cordless offers easy operation and is an important safety consideration for homes with small children, as loose cords can be dangerous.
Small Windows
For small windows, mounting inside will limit the amount of light that can pass with the louvers open. If you plan to 'open' and 'close' with the slats instead of opening and closing the shutter doors, an outside mount allows more light when open.
Windows with Cranks
Cranks will likely interfere with inside mount shutters and require outside mount. Please call our team of experts if you have any questions.
Windows with Trim
If you have a window with trim around the edges, and you plan to keep the trim, your new shutters can be sized to go over the trim, leaving it as-is. This will make the shutters slightly larger and bolder looking and increase the cost somewhat. If you wish to remove the trim, then the trim is not a factor in choosing inside or outside, and is only based on your aesthetic preference.
Frame Width
Most of our shutters have a frame around the outside that holds them in place. If you are planning on an inside mount, a smaller frame allows more light with the shutter slats open. If you plan on an outside mount, or if there is plenty of light, choose for aesthetics. Larger frames coordinate with larger sized trim and room detail.
Frames
The shutter frame is the outside edge that attaches to your window or wall; the shutter panels in turn attach to the frame. The type of frame selected is dependent on the function and style desired; some frame styles double as decorative molding, others are less noticeable, while others provide extra depth to help clear window handles and other obstructions. Please make sure you have answered the questions regarding your existing window before selecting a frame style. These questions will help match the appropriate frame to your window. Please review our shutter measure and order guide for more information. More details about each frame type can be found on the order page.
Frame Types For Outside Mounts
Designer Frame
Standard Frame
Frame Types For Inside Mounts
Elegance Frame
Hang Strips
Trim Z Frame II
Shutters and Plantation Shutters FAQ
customer reviews for shutters
"Blindsgalore is the awesome!"
By from VA
I have treated just about EVERY window in my 1700sq ft house with a product from blindsgalore and have NEVER returned or been dissatisfied with their products! I have 3 more windows to cover but just haven't decided what to do on them yet - but when I do, I will be heading right to blindsgalore website. Thank you for your fast service on delivery and excellent product! Brenda in Northern Neck Virginia
View this product
"LOVE LOVE LOVE!!! "
By Porcupine from NY
We are SO thrilled with our Bali Shutters....you simply cannot beat the prices and service you receive with Blindsgalore! I love that the top and bottom of these shutters operate independently; we have double hung windows and so - this is perfect to open only the top slats on any window; while still maintaining total privacy! We are in the process of measuring to order for several more windows on our house! ??????. VERY HAPPY!!!
View this product