What to Know When Considering Cellular Shades
What to Know When Considering Cellular Shades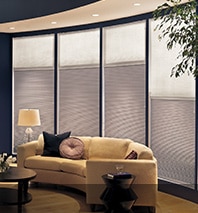 Cellular shades are one of our most popular window treatments here at Blindsgalore. And, why not? They are attractive, versatile and energy efficient, a winning combination of value and good looks for many consumers.
First a little background information. Cellular shades are a type of window shade. Window shades are made from one continuous piece of fabric and they either roll up (roller shades) or fold up. Cellular shades fold up along crisp pleats. Cellular shades come in a variety of pleat sizes, colors and light control options from sheer to blackout. They do all that while providing the highest level of insulation due to their honeycomb-shaped air pockets or cells.
Single cell vs. Double cell
Cellular shades are energy efficient because they are constructed with honeycomb-shaped air pockets or cells. These air pockets create a layer of insulation between your window and your room's ambient temperature. Cellular shades are available in single cell (one air pocket) or double cell (two air pockets). Which you choose depends on the temperature extremes that you live with (hot or cold, or both) and your budget. Since double cell cellular shades are more expensive than single cell cellular shades, you'll need to decide which one is right for your budget. For particularly cold or hot environments, we recommend double cell cellular shades because of the high-level of insulation they offer. Over time, double cell cellular shades will save you quite a bit on heating and cooling costs. For more moderate environments, single cell cellular shades are perfectly adequate.
Opacities
Opacity refers to the amount of light that is transmitted through a given material. When it comes to window treatments, there are four options: sheer, semi sheer, semi opaque and opaque. Cellular shades are unique in that they are available in all four opacities. This means that you could have them in every room. Choose sheer cellular shades for maximum natural light, semi-sheer for gentle light filtering, semi opaque for medium light filtering/light room darkening and opaque for room darkening or blackout. Note that opaque cellular shades, often called blackout cellular shades, are one of the best choices for true room darkening.
Options
Cellular shades are available with three options: top down bottom up, cordless and motorized. Top down bottom up cellular shades allows you to lower the shades from the top, raise it from the bottom or both. This useful privacy option is perfect for bathrooms or any room where you want extra privacy but still want to open the shade for natural light. The next is cordless cellular shades, which eliminates dangling cords which can pose a strangulation threat to young kids and even pets, an important safety feature. The last is motorized cellular shades, which allows you to raise and lower the shade with the touch of a remote control button.
Pleat sizes
Cellular shades are available in several pleat sizes. At Blindsgalore, we offer the following pleat sizes: 3/8", 7/16", 1/2", 9/16" and 3/4". Though that looks like too many choices, many aren't all that different in actual size. the reason we have so many is because we carry all of the major brands and they offer slightly different versions of pleat sizes. The main consideration when it comes to choosing pleat size is the size of the window. In general, the larger the window, the large the pleat size and vice versa.