Utility Room & Laundry Room Window Treatments
Durable treatments that are moisture resistant
Great for garages, utility or laundry rooms
Won't warp, crack, chip, or mildew in damp settings
Vinyl, PVC, aluminum, and faux wood materials
Traditional and modern choices to match your interior
read more...
Being able to withstand a high level of humidity is the most important factor to consider when searching for utility room or laundry room window treatments. These areas of your home also tend to be more affected by outside weather conditions because they're usually less insulated. Ideally, a blind or shade that is not only functional but also moisture resistant and durable enough to stand up to the environment is perfect to decorate your laundry room.

Window treatments made out of materials like vinyl, PVC, aluminum, and faux wood are among the top choices. These choices will resist mildew and won't crack or warp in rugged conditions. Consider modern options like roller shades or even more traditional choices such as faux wood. With so many styles available, you won't have any problem finding the perfect window treatments to match the décor and unique climate in your utility room.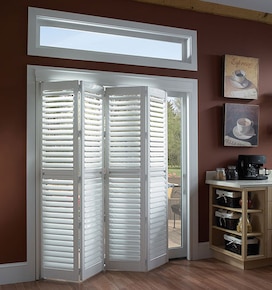 $431.29 $258.77 you save 40%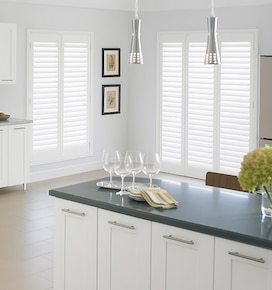 $431.29 $258.77 you save 40%
$481.74 $289.04 you save 40%
customer reviews for utility rooms
"Very well made product"
By Chris from Wilmington, DE
I'd like to rate it 4.8. I'd give it a 5 but for 2 things: 1) It required 3-inch screws that were not included, and 2) they were difficult to install. That said, they are beautifully made shutters, and the customer service agents are very helpful.
View this product