Preserve the view
Preserve your breathtaking view without sacrificing functionality. Whether you are looking for flexible privacy or if light control is your only concern, we can help you find the ideal window treatment. The perfect blind or shade will shield your from the sun and the street but not from your scenery.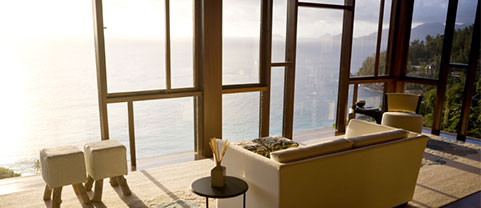 I Want To
Block The Light
Solar Shades Will Block the Light

Shades range from 0% to 14% openness
Considered "window sunglasses", solar shades reduce glare and limit heat gain while still allowing you to see views of the outside. Providing great privacy during the daytime, the openness of solar shades allows people to see through them at night. Counter this by layering a secondary window treatment like drapery when nighttime privacy is desired.
shop now
or
Keep My Privacy
Sheer Shades Will Provide Flexible Privacy

Open vs. Closed
Sheer shades offer flexible privacy and light control by combining tilted veins with a soft, sheer fabric. This elegant option has an airy material that allows diffused light in while veins are tilted, allowing you to also see your view of the outdoors. When privacy is desired, simply use the wand to close the veins.
shop now