Bathroom Window Treatments
Bathroom Window Treatments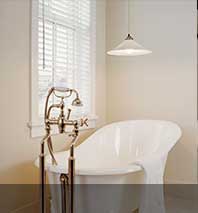 These days, more and more attention is being paid to the previously humble bathroom. Luxurious bathrooms are a trend—incorporating spa-inspired amenities and luxurious materials in your bathroom is becoming de rigeur. Bathrooms are turning into the new refuge, and some busy professionals feel it's one of their only chances to get some alone time during the day. While your bathroom might not include built-in TVs and radios, saunas, coffee makers and Jacuzzis, you can still get a functional window treatment that also complements the look of your bathroom decor Blindsgalore has a wide selection of window treatments that meet the unique conditions that need to be addressed in this private space.
Consider the space; bathrooms are humid
Your choice for bathroom window treatments can greatly depend on the location of the windows, the amount of ventilation, and the overall size of your bathroom. Small bathrooms with windows close to the shower will require a blind or shade that is resistant to the humidity generated in daily-use bathrooms. Faux wood blinds are a popular choice not only for the high tolerance against heat and humidity but also for their light and privacy options - just tilt the slats upward to retain privacy and still allow light into the bathroom. Most brands have faux wood blinds that coordinate with the wood blinds line, so you can having matching blinds throughout the house.
While we recommend against wood window treatments in most cases, it doesn't mean you are stuck with faux wood blinds in your bathroom. Roman shades are an elegant decorating option - just steer clear of all-cotton or silk fabrics. Cellular shades is another choice if you have good ventilation, and plantation shutters made from vinyl or composite materials are another great upscale option. For a more colorful (and cost-friendly) option, roller shades are available in wide range of colors, patterns and styles.
Privacy, privacy, privacy
If your bathroom windows face the street or a nearby neighbor, you'll definitely want to consider either faux wood blinds, or fabric shades that offer a high degree of privacy and light control. Choose at least a semi-opaque or even a room-darkening or blackout fabric if you're going with a roller shade or roman shade. If you still want some natural light to come into the bathroom, a useful and inexpensive upgrade is a top-down bottom up lift option that can open from the top to allow in light while retaining privacy.
Be style and theme appropriate
For a more crisp, clean look popular in many spa-like home bathrooms, keep things simple and sleek with a simple horizontal blind or crisp roller shade. For a more elaborate, layered look appropriate for traditional, French, Mediterranean, and Country inspired decor, pair attractive top treatments, side panels or swags in colors that complement other accents in the room over your window blinds or shades. It's easy to spruce up the decor in a bathroom. Blindsgalore window treatments can give a facelift to a guest bathroom or complete your master suite retreat!